By
F.O.C.
- Mon Sep 17, 2007 11:23 am
- Mon Sep 17, 2007 11:23 am
#694258
I wanted to fish this morning but the wind wouldn't let up enough for me. I decided to get some excercise instead. I peddled around for a while, taking pics of pelicans and the sunrise. When I got bored with that I figured I'd fish for a little while. During one of my casts a group of pelicans flies by really low and one of them catches my line. I figure "no problem" he'll just keep flying and the line and lure will just slide off him. NOPE!! My weedless hook decided to catch this poor bird right in the joint of its wing and down he came. Now I'm in the yak, pelican beside me, in deep water, and trying to figure out how to fix this problem. Well, after many tries at poking the hook with the rod tip, I decide to cut the line as close to the hook as possible. Every time I tried though, it tried to bite me. Then I thought well, I'll just cut the line by the reel. When I did that, it got tangled around the rod tip! Now I have an angry pelican on my rod, I'm way out there close to the end of the rocks, and its getting hot. I decide to peddle all the way back to the boat ramp and hopefully get some help. The problem with peddling is that the bird was turned backwards so when I tried to go faster, it would flip and go underwater. So I had to peddle slowly so he wouldn't drown. I finally get to the ramp, jump out, drag this bird to the fuel station and knock on the door. The guy comes out and looks at me kinda funny. I said "yeah I know" I have a pelican hooked to my fishing pole. We try to throw a towel on its head to calm it down but it kept catching it and tossing it off. Then another fisherman comes by and between the three of us, we managed to free the poor bird. The fisherman held the fishing rod, the fuel guy held the bird down with my paddle, and I aimed for the birds head and beak with a towel. I took out my trusty leathermen, cut off the barb, and let it go. It sat there for a few seconds, then flapped it's wings and flew away. And that was how I spent my morning.
This morning watching the sunrise.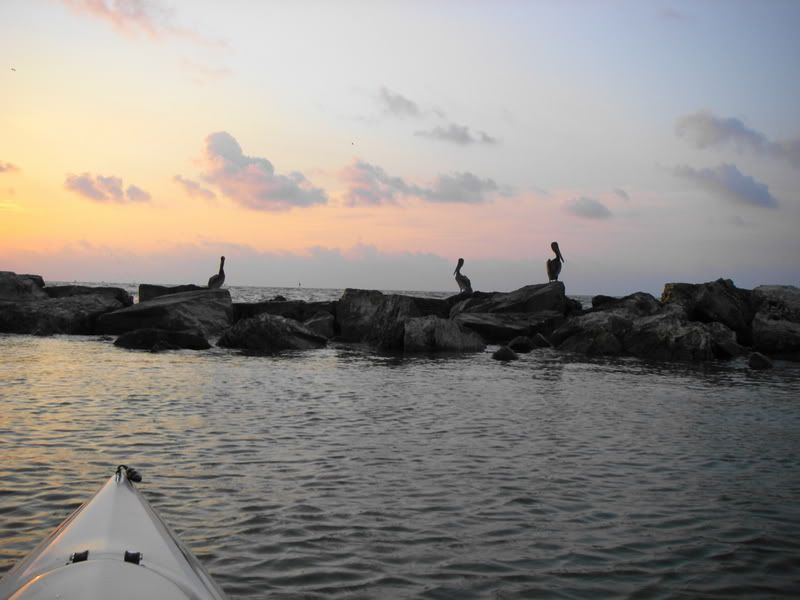 this big guy ain't having a good day.
Pulling my catch back to the boat ramp.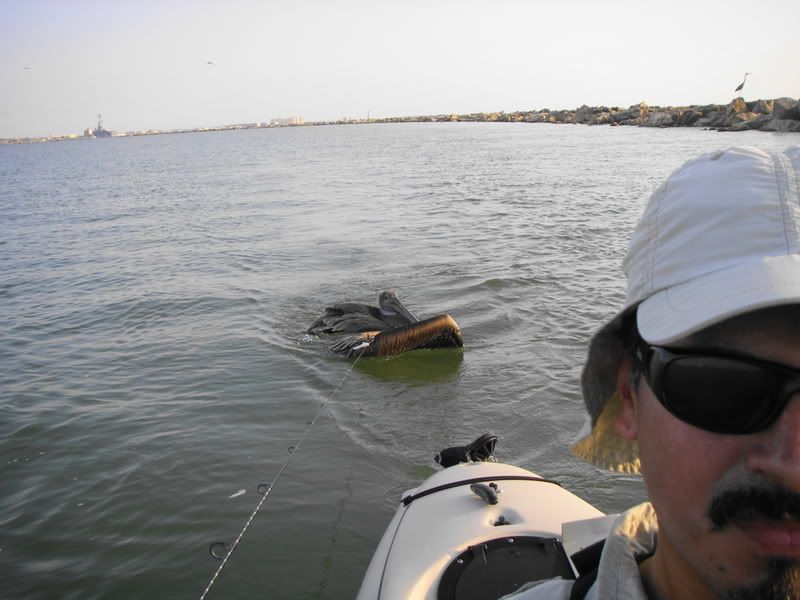 I wanted to take pics of the release, but I figured it had been through enough for one day.
Last edited by
F.O.C.
on Mon Sep 17, 2007 11:33 am, edited 1 time in total.