- Wed Sep 25, 2013 4:24 pm
#1969108
A couple of weeks ago my baby brother, who is hairier than I am and not much of a baby, and best friend floated the first 20 miles of the Brazos below Possum Kingdom. Also in attendance was my 100lb chocolate lab, Moose, and Chad's blue heeler mix, Kimber. You guys will have to forgive the over exposure of pics of the dogs
… We used Rochelle's (
http://www.rochellescanoerental.com/
)for our shuttle service, very nice people. Flow was a little on the low side, around 130cfs, there were maybe half a dozen spots were we had to walk but never more than just a few steps. We all met at Rochelle's Saturday afternoon and were off the water and headed home mid-morning on Monday. We decided before leaving to make this a nice leisure trip, no worries, no hurries.
The Crew:
We launched below the Hwy 16 bridge around 2:30pm: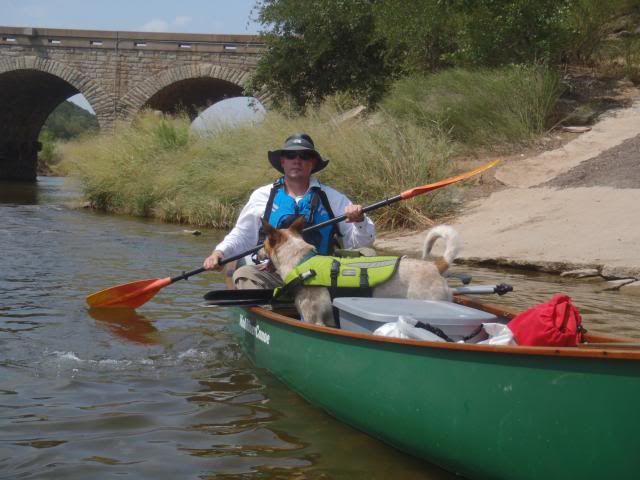 Just a couple of random shots from the 1st day: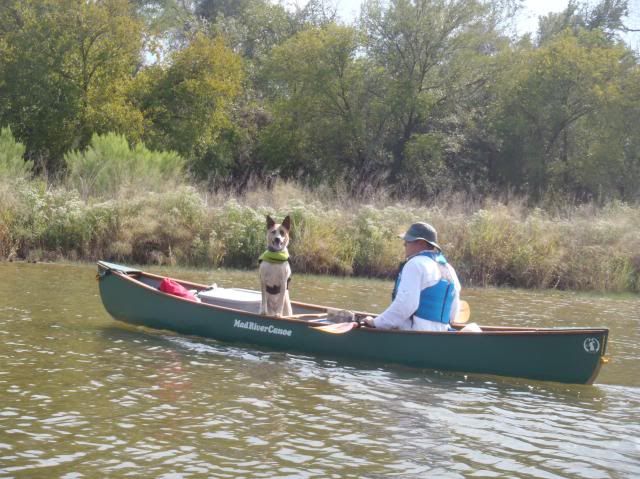 We only paddled a few miles before making camp the 1st night: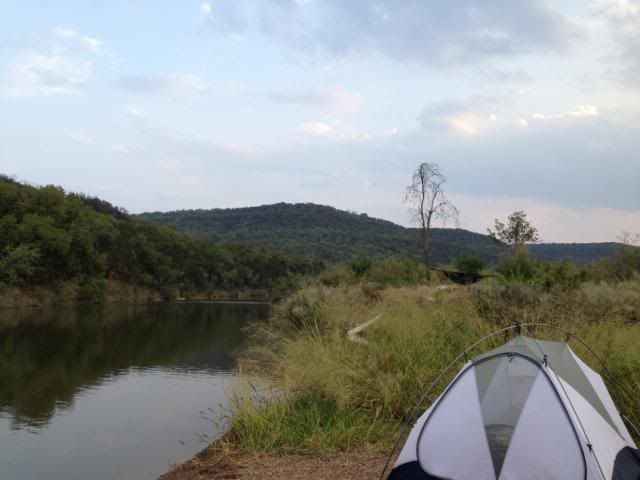 There was a burn ban in effect but campfires were still allowed (I don't get it either). Regardless, we decided to keep things simple and all meals were low fuss dehydrated back packer variaty. It was also a little warm for a fire.
Drew "cooking" dinner:
I brought along a system for hanging my hammock w/out trees, turns out it needs a little more work… I wound up setting it up as a bivy.
We did some fishing that night, caught a couple of buffalo and a small needle nose gar. Unfortunately my brother is the only one that took pics of the fish and I still don't have a copy.
We broke camp around 9:30 or so the next morning. Some more random shots: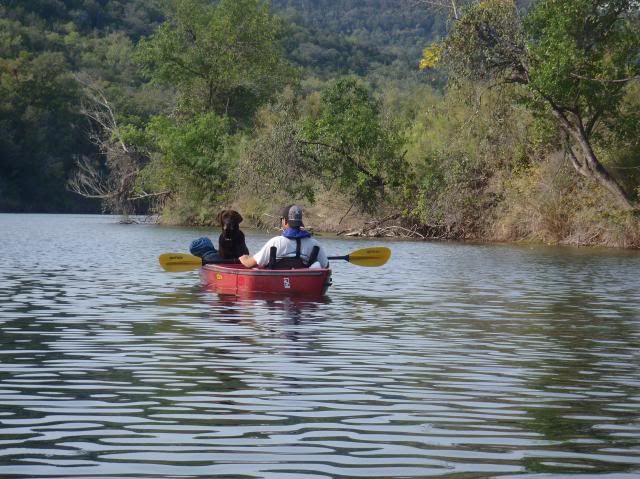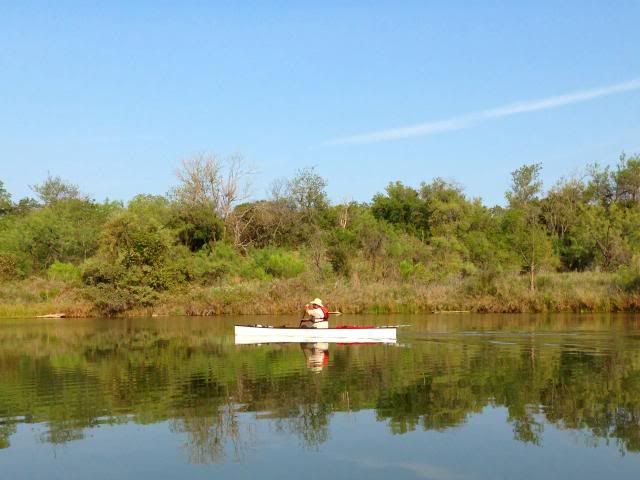 ]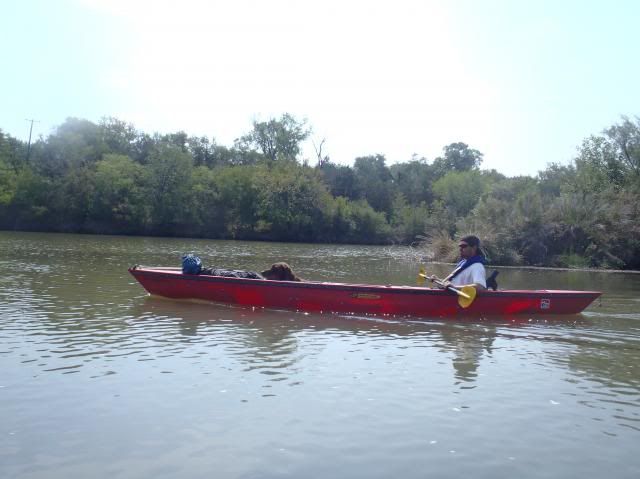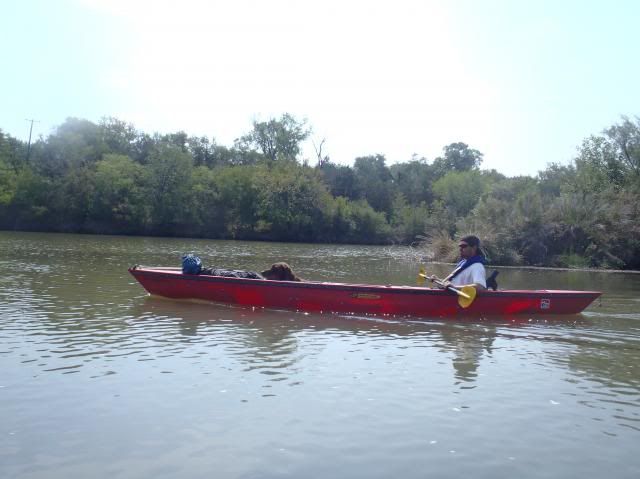 We planned on camping at the big rocks or "David's Campground" the 2nd night. We wound up getting there pretty early in the afternoon and after swimming for a while decided to push on and make our final day's paddle a little shorter.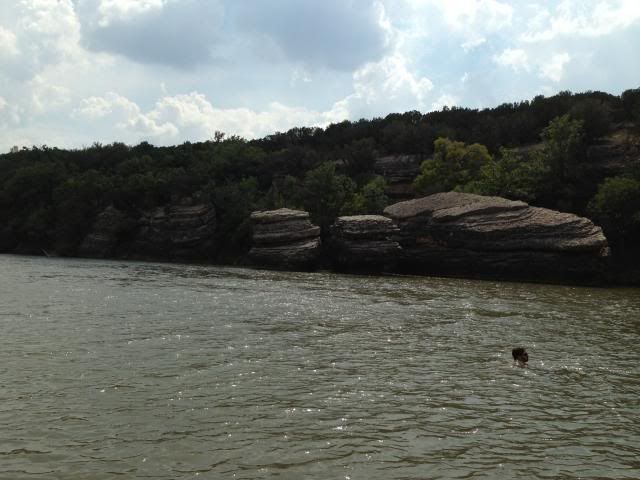 Kimber wasn't much on getting wet… Moose on the other hand wouldn't stay out of the water! (look for the brown spot to the left of the picture)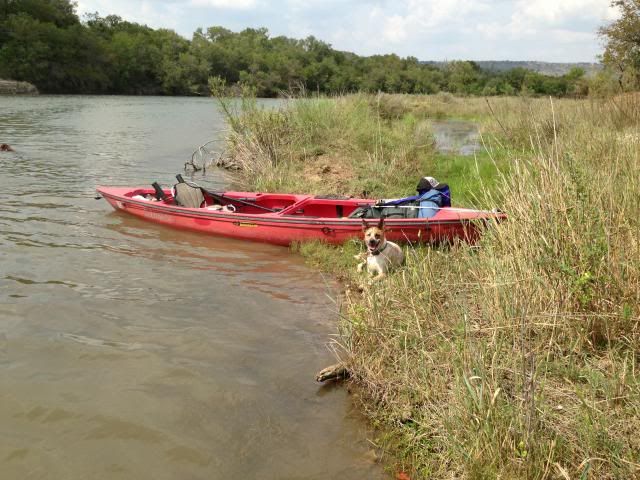 A couple of miles past the big rocks we passed this tee-pee:
Moving on down river we came up on an area that was burned. Did the fires around PK a couple of years ago come this far south? I am thinking this looks a little to recent to have been the big fire.
Camp for the 2nd night was an island we dubbed "Fire Ant Island". I thought I had finally found a place to hang my hammock but the ground around the trees were thick with ant beds. While one of the advantages of a hammock is not having to worry about ants and other creepy crawlies I didn't want Moose to have to deal with them either, so I set up my bivy again.
Drew and Chad's tents:
Couple of random pics of camp: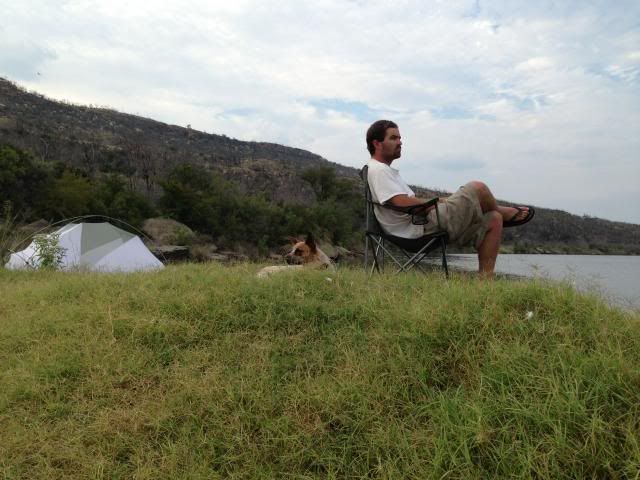 We were all up early Monday morning, Chad took a couple of really nice sunrise pics: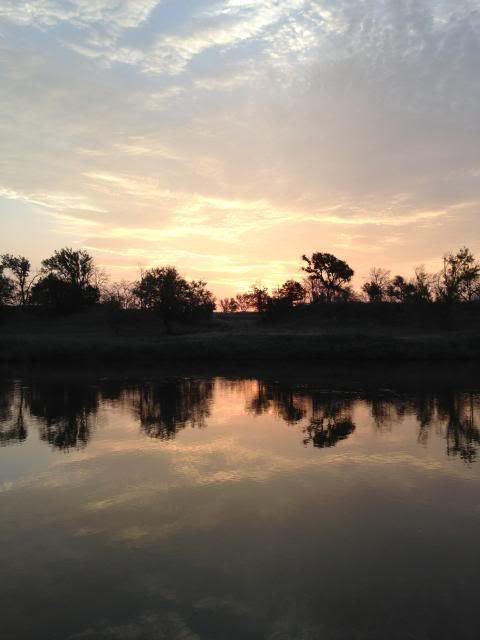 I took a few "artistic" shots of my new canoe:
About a mile or so from the take out we came across a small gaggle of geese. Given the mid to upper 90 degree temps I think these guys were lost!
Pressing on:
Right before the take out is a nice little set of ripples, it was a great way to end the trip!
We all had a great time. Plans are already underway for another trip, but I think we are going to shoot for some cooler weather!