What a day...............what a day.............is it Fall..........why are the bull reds so thick and hungry?????
7 kaykers met today at McFaddin and slayed the bull reds. This will be a long story and every kayaker has his story to tell. You won't see many pics of people holding fish as we were all so busy catching fish, that we only took pics of our own fish.
First, as we arrived at the beach the wind and surf was way more than we expected.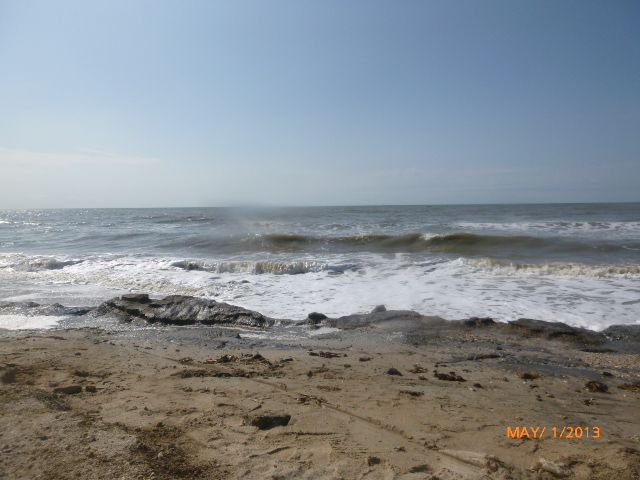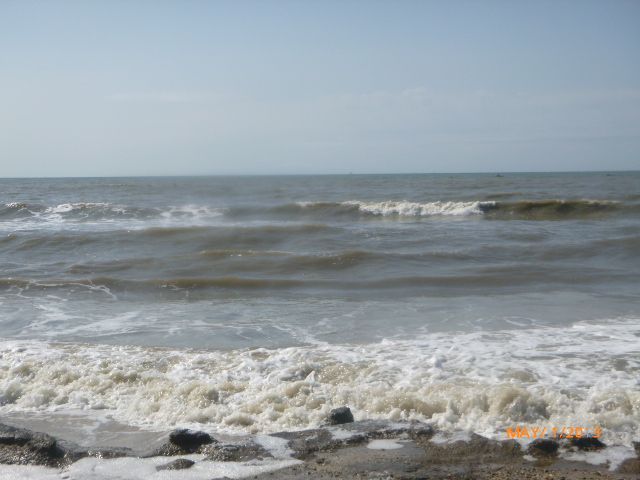 Dr. Flatfish, Waten10 and Mitchell paddled out first. Most everyone got very well, getting through the surf.
I was later and I got my paddling hat handed to me two fold...............I was beat back to the sand on two attempts. My yak knocked me down at the edge of the surf and my knees were bloody............and I was breathing like a race horse......after a race. I was beginning to wonder if I had gone past the age of fishing BTB.
Wolfman took a pic of me while I rested before my third attempt to get pas the surf.....of course my camera still had water on the lens.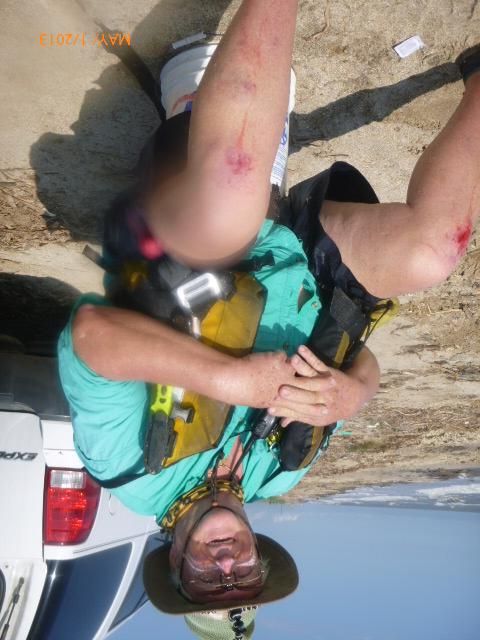 Well the third time was successful and I finally got out to 12 ft and anchored up. When I got there the first three were on their third or fourth fish. My first fish was a little shark.
Then a bull red.........I was way behind everyone else.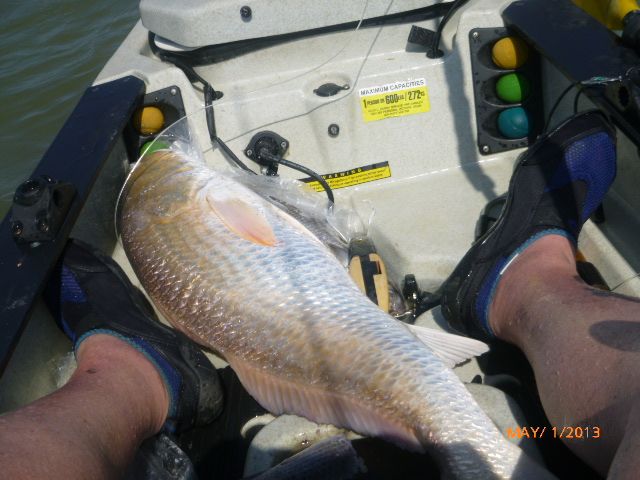 A shrimper came by and the CG was there checking him out.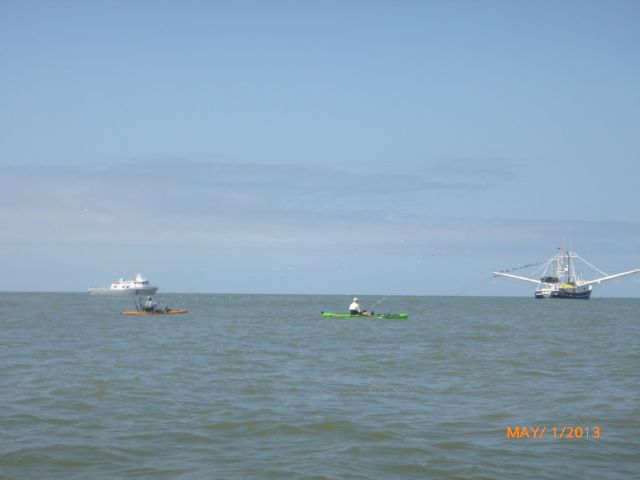 Then I hooked up on something that just kept taking line and taking line and there was no stopping it. I had to get my other line in and unhooked from the anchor and took an extended sleigh ride. I got the leader up to the surface two times but couldn't see what I had been hooked up with for 20 minutes. I did think I saw a cigar shaped fish with a tail about 24 inches wide. I believe I had a Sandbar shark............but unfortunately he got me entangled in my anchor trolley and broke the line off.
Then it was just bull red, bull red, shark, gafftop, bull red and more bull reds. I will just post a few pics because you see one bull red you just about seen them all: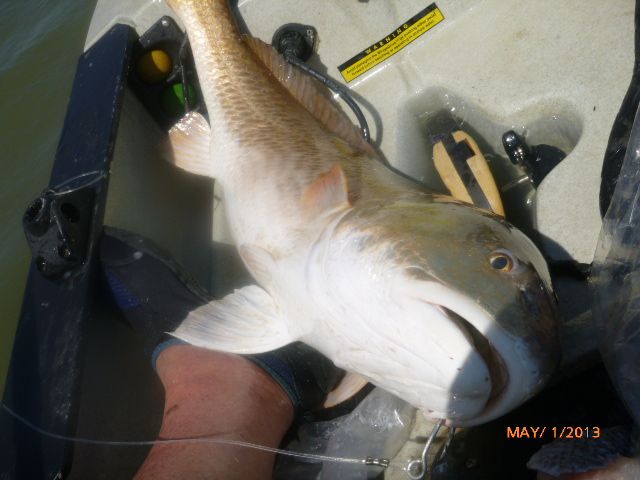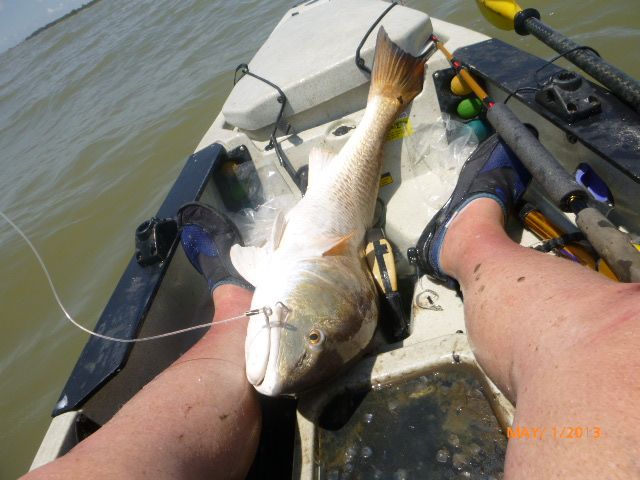 I wound up with 15 bull reds...................Dr. Flatfish had the hot hand today..........he had 25 bull reds. Several others were in double digits..........I will let them tell their stories.
The surf was pretty strong coming in ...............but nothing like going out.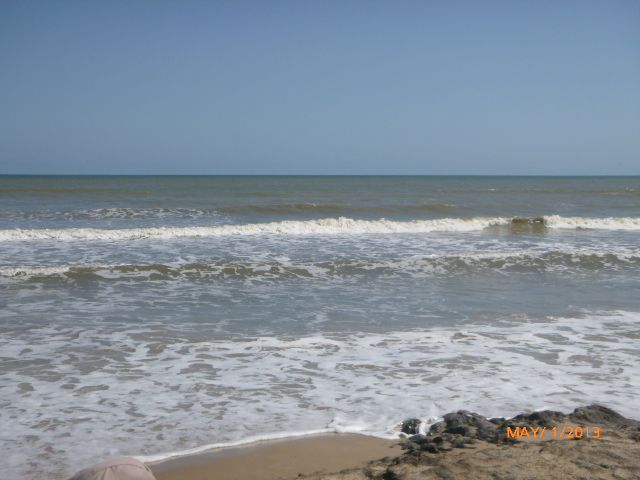 Four of us "Paris Hilton" in and one of the four still flipped his yak in the surf. Three of the paddlers came in straight with no problems.
It was a good, good day of bull red fishing.................just like the Fall spawning run.