By
Earl
- Tue May 12, 2015 8:39 am
- Tue May 12, 2015 8:39 am
#2128139
Eleven Point River, MO
May 8-10
Put in: Greer Crossing
Take Out: Riverton
This was a new river for me and was along with 4 friends from DDRC, Naidine, Jaws and dog UhOh, Todd and his dog Maxey, and Bryan our trip leader. I drove up from Plano on Thursday evening and arrived just before dark with enough daylight to set up a hammock and tarp then get to bed. The campground was nice with spacious sites and only 3 other sites occupied out of about 30.
We all gathered down at the ramp by 8am the next morning unloaded then Bryan and I drove up to Richard's Canoe about 2 miles down Hwy 19. We parked our vehicles at his place and he would drive them down to Riverton on Sunday am. We were all on the water about 9am with only 9-10 miles to go to the Horseshoe Bend campsites. We knew there was good chance of rain on this trip but that comes with the territory for spring trips in this part of the country. Sure enough it was pouring by 10am but only lasted about an hour or so. Todd and Nadine fished and the rest of us made our slow paddle to the campsite. The river is spring fed so the water is cool and clear and has a good gradient so you really do not have to paddle so much just go with the flow.
I was out front and just happened to look behind me on river left and saw the Horseshoe Bend sign. You could easily miss it if you were moving fast and not looking over your shoulder or behind you. We arrived about noon and wasted no time breaking out lunch. Then we took advantage of the dry spell and put up tents, hammocks and tarps. The campground is spacious with room for 10 or so. There is not a lot of room for boats though and loads of poison ivy and chiggers in the weeds next to the take out. The campsites are up some steps and the pit toilet is to the right behind the last campsite.
Dinner was a bit of everything, Jaws made some great salads and I made a Dutch Oven Frito Pie, loaded with red onions, cheddar and topped with chives. Jaws made a cake in his small stove top oven and came out great. The rain set back in while we were cooking but we had up plenty of tarps and it tapered off before bedtime.
Saturday am I got up at 4 to a pouring rain and made me some coffee and sat under the tarp and enjoyed the slow progression of daylight and birds. Breakfast was bacon and cheddar omelet then I took off on a little paddle downstream and hiked up a hill about a half mile or so. Nothing but thick dense brush down at the river's edge and nothing but dense canopy forest after that. Got back to camp and everyone else was finishing up breakfast. We packed up our wet stuff and were on the river by 10am. We were looking at all the other campsites along the way but they were all pretty wet and boggy with not much room and off the river a bit. Todd and Nadine were taking their time fishing and we were really just floating. We passed Whitten about 11:30 only about 2-3 miles below Horseshoe Bend. There were very few people on the river. Also noteworthy is that there are very few gravel bars above Whitten so camping is limited to the small low gravel bars that are there or the designated campsites. About 0.25 miles below Whitten on river left there is a fantastic gravel bar with low easy take out and high place to camp with room for 5-8. We ate our lunch there and then put up the hammock for about an hour nap. The sun was out and we dried out a few items then got back on the river about 1:30. We stopped at the Greenbriar campsite on river left. This is a great spot with a nice step with flagstone landing. There is not a lot of room for boats so we tied them off and left them in the river. The main campsite where we set up for cooking and there are several campsites up along the trail with a pit toilet along the way. Some distant thunder got me moving to set up hammock and tarps then take it easy by the river. About 4 Todd and Nadine show up with 5 great looking rainbow trout between them, can you say dinner.
Bryan had some really great beer from Rahr brewery in Fort Worth and we sat around camp and had a few then worked on dinner. Todd cleaned fish then seasoned them wrapped in foil and cooked them in a skillet with a lid. I made a Dutch Oven King Ranch Chicken, and Jaws steamed some broccoli. The fish was the first item attacked and really made the trip, it was great. After dinner my eyes really got heavy and the fellas kept me up past 9pm hoping I would not get up so early. About 11pm the skies opened up and it rained solid until about 5am. Getting up to pee was put your feet on the ground under the tarp and let it rip.
I stayed in my hammock until about 5:30 as daylight was making its way through the trees. To our surprise the river did not come up at all but the boats had about 3-4" of water in them. The river must have narrow water shed and the rain must not have been upstream of us too much. We took our time and had good breakfasts, I had two omelets. We were all on the river about 9am and took our time and checked out several gravel bars for potential future campsites. There were a couple of small ones on the left and one on the right. About 1mile before the take out there is a small drop off and rapid then immediately on river left there is a nice gravel bar. There was group of guys camped there from Illinois. They have been making the trip down this river for 32 years. They come because it is remote, cool clear water, few people and great fishing.
We made the take out on rive left about 10am. Packed up and I was on the road by 11am after taking Todd back to Richard's Canoe rental to his truck. This was a great trip on a new river and I will be back with my fishing pole and at least one additional day to spend. Another note, there are no real rapids on this section just a a few class I with the drop off (really minor) the only wave the only got about a cup of water in the canoe.
Here are a few pictures.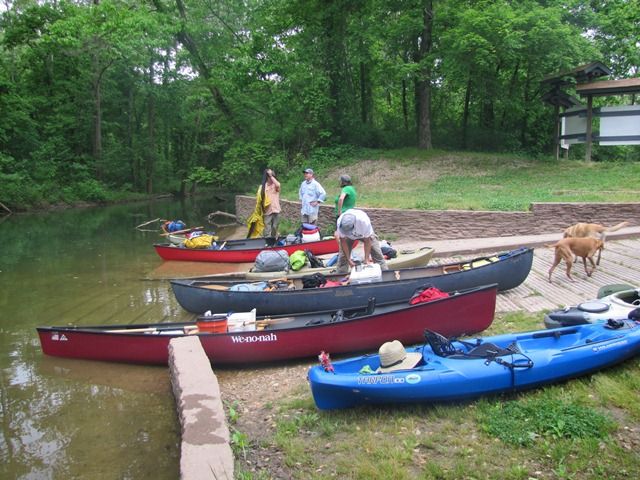 Greer Crossing Put In
Nadine and Jaws
Some babies along the river, mom was just out of site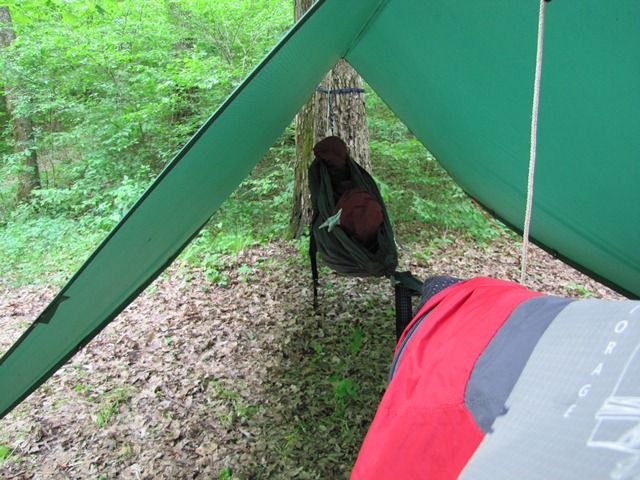 My camp on night 2
Back Porch view on night 2
The catch
Dinner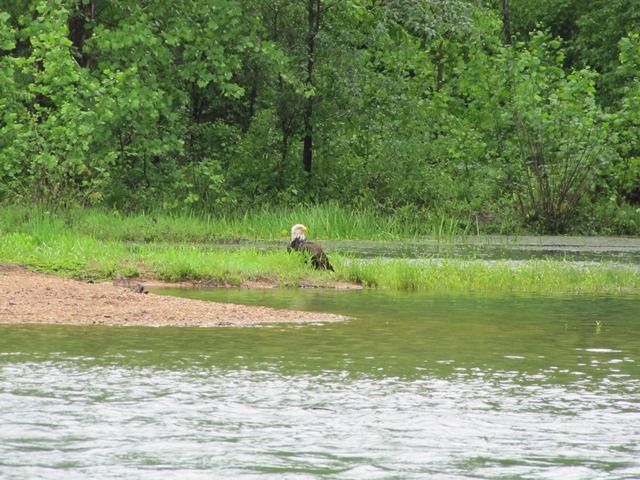 A Bald on Sunday AM, eating what he just caught.
Got his pic as he took off
Boze Mill Spring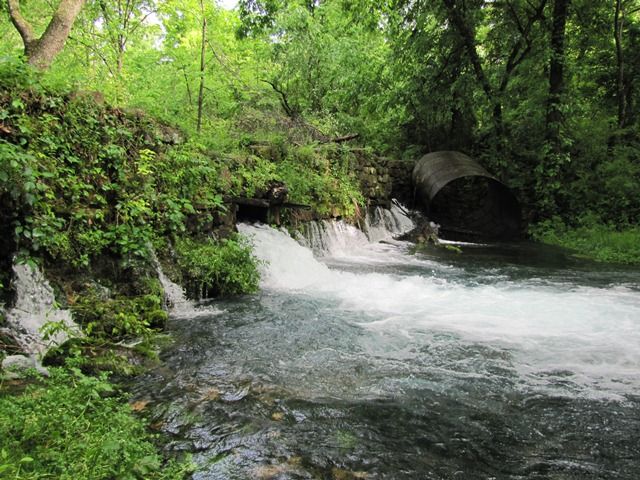 Boze Mill Spring
Boze Mill Spring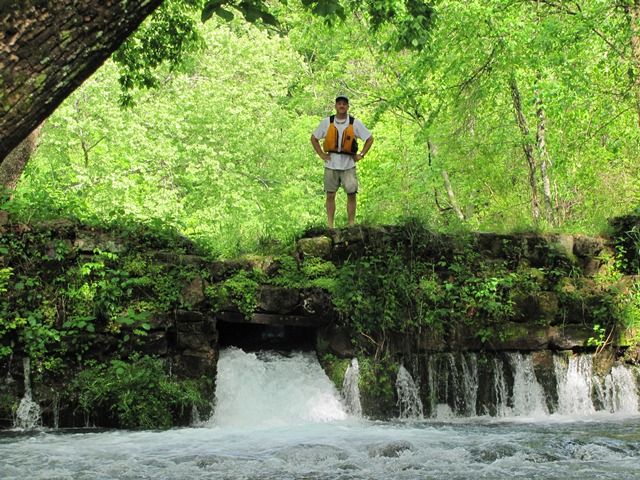 Todd at the mill
SYOTW,
Earl