By
Earl
- Tue Jun 11, 2013 8:35 am
- Tue Jun 11, 2013 8:35 am
#1917860
May 31 –June 3, 2013
Buffalo River, AR
Put In: Ozark Campground outside of Jasper, AR: Mile marker 50
Take Out: Dillards Ferry/HWY 14: Mile marker 120
May 31
This was a spur of the moment solo trip. There had been some rain up in Arkansas the days before and more on the way. The temperatures were expected to be 70s to 50s. All this in the month of June, I could not refuse. I drove up during the day on Friday and found myself at Buffalo River Outfitters on HWY 65 just south of St. Joe, AR by 2pm. I arranged for these guys ride with me to Ozark and then drive my truck back to their business and then put it at HWY 14 on Tuesday AM. After some paperwork and a drive I managed to get on the water by 5pm. The river was at flood stage at the Pruitt station and more storms expected during the night. The NPS was running the river upstream looking for a body. Some guy decided to jump off a cliff head first, he did not come up.
The river was moving along pretty nice and I made 11 miles by 6:20 and came to my intended target. A high bank gravel bar on river left at mile 61. Even at flood stage there is still 10-15 feet left of the gravel bar and then it is into the trees after that. I actually pitched a tent but opted to sleep out on the gravel bar and watch the lightening display. About 2am it finally caught up to me and the thunder started rolling and rain, wind really got going. I clipped my kayak to my tent then crawled into my tent and listened to Mother Nature. Sometimes the thunder was so intense you would think the water in the river was rattling. I am usually a pretty early riser but I slept until 6am. Got up and still raining hard and sporadic lighting. The river is up about 10" from the night before. There would be no green turquoise water on this trip, only chocolate brown.
June 1
I downed a banana and a cup of coffee then packed up and got on the river by 6:30am. After about an hour on the water you could tell it was really beginning to pick up and move. There were no rocks and any rapids were muted by the high water and water was up to the tops of trees along the banks. About 8:00 I stopped at the Mt Hershey site on river left as the lighting was really close and cracking a bit. I sat there and put out some markers then I noticed some guys just downstream camped on a gravel bar that was disappearing with each passing moment. I wondered if they were awake or aware of their situation. A few minutes later I could see them pitching gear into canoes. I could see after just 20 minutes that the river was in an aggressive rise. I put back on the water at 9:15 and the river had come up about 22-24" in that hour. The guys downstream also put on the river and I passed by them pretty quickly. I came to the Woolum campground about 10am and heard a honk up in the trees on river left. I paddled out and walked up there. It was the outfitter that ran my shuttle. He was looking for his guys, the ones I paddled by earlier. Seems they were ready to take out. I told him they were just a bit behind me. I decided to move on downriver a bit further and set up camp for the night. I had already traveled 18 miles for the day and 30 miles in 17hrs since I put on the river the day before. Just before paddling down I could hear some voices coming from upstream. I paddled upstream in an eddy and could see these 4 guys had pulled out on a gravel bar about 200ft short of where their outfitter was waiting. They could not have seen him as he was way back in the trees and their gravel bars was only about 1ft out of the water. I hollered over at them that they needed to bring their canoes my way and then paddle up through some trees and they would see their outfitter. They all came over and were relieved to get off the river.
Once I had me a place to camp identified I started putting out markers on the river to watch the rise. The rain stopped about 10:30am but the river was not done yet. It came up another 6ft and crested about 4:40pm and some riverside tree tops are gone now. My camp was another 8-10 ft. up and my only concern was that there might be a double crest depending on how much water was upstream. I set up my hammock between two trees on the edge of a clearing and was asleep by 10pm. I only saw one other canoe come downstream during the day. The NPS will not allow the outfitters to put people on the river at or above flood stage. Private groups such as me can still do so. If you rent any piece of equipment what so ever then they cannot put you on once the NPS closes the river. All the river closed signs were up.
June 2
I got up my usual 4:30am and sat by the riverside drinking my coffee and listening to the owls followed by the whip poor wills. I made some oatmeal packed up and was on the river by 6:30. The river had dropped about 3.5 ft. during the night and still moving along quite nicely. I was making 7-10 miles per hour and made Tyler Bend State park by 8:30am. I filled up with water there and took a shower and back on the water by 9:30. Next stop was Gilbert where there is a small general store and a restaurant. I walked in about 10:30 and they were still serving breakfast. I hung out until after 11 then walked back in for a bacon cheeseburger. I got back on the river by 11:40 then a short paddle down to a nice gravel bar on river right at mile marker 102. I only passed one other group, same two that had passed me the day before. I pulled up about 8-10ft above the water and did not set up a tent just slept out under the stars. There was plenty of wood for nice fire and decided to cook by the fire and leave the stove packed away.
June 3
The next morning the river fog was thick with morning temps right at 50 and the river had dropped another 2 feet for a total drop of about 6 ft. from the crest. After some coffee, oatmeal and juice I was on the river by 6am. My main decision was whether to finish out or stop one more night. The sun was out and it was going to be a beautiful day on the river. I paddled down the Maumee South and looked around and emptied some trash then paddled on to the Spring Creek site. There was a ranger there taking down the river closed signs. He said they did not find the body from the cliff jumper until Sunday. Even though it was a nice campground there was one person there and had his music blaring out if his truck, I elected not to stay. I stopped across the river and got a call off to my outfitter to see if they could bring my truck a day early. They asked how far way I was and I said 45 minutes, 47 minutes later I pulled up at HWY 14. The outfitter showed up about 3 minutes later, and I was packed up and driving by 10:30am.
I drove over to the Mulberry River and found a young man with a kayak wanting to paddle the upper section from Wolfpen down to the Reddinng campground. The river was still way up from the rain in days prior and higher than my last visit on Easter weekend. So we were off and made that 14 mile run in just over 2 hours. I spent the night there and then was on my way home the next morning. On that drive I came through Y City, AR and could not believe what I was seeing. Apparently they had had a flash flood and it ripped through some houses and a gas station and went over HWY 71. I later found out it swept away a sheriff and a wildlife officer trying to rescue a homeowner.
Even though the Buffalo was flooded this made for a good trip. The principal hazard was strainers , brush and trees where the river was out of its banks. As long as you navigated along the main river you could easily avoid these and stay clear of the river moving through the brush and trees. At times it could be a challenge to determine where the main channel of the river was and avoid finding yourself following a path that might put you in the trees downstream out of sight or around a bend. My rule of thumb there was if you cannot tell and both sides of the river look equal probability then go with the higher bank or cliffside. The main river channel will more likely be against the cliff than along a lower bank where it will flow over through the brush and trees and provide an opportunity to become pinned. Only one time in 70 miles did I question one of my decisions on a path. I had not gone to the point of no return but close. I rounded a corner and following a cliff and could not see clearly downstream but could really hear some water. It appeared that the water was pushing up against a large rock and tree lying across the river. I quickly backstroked and pulled over to river left and proceed downstream past an island. Once on the downstream end of the island I looked back upstream at the perceived hazard and determine it was just a large rock and there was a clear path but I just could not tell from the upstream viewpoint.
As with any river and especially when moving this fast you must not lose focus. Keep your attention on the river always looking watching feeling the current and ready to make a decisive move to avoid a situation.
Here are a few pictures. I did not take that many and all were shot with my GoPro.
SYOTW,
Earl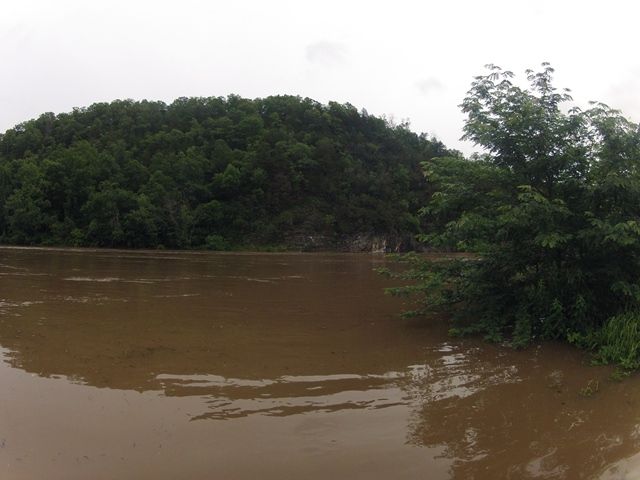 Flooded River
Flooded River
First night mile 61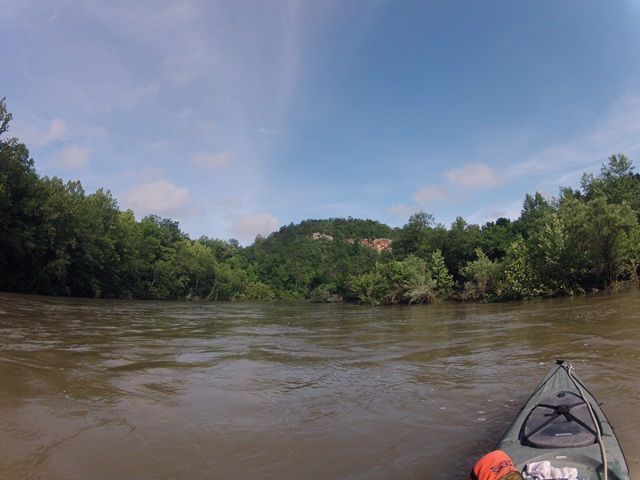 Sunday