- Fri Sep 10, 2010 6:21 pm
#1530284
First off, I started this report with the intention of grouping the photos by days and spent over 1.5 hrs working on it before my internet went caput
and I lost it, so instead I am going to type out the report (with a couple of pics) and then post the rest of the pics at the end.
All I can say is WOW, I will be doing that trip again!!!! Had an absolute blast in some of the most rugged and beautiful country I have seen. Would like to say thanks to Ed (M.Saxitillis) and Cord (Weird1) for coming along!! Ok on to the report.
We started of this shindig with a meeting and camp-out at Seminole Canyon State Park. Its a beautiful place, but unless you plan to take the tour, there isn't much to do.
Home for the night
The View
We had a visitor!
The Sunset was awesome!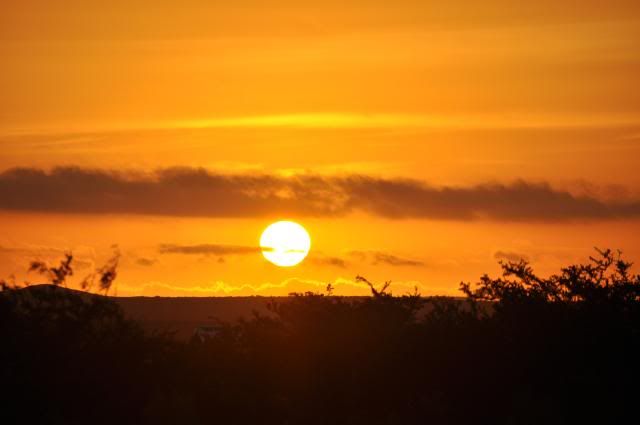 After seminole canyon, we spent the night at the ranch where my dad works. Dinner consisted of fresh grilled dove wrapped in bacon and stuffed with jalapeno, fried Axis Backstrap, grilled Axis Backstrap, and all the trimmings! Somewhere there is a photo of dinner, but I dont have it.
The next morning, we made the trip to bakers crossing and arrived about 8:30. After unloading and Ed's reminding, I realized I had forgot my PFD at the ranch 1.25 hrs away!!!! Luckily the guy at bakers had one he sold me for $10!!! We proceded to load/launch the boats.
Old Bridge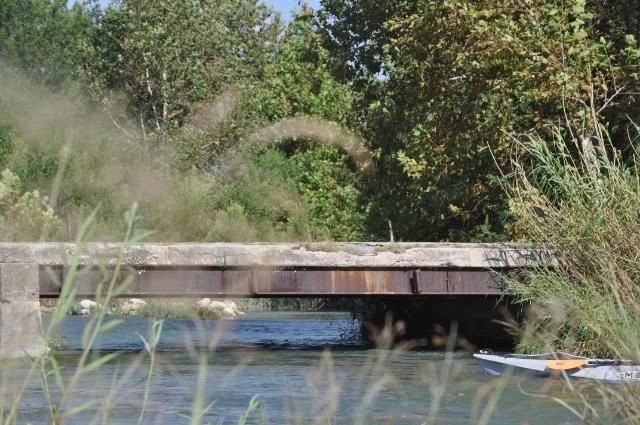 Loaded Boat
Ed and Cord Loading Up
Ed just after launch
Uh Oh!!!
Oh well its one way to cool off!!
We proceeded down river 9 miles to the camp. Talk about some beautiful scenery!!! We made camp just before dusk. Due to a downpour the first night which had us all worried (except Cord), we ended up spending two nights at the "9 mile island" to let our gear dry out and because it was only another 5 miles to the SNA.
Camp Day 1 & 2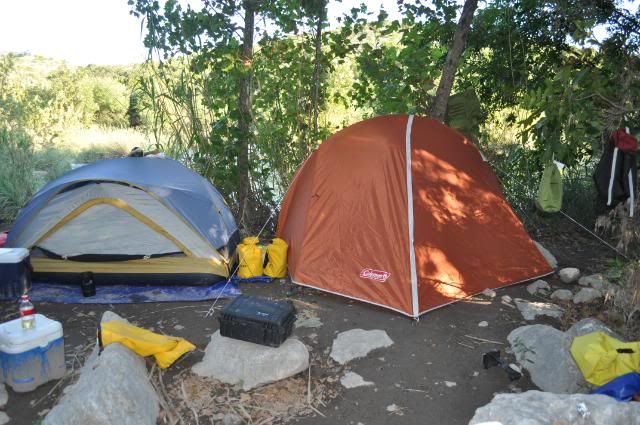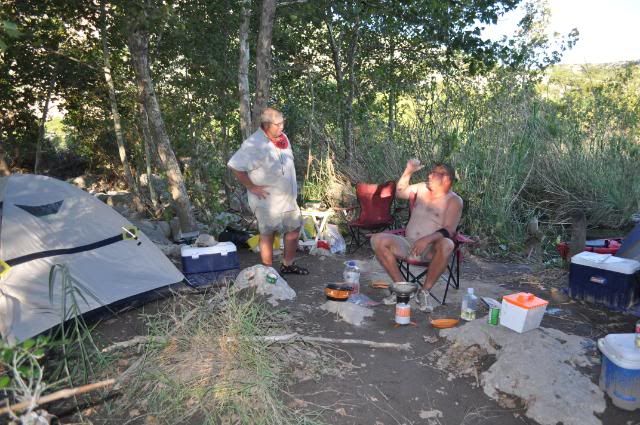 The boats at camp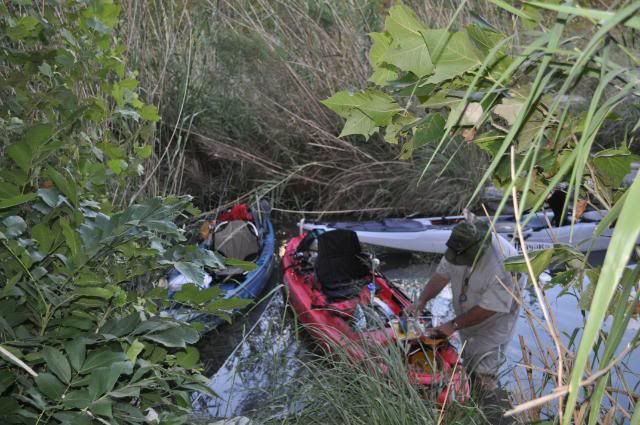 The view from camp
Brim and fries for supper!!
Third day found us on our way to the Devils River SNA. It was a beautiful trip with only a few mishaps. I was coming down a chute when I found one rock with the nose of the ultimate 12 and the back found another turning the boat sideways into the current. Didn't take long to fill up and sink! Thanks to Cord, I didn't loose any gear. I also ate it lining my boat down Game Warden Rock but the boat stayed upright. My ankle paid the price with a pretty good rock rash. Cord ran it like a champ, and Ed made it all the way to the pool before dumping!! Ran into another group of 8 yakkers here also.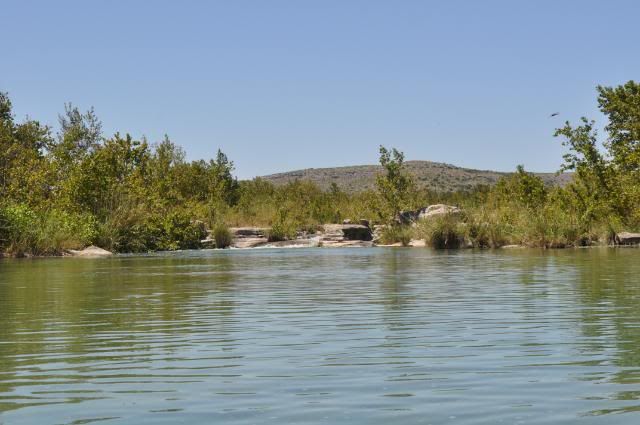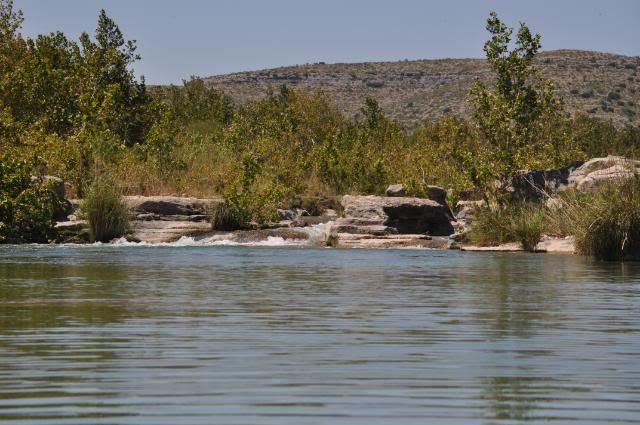 Made the SNA with plenty of time to make camp and get a pic of the sign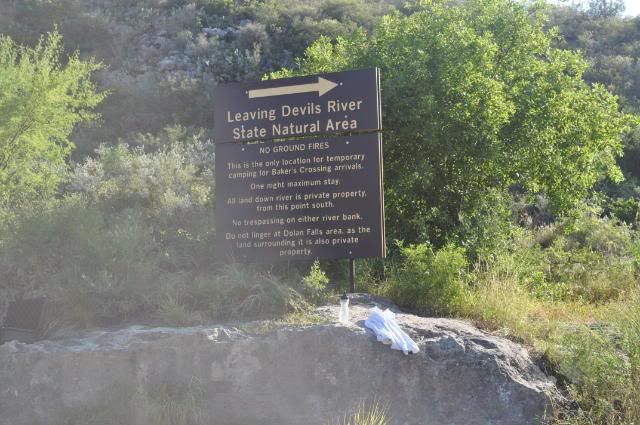 Ran into the Park Ranger. After he checked out our reservation and checked all our fishing licenses (although at the time we were not fishing!), he went to check the other group. He ended up writing one of them a ticket for no fishing license (again no fishing going on at the time). If you decide to take this trip, It would be good to have a license if you plan to fish or not. Otherwise it might be up to the judge. Also warned a group in canoes that they could not camp at Dolan falls. they just laughed the warning off. More to come on that.
Next morning we set out for Blue Sage early. Upon arriving at dolan falls, there is quite a commotion going on. turns out our unheeded warning was valid as the group of 4 where being ticketed while we were portaging the falls.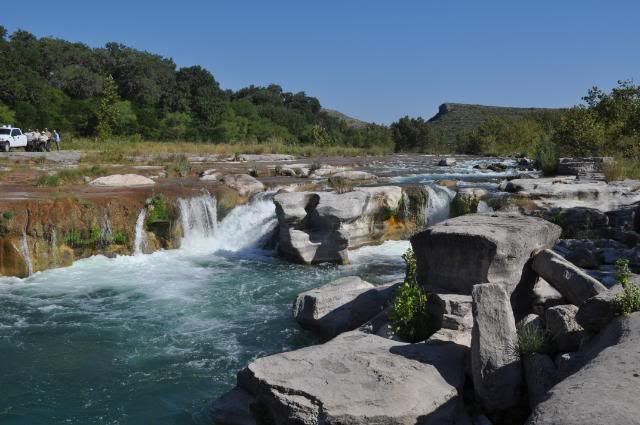 Here is a pic of the portage route
Ed at the end of the portage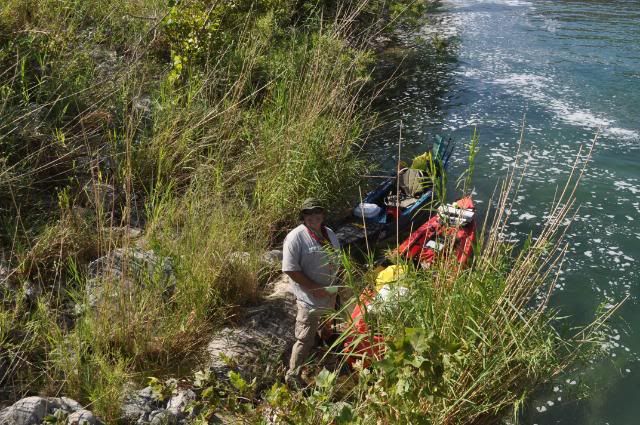 We arrived at Blue sage after a grueling upwind paddle at about 5:00 pm. There were quite a few lessons learned on this trip, and I have tons more pics to post later, but im out of time at the moment. More to follow soon.