By
bexars
- Wed Dec 03, 2008 4:46 pm
- Wed Dec 03, 2008 4:46 pm
#1112736
I took a 2009 Tarpon 160 out on a test paddle Sunday at a local lake. Winds were blowing at 21mph with gusts to 32mph. Less than ideal conditions, but it gave me an opportunity to see how it would perform.
I launched at the boat ramp and had the lake to myself. The boat ramp was fairly sheltered from the north winds. I am 6'4" and 270 lbs, there was no water in the footwell. The seat is very comfortable with easy adjustments for back and leg support. The seat is above the deck of the boat by about an inch. The T160 is heavier than the old T160, however, this does not affect the performance of the boat. Sitting sideways was comfortable, although the water was very cold on my unprotected feet. Getting gear from the tankwell will be easier since it comes almost to the seat. Paddling around the boat ramp, the T160 came up to glide speed easily with no degradation in speed whatsoever. Rocking the boat from side to side, I felt good initial stability. To my surprise, the new hull design provides secondary stability as well. This made turning much easier.
Now that I had a feel for the boat, I ventured into the open, unprotected area of the lake. The waves were running around a foot with a few white caps thrown in for good measure. As part of the new design, Wilderness Systems has increased the volume of the hull. It felt like the bow would go over the waves instead of through them. If I were launching into the surf, I think this boat would be great. This T160 was not outfitted with a rudder. Paddling in protected areas, the boat tracked very well. Out in the middle of the lake, with the new higher profile hull, the 32mph wind gusts wanted to turn me sideways. In adverse conditions like this, a rudder would be essential to paddle efficiently. As I was getting blown round during the paddle, I noticed no hull slap.
Paddling into the wind I made very good headway. I looked around for my GPS to see how fast I was going and remembered that it was still in the truck. I hate getting old. The hull felt rigid throughout the trip. The waves were crashing to the side of the bow. Any spray fell harmlessly on the hatch on the fore deck. Drips from my paddle covered my legs and cockpit. I made a number of turns into the wind and out of the wind; no water came into the cockpit. The Orbix hatches did not leak, and my seat stayed dry!
Wilderness Systems has a definite winner with these newly designed Tarpons.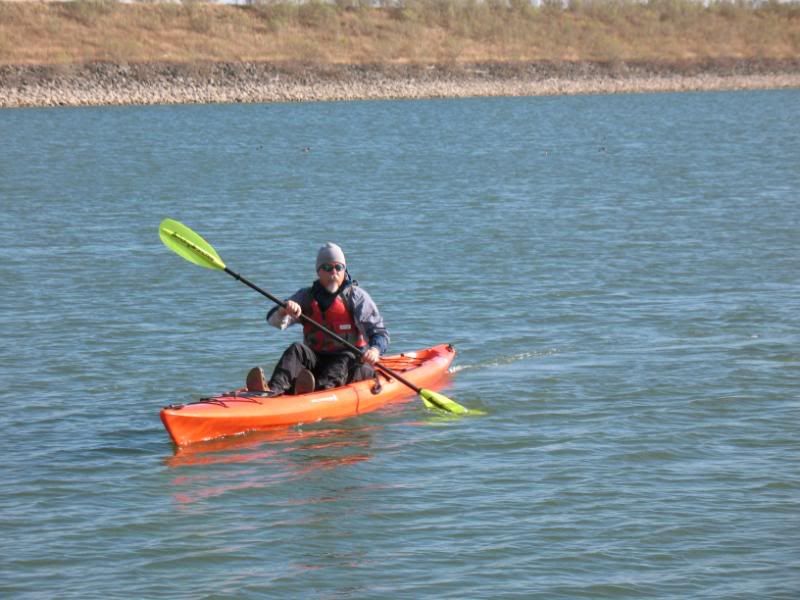 Tight Turn