By
Earl
- Sun Jul 17, 2016 6:54 pm
- Sun Jul 17, 2016 6:54 pm
#2199643
Instead of my typical longwinded verbiage about a trip, I have decided to keep that for my website/blog and instead put pictures with captions.
However a bit of a preface is likely due.
This was a 5 day back country hiking trip in Colorado with my twin boys and one of their friends, Mason. We departed on my 52nd birthday and returned on their 17th birthdays. We have hiked some of this area in prior years but some was new to us this year. The location is in the Uncompahgre National forest between Lake City and Ouray, Colorado with elevations ranging from 9800 to 14,309 ft. We climbed mount Uncompahgre on our 3rd day.
I am truly blessed to have spent this very special time with two of my three sons. Jake has really become the fish catcher and can haul in the meat and is mastering finesse with a variety of species. Usually I can hold my own and beat even the youngsters up the mountains even above 12k ft. However, this year was truly remarkable watching both Jake and Zach move so effortlessly while I was sucking down the thin thin air. Zach especially, he can move like a mountain goat without so much as a thought about breathing.
Day 1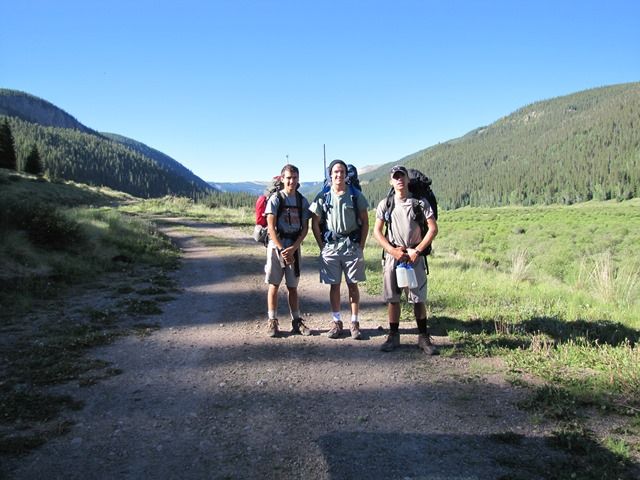 The start of our trip looking down the Big Blue Creek Valley to the south.
Our first crossing of Big Blue Creek, glacier fed and very refreshing
Slide Lake, our first nights camp and a great place to relax and fish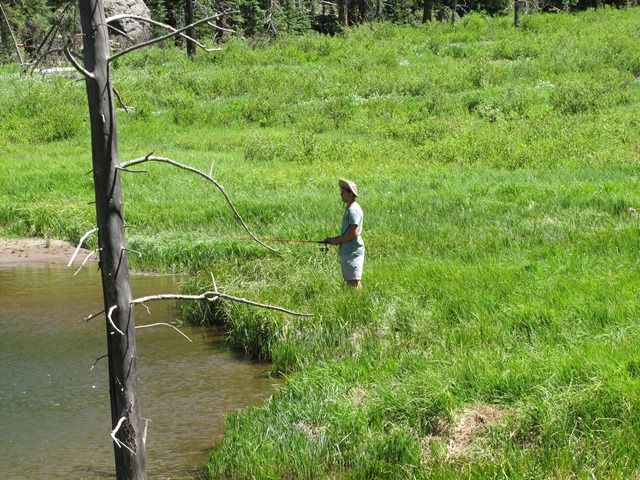 Mason working on dinner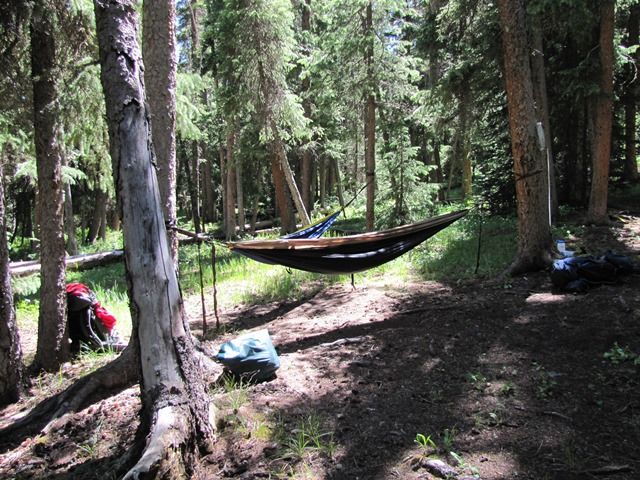 Jake and Masson's camp
Very beautiful brook trout.
Teach a man to fish and sometimes he will feed you.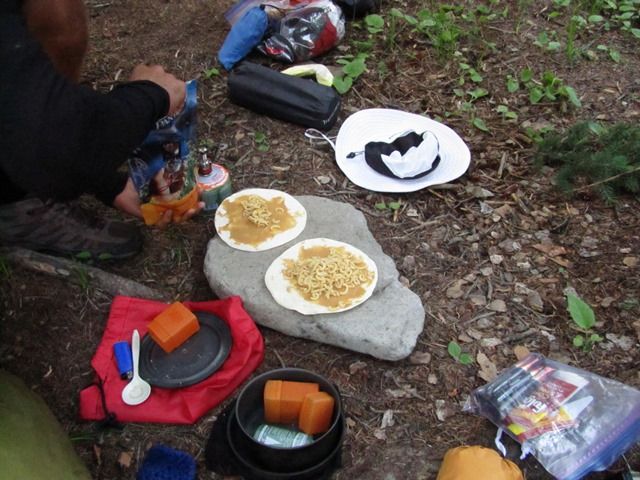 Zach and I's dinner: Dried meals with a peanut butter on flour tortillas topped with mac & cheese for appetizers. We let Masson and Jake savor in their trout cooked on the fire
Day 2: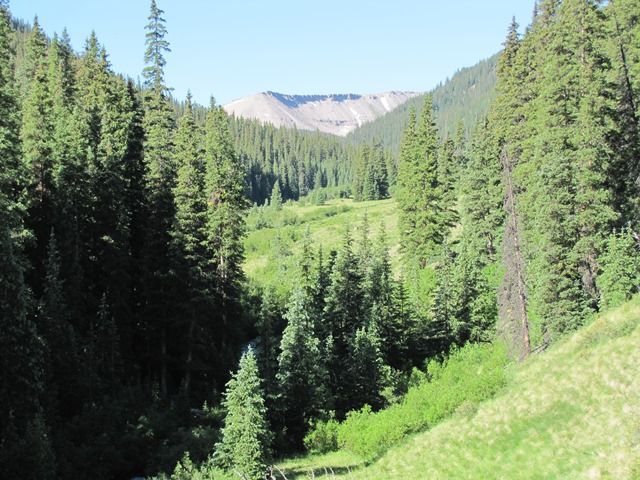 Our destination is around the bend to the right. The ridges in front are 13k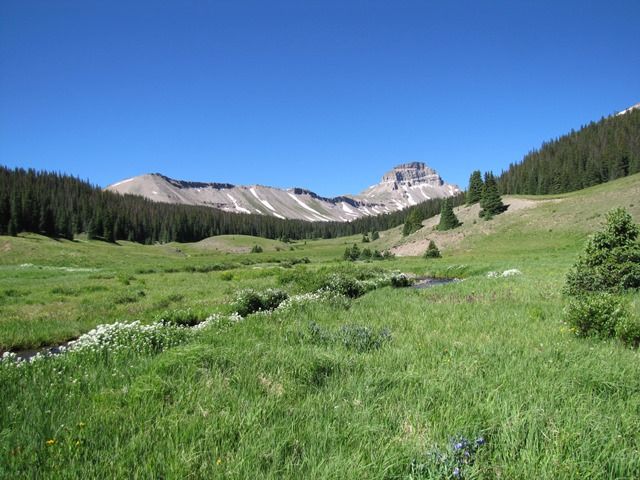 The big rock is our goal, Mt Uncompahgre
Getting closer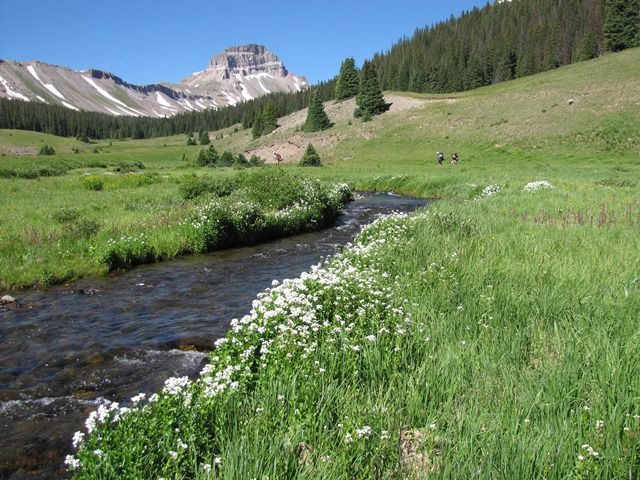 The boys finding their way across the meadow
View from our 2nd nights campsite at tree line below (~11.9k ft) below Mt Uncompahgre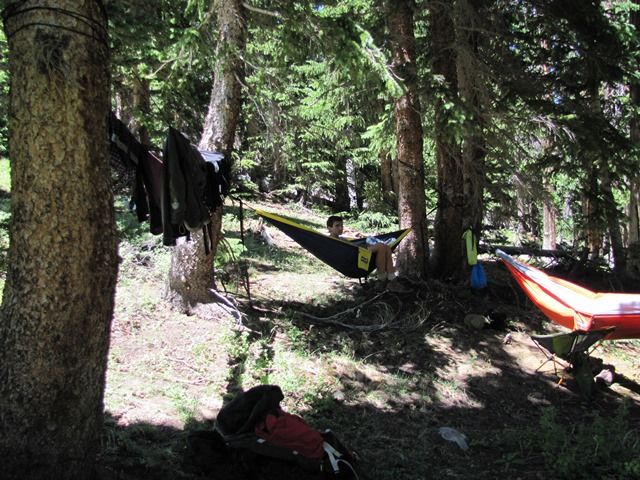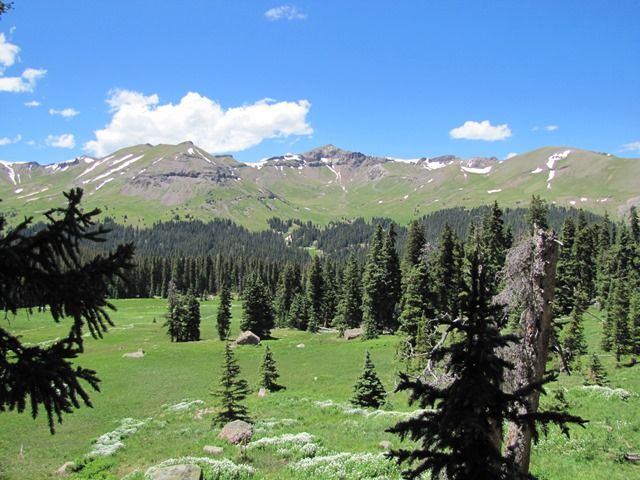 View from 2nd nights camp across the valley to the east
Day 3:
An early morning visitor. The picture makse them look like a cub but it was a good 250-300#. He/she was headed straight to camp until we made our presence known. I captured a couple of pics then ran out of treeline and charged the up the hill whistling and yelling at him/her to make sure that bear knew I did not want them around. That crazy old fart sure put the fear factor in that bear and he/she was making tracks for the other side of the mountain. We were about to leave out packs and food for the day for our climb up the mountain and did not want this fellow hanging around. We had already hung our food but then re-hung it just a bit higher to be sure.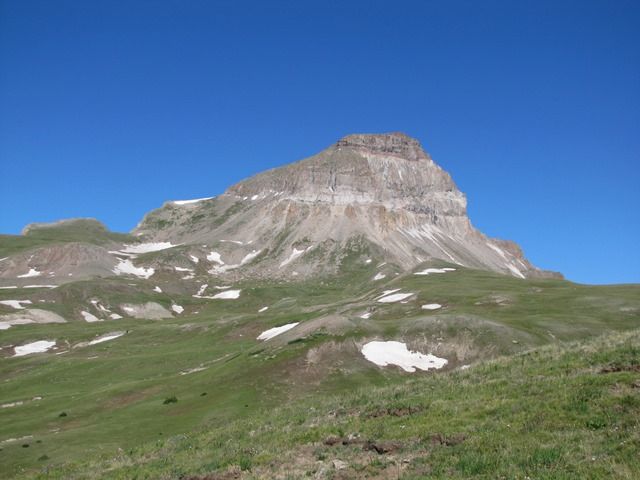 Our goal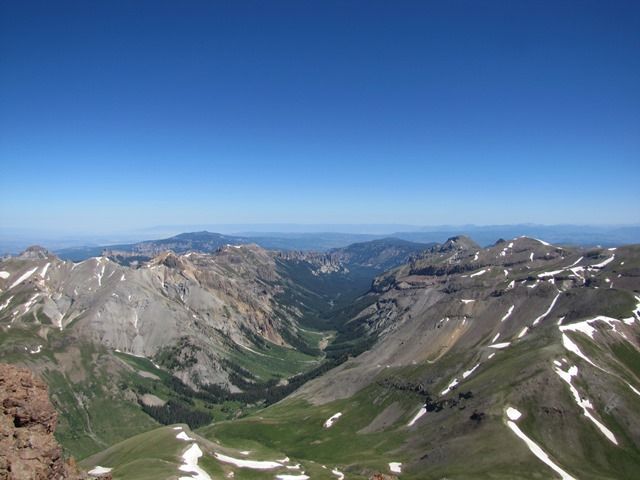 On top, finally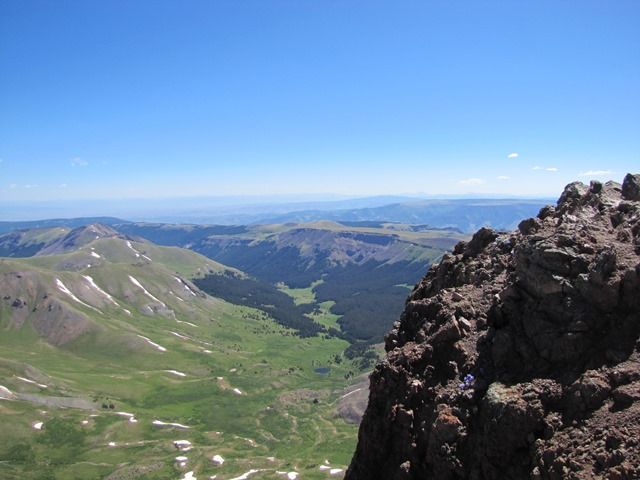 Big Blue Creek Valley from where we came.
Looking west
The young men on top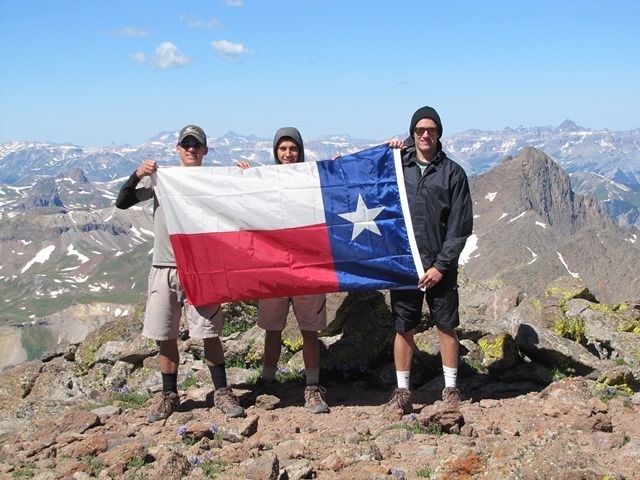 Yea, they are from Texas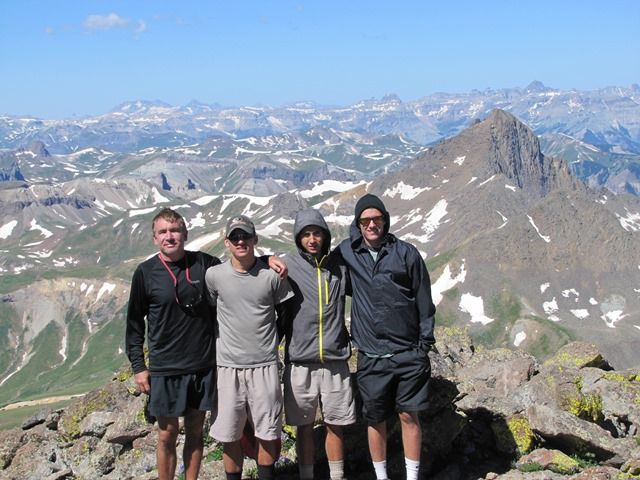 One with the old man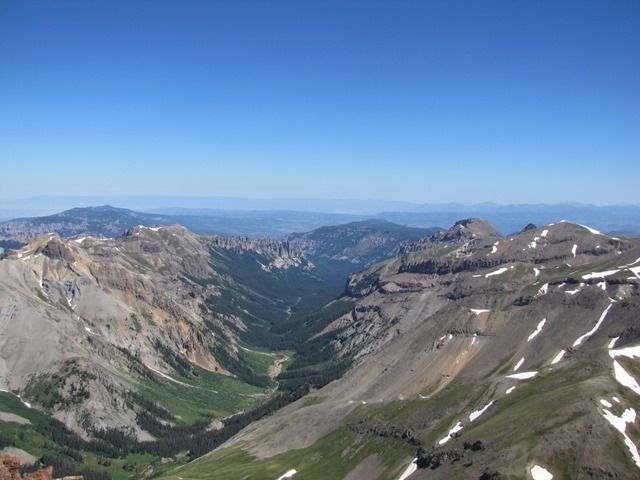 The valley where we are headed
Some beautiful wild flowers
Some glacier crossing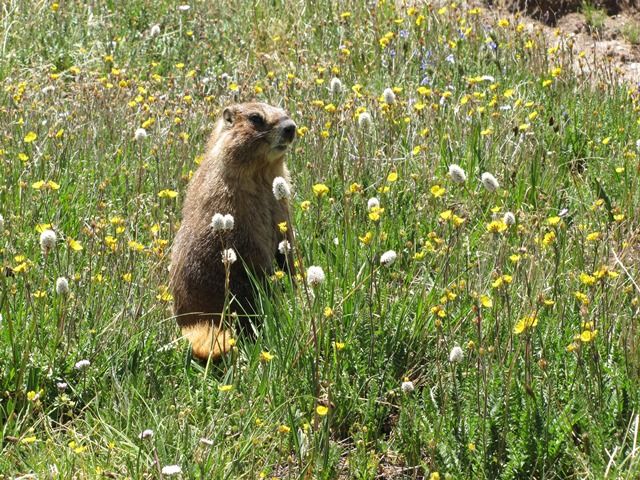 This Marmot was doing a photoshoot and I stopped by.
Good by Mt Uncompahgre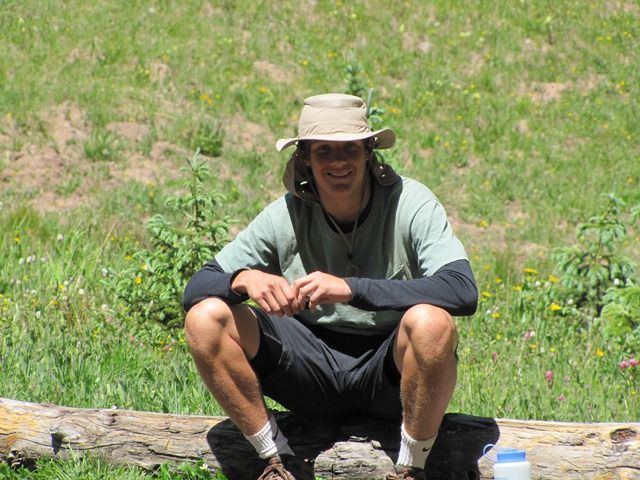 Mason resting on a log at our 3rd nights campsite
A view from camp at treeline.
Some tired young men
Day 4: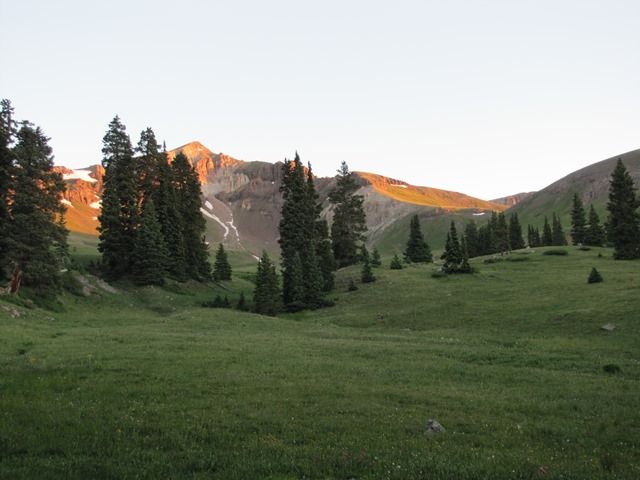 View from my bedroom window at sunrise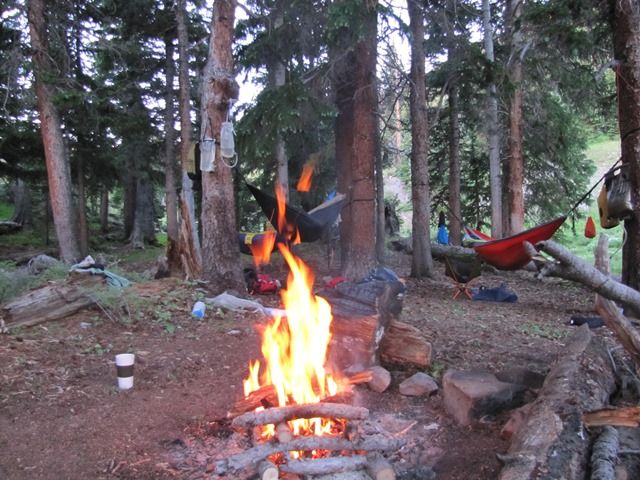 The boys still in their bunks even though dad revived the fire.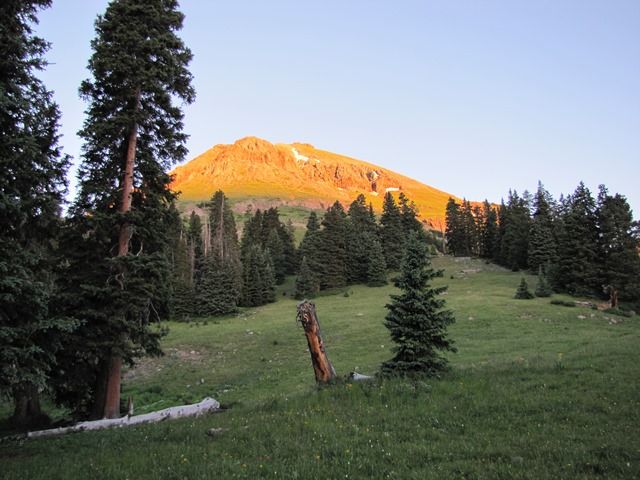 More sunrise pic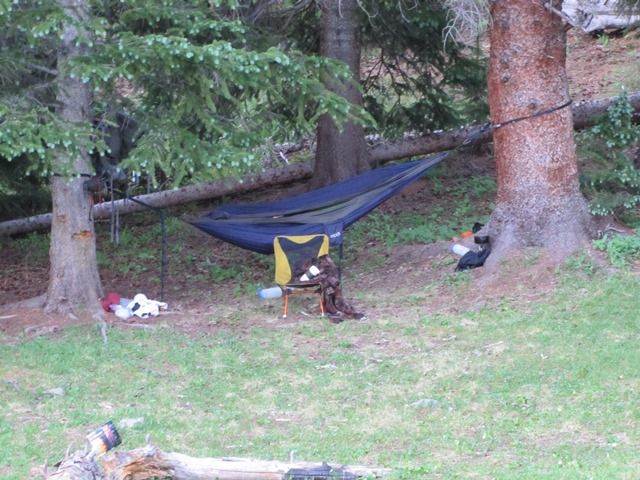 My bedroom right at the edge of the meadow. During the night I encountered the largest Big Dipper I had ever seen hanging over the mountain ridge. Forever a memory
Silver mountain and pass to the right where we will cross later.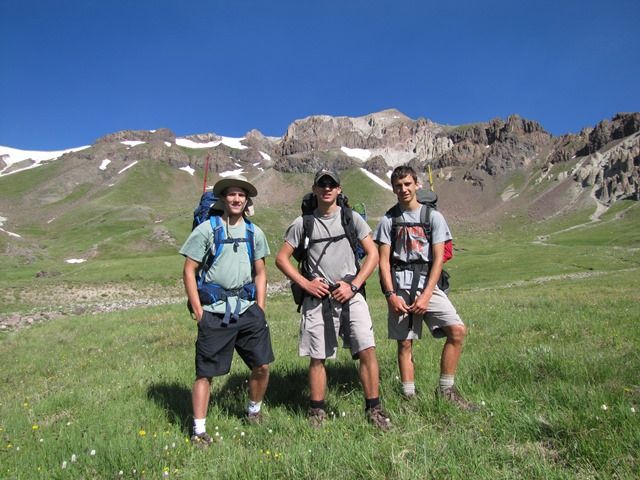 The pass and now down to Falls Creek.
More on the pass and the new valley below
Three waterfalls coming off a glacier as we progressed to tree line.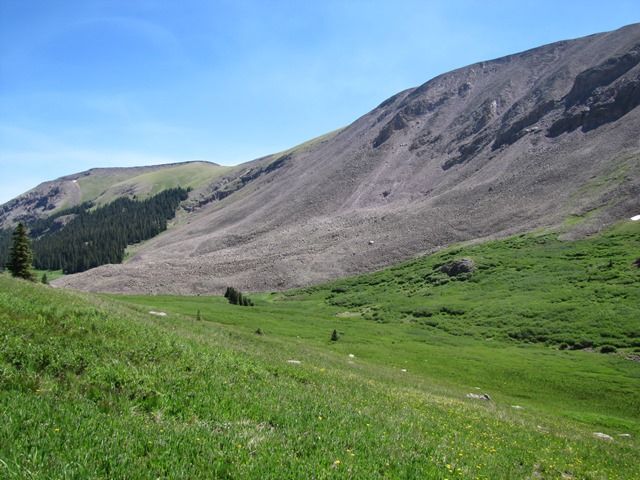 Huge rock slide
Sheep in the valley
View from 4th nights campsite.
Day 5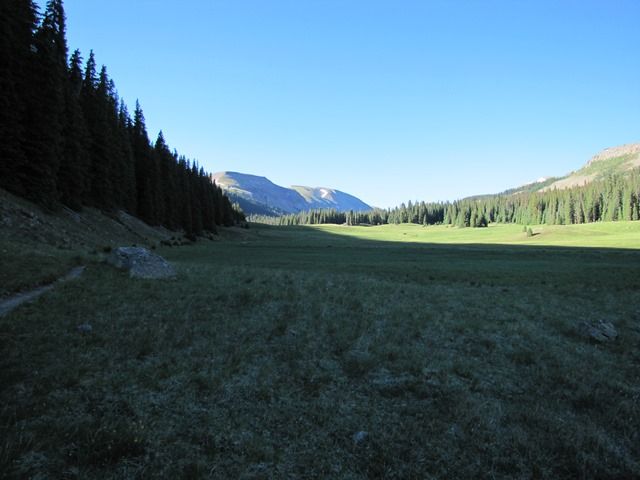 Getting on the trail after a very cold night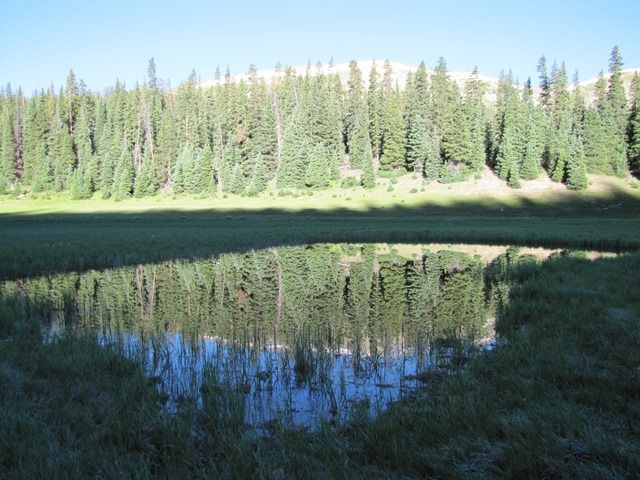 A small pond and reflection
Approaching the split where Fall creek falls into the Big Blue to the east.
The young men reveling in their finish.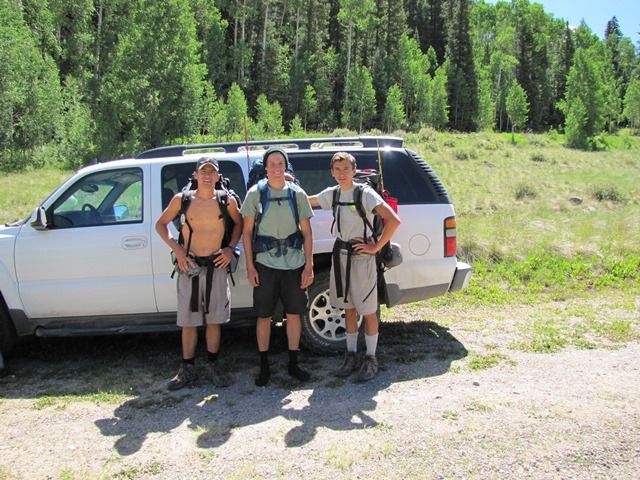 Only the souls of our feet know where we have been.
Our Tracks
https://www.google.com/maps/d/edit?mid= ... 9X4lQx-ZIE
SYOTW,
Earl