By
Earl
- Mon Mar 14, 2016 1:26 pm
- Mon Mar 14, 2016 1:26 pm
#2179681
Buffalo River, Arkansas: March 10-12, 2016
Put In: Ozark Campground, outside Jasper, AR
River conditions at put in: Gage at 7.5, ~ 1600 CFS a bit above flood stage
http://waterdata.usgs.gov/ar/nwis/uv/?s ... 0065,00060
Take Out: Grinders Ferry, outside Marshall, AR
River conditions at take out: Gage at 9.2, ~ 4200 CFS
http://waterdata.usgs.gov/ar/nwis/uv/?s ... 0065,00060
Along on this trip: Zachary and Earl Atnip
Outfitter used: Buffalo River Outfitters 870-439-2244 or 800-582-2244
http://www.buffaloriveroutfitters.com/
This trip was the result of some changed plans. Jacob and Zachary were out for spring break and we were supposed to paddle the lower Neches. The forecast was for that part of southeast Texas called for 10 plus inches of rain and the Town Bluff dam had started pre-releasing a lot of water so we opted for a location with less rain in the forecast and someplace I felt good about paddling a flooded river. The Buffalo fit the requirements but their forecast was calling for 6-10' of rain. I monitored the radar and gages and made the decision Wednesday night to make the trip as they had received a good dose of rain and the river was up but the radar was mostly clear so the river had already started dropping. We left Plano about 4am and arrived in Marshall about 11:30 that morning. I arranged a shuttle with Buffalo River Outfitters (highly recommend these guys) and were at the put in and paddling by 1:30pm. It was cool (57) and cloudy with rain in the forecast for the next 3 days.
The river had a nice pace to it and we were cooking along at 7 mph without much effort at all. We came to a tree lying across the river between Ozark and Pruitt but managed to get under it on river left without stopping. There were many waterfalls along the way as everything was soaked and any rain was running off into the river. It was only a few minutes past that tree and then cold rain started. It was not heavy but steady. The December floods left their mark on the river with many uprooted trees and gravel bars washed away this would become more and more evident as you made your way downriver. We had 4 days to paddle 47 miles so I did not want to paddle too long plus with the river at this level there would be fewer campsites. We stopped at a gravel bar on river left about 13 miles downriver. This was a place I had camped a few years back with the river at about the same level. There was still about 12 feet of room for the river to rise so plenty of space. This is also a campground called Stillhouse Hollow. While Stillhouse Hollow is on the map is not shown as a designated NPS campground but there is a pit toilet, fire rings and picnic table there. The place was vacant and we did not see anyone else on the river. Based on what we could tell the December water level was about 7 feet about the campground.
We unloaded our gear, put up our hammocks and tarps and I put up a dome shelter over the picnic table. We found plenty of wet wood and Zach managed to get a fire started but it involved a lot of breathing. The rain stopped and we decided to cook the meal that required fire as the next two nights were uncertain and all we needed for those meals was a stove. Dinner would be salmon, baked sweet potato, and pineapple. We found some cedar and that gave our salmon a great flavor and the sweet potatoes took a little longer than expected but everything worked out. Zach went to bed about 8:30 and I sat by the fire until about 10 then called it a night.
I slept until about 5:30 with the first hints of daylight and the temps in the upper 40s. I got the fire re-started and enjoyed my coffee. Zach slept until 7am then we made our bacon, eggs and toast by the fire, great breakfast. Zach went for a run up the road while I packed us up. We got on the river by 10am; this is pretty late for me. Our destination was Woolum campground or any nearby gravel bar. The river had come up about 8 inches during the night but was already starting to fall. Again we were making excellent speed. The Carver campground is about a mile below Stillhouse where I stopped there to fill a water jug and the place was totally vacant. There is a very nice gravel bar on river left about a mile below Carver that would suit a large group. The rain got started about 11am with temps in the low 50s and we pulled over to put on our rain gear and grab a snack. We made Woolum by 1:30 and pulled out at the road in order to scout where we wanted to camp. The sign for Woolum is on river right but the camp in on river left. After a bit of scouting for a location with trees suitable for our hammock and available firewood we put back on and paddle about 200yrds downriver. There is also a larger spot with gravel bar a bit further downriver which would suit a larger group. We pulled the kayaks up about 5 ft above the river and our camp was a good 12 ft above the river. Again, plenty of wet firewood but Zach managed to dig through some of the driftwood and found a pocket of dry wood under a very large tree deposited by the December floods. I found some more cedar and some cypress which I cut up into manageable lengths. We had a hot fire to warm us up for our cool day on the water.
Dinner was a sausage, bean, rice creole that Zach pre-made for the trip, all we had to do was heat it up. We were both very hungry and that warm meal really hit the spot for us. I walked up the road to get some cell coverage and check the radar for any heavy rain upstream but all was good and did not expect any through the night. About 1am we did start getting a light rain but nothing significant and the river continued to drop during the night. Breakfast would be cliff bars and peanut butter then a big pot of oatmeal. We got packed up and on the river by 9am, our destination a large gravel bar on river left just above Arnold Island. Again the river was pushing us along at a steady moving average of 6 mph. We made Arnold island just a few minutes after 11 and decided to keep paddling and pull off the river a day early. We paddled on down to Tyler Bend state park and pulled out for a hot shower. Once back on the river it is only a mile or so down to Grinders Ferry. I called the outfitter to have my truck brought down and it was waiting on us. The floods have washed out the road and gravel bar at Grinders Ferry so you have to carry your gear and boats up the hill a bit. The floods have a washed away many of the nice gravel bars that I remember. You could see where water would flow across the fields then back into the river an over gravel bars then washing gravel into the river. It will take several years of normal flooding to rebuild these. Zach and I were loaded and on the road by 1:15 and stopped in Marshall for a burger and gas.
Here are a few pictures and a link to our tracks.
At the put in
Zach at put in
One of several waterfalls the first day.
Closer view of waterfall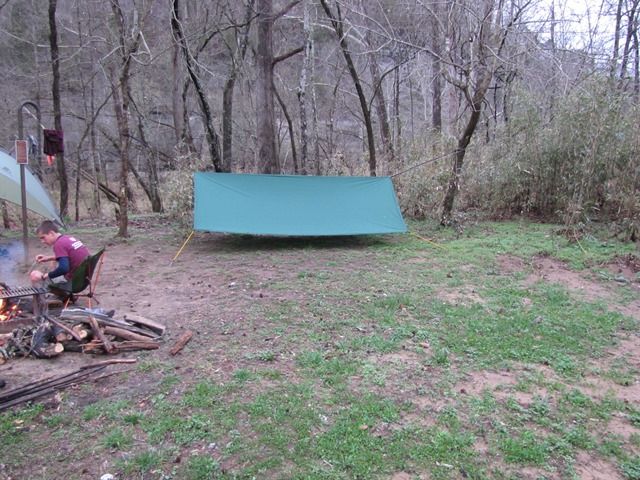 First nights camp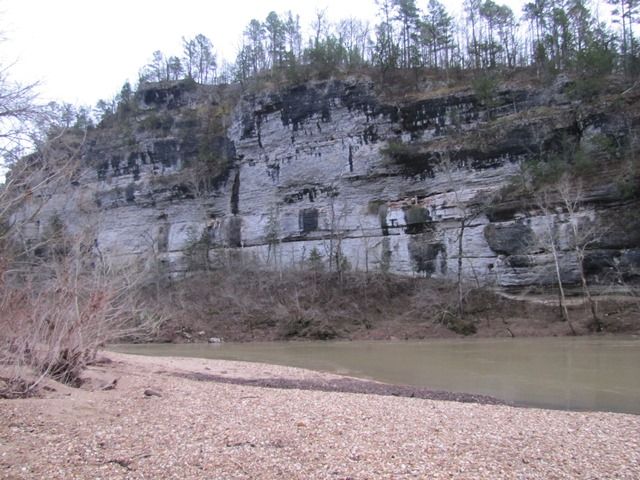 View from first nights campsite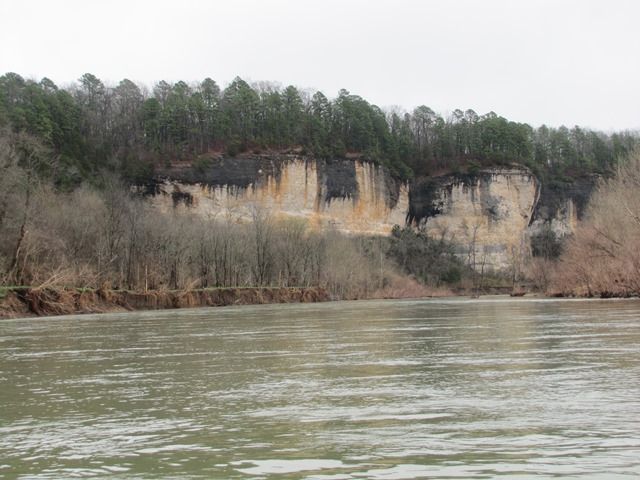 One of the many bluffs along the river
Zach along the river
https://www.google.com/maps/d/edit?hl=e ... FvB1czGlTQ
Our tracks
SYOTW,
Earl