By
Earl
- Tue Mar 01, 2016 10:09 am
- Tue Mar 01, 2016 10:09 am
#2177593
Feb 19-21, 2016
Upper Sabine River, Texas
Put In: Hwy 59 north of Carthage
Take Out: F.M 2517 southeast of Carthage
Distance: Approx 32 miles
Attending: 13 members of DDRC
Beckville gage: Approx 2000cfs
One of my favorite trips with DDRC each year is getting into the middle of the legendary Sabine river white bass run. This year was one of the best. I arrived at the ramp at sun up as I wanted to get unloaded and start fishing. Well, I had my first fat one on the stringer with my second cast. Over the next 30 minutes I put 8 more on. This was going to be a good day, 9 fish on and we were not even paddling yet. After everybody arrived we ran our trucks down to FM 2517 and were on the water by a bit after 10am. The day was warm but a good stiff south wind and a lot of sun. I caught 8 more prior to the shoals and my friends Todd and Bryan caught about that many maybe more each. My friend Todd put his catch on my stringer until I had a limit then pushed fish to other stringers.
The crowd pushed on downstream and stopped for lunch then paddled until about 4:30. We all pulled up on a large sandbar on river right at about 13 miles for the day. The recent flooding of the river has done a very nice job of replenishing the sandbars with thick layers of fresh sand. I found a couple of partially buried willows at the far end and put up my hammock. Then it was time to clean fish. Three of us cleaned for a bit then took the fillets to the kitchen to begin our fish fry. Several others brought some fantastic side dishes and by dark we were eating next to the fire.
I rose at 4:30 and got my coffee and breakfast down then enjoyed the numerous owls chanting back and forth across the river. There was also a beaver on the other side of the river who was very busy gnawing on a tree with a continuous repetition. I was packed and loaded by first light and told my friend Todd I would see him downriver. I wanted to get a fresh start on the day as I expected the bite to diminish during the day as it had the day before. It took me about 30 minutes to find my first one and the bite was certainly slow. I fished the hole I caught the first one for another 30 minutes and nothing. Then about an hour later I found another one and again fished that hole for 30 minutes and nothing. These fish were not stacked up like the day before but were scattered.
After lunch Todd caught with me and put a few of his fish on my stringer again, one being a nice crappie. We continued to fish several small creeks and holes but the bite was just not on. The main group stopped at a sandbar on river left about 3pm. I really did not want to camp there as it was small and some locals at the far end with a flat bottom running up and down the river. I wanted peace and quiet so I kept paddling another hour and pulled up on river right about 3 miles above the FM 2517 bridge. Todd elected not to follow me so I ate his fish that night and cooked a large sweet potato on the fire.
After dinner I enjoyed my fire and the flurry of bats in the diminishing daylight. I did not find suitable trees for my hammock so I just put my bag down next the fire and called it a day. About 1am I awoke and the moonlight was very bright on the white sands and I could make out something walking down by the rivers edge next to my kayak. I thought I was dreaming but sat up and could make out 3 small deer. I could not believe that got that close to me, about 60 feet away.
I stayed in my bag until daylight then got up resuscitated the fire and downed my first cup of coffee. I needed to use my truck to run one of my fellow paddlers back upstream so no need for me to get in a hurry. I cooked what I had left which was 4 eggs and 4 pieces of toast, a real feast for me. I got packed up and started fishing along the sandbar where I camped and quickly landed 2 then another. Then I shoved off and fished and drifted slowly toward the FM2517 ramp arriving about 10am. A bit later some of our group showed up and I gave them a ride to their truck back at HWY 59. Another great trip and here are a few pictures.
Todd and I with first days fish
Second nights campsite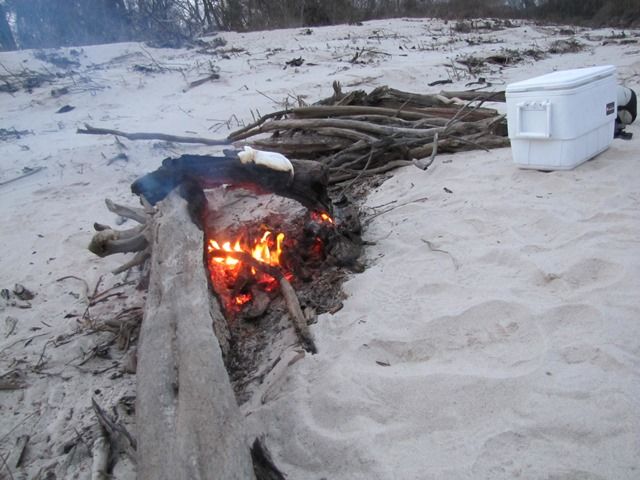 The fire
Dinner on second night.
SYOTW,
Earl