By
Earl
- Wed Oct 07, 2015 8:01 am
- Wed Oct 07, 2015 8:01 am
#2158242
Backcountry hiking in Yosemite National Park, CA
Sep 12-20
Along on this trip was Amber Scheurer, Tom Hansen (Jaws), Dianne Echols, Jacob Echols, Alan Teague.
This was a bucket list trip for me so when Jaws and Dianne invited me to join them I did not hesitate. We decided to use my suburban to get us and our gear to Yosemite and back. We met at my home a week before the trip to go over our gear list, meals, weigh pack items and discuss what we had or needed to have along.
Sep 13:
We all met at my home in Plano and packed up and go on our way about 4:30am. It was a long 28hr drive and we entered the park on the west entrance by Fish Camp. Our first nights camp was car camping at the Winona campground. As we entered the park you could smell smoke from the wildfire in the park. We arrived about 6am at first light and found our #40 campsite empty of any gear or tents but a VW bus parked nearby. Alan and I got out at proceeded to start putting gear and tents up in the site. Well, about 7am someone crawls out of that VW bus and tells us they have the site until noon, whoops our bad. I then went and set up my hammock near the parking area and took a nap that was interrupted by the park ranger telling me I could not loiter or hangout in the parking lot area. So while we picked up our stuff from the parking lot the VW bus drives off and our site is open. After settling in and getting a bit of rest we all took off for the Glacier point trailhead for some day hikes to view Yosemite Valley. The views of the valley were really pretty muted by all the smoke but still managed some decent pictures. We all returned to camp and made a potluck spaghetti dinner then retired pretty early as it had been a long day of driving.
Sep 14:
It rained a bit during the night but not enough to soak anything. I got up prior to sunrise and made a cup of coffee and thought I would star gaze. The clouds were still thick so no stars to be seen. Breakfast was some burritos that I had prepared prior to the trip so all we had to do was heat them on the stove and chase then down with some orange juice.
The first item on the day's agenda was to get our backcountry permits and bear barrels for those that did not have them. It is a Yosemite backcountry requirement that all food is kept in bear barrels. They do not allow hanging of food and bear spray is not allowed. The ranger made it real clear that if we awoke at night and observed bears playing with the barrels it was our duty to get out of the tent and scare them off.
The rest of the days plan was to do some day hikes along the Nevada Falls trail and view the falls then make a stop to see some giant sequoias. The Nevada Falls hike was pretty much a stair step climb and a good workout with some fantastic scenery but very crowded. The skies remained mostly cloudy all day so pictures were once again a bit muted. We decided to take an alternative trail back down and it turned out to be a real winner principally due to much fewer people. Once we got down and piled into the truck we headed for the showers at Curry Village as we knew it would be our last until we got off the trail 5 days later. After the showers we headed to short walk down a trail with grove of giant Sequoias. Mariposa grove remains closed due fires. We were really in awe of the size, especially the size of the limbs protruding from high above the forest floor. Some of the limbs were larger in diameter than many of the pine trees down below. However, the size of the pine trees alone was astonishing. I have not seen any that large, ever. After the short hike we piled in and made our way to the Hetch Hetchy trailhead campground. The main gate park ranger told us the gate to the trailhead closed at 9pm but the sign at the gate showed 7pm and in fact it caught one guy as we learned the following morning.
Once we got camp set up we made some chicken Alfredo pasta for dinner, way more than we could eat but we also knew it would be our last cooked meal for the next 5 days. We were all very tired and ready for bed so decided just to put our packs together in the morning. There was some light rain, enough to dampen the ground a bit and cool things off. What a delightful day.
Sep 15:
Up and going by 6-7am and ready for some hiking. After the last of the breakfast burritos, coffee, and juice Amber and I shifted our focus to our packs. We were carefully going through to ensure we had what we needed and left items we did not. Then the weigh ins got started. I believe Amber came in around 37 and I was about 47 pounds per pack. This is not quiet where I wanted to be but it would have to do. By 10am we had everything put together and began our hike which would be about 6 miles and 2800ft elevation gain starting at about 3870. I turned on my Delorme Inreach GPS tracker for the day so others could follow us. I did the everyday while we were moving on the trail and turned it off once we arrived at our day's destinations.
The first walk was from the truck down the road to cross the dam for the reservoir, about a mile. Once across the dam you walk into a tunnel through the rock of about 1/8 of mile then begins the trail that skirts the northern edge of the cliffs along the reservoir. After about another mile we came to our trail that leads off to the Bee Hive spring and the climbing really got started in earnest. The climb up and over the ridge had everyone breathing and quiet. We stopped periodically to soak in the last sights of the reservoir. The landscape scape and vegetation would change quickly from rocky outcrops and arid to large pines and green undergrowth. The trails were in good shape and well-marked. I think it was around 4pm when we arrived at point with a meadow bordered by forest with a sign "Bee Hive". We all took some time to re-hydrate, rest and enjoy the silence of the moment.
A bit later while setting up camp I looked up on a hill to the south and saw a bear meandering about 500 ft. away. After walking toward the bear I observed a second one. After not observing any cubs I continued to close the distance between camp and the bear. This is an intentional move on my part and the rest of the group followed suit to get pictures. This is to send a message to the bears that I see you and you are not welcome. I could tell they were checking us out so I continued to walk his/her direction until one disappeared over the ridge and the other walked through the forest out of site. A bit later one was observed to the west of us then another to the north, they were circling us. I continued my chores of filtering water and working on dinner as nightfall was coming and the temps were beginning to drop a bit. We got a fire started and sat around that for dinner and some tea. All food and smellables went into the bear barrels which I put in direct site from the tent about 50-70 ft. away. After some fireside chat and just relaxing some rain set in and it was time for bed with everyone thinking about bears. I was not in the sack more than 10 min until I heard some branches breaking on the forest floor. Up and out of the tent to investigate but nothing seen. I would be up checking a few more times during the night full well expecting those bears to pay us a visit. Much to our surprise the bears never came through camp or messed with the bear barrels, at least not that we heard or could tell.
Sep 16
I slept in until about 6-6:30 then crawled out as quietly as I could to make that first cup of coffee. The temps were in the mid 40s and it was a bit damp. I put some grass and twigs on the fire gave it a few puffs and it came to life. The rest of the crew got up pretty quickly for some time by the warm fire and breakfast. I made sure we both had 3l of water each for the long distance day on the trail, ~11-12 miles with 1800ft elevation gain from ~6600 to 8400ft. I took about 6lbs of gear from Amber's pack and put on mine as I thought I had overloaded her the day prior and the days hike into some thinner air might begin to take a toll on attitude. I also put the bear barrels inside the packs and strapped the sleeping bags to the outside. This proved a better weight distribution and things stayed put. When planning the trip I focused our weight for comfort in two areas, clothing and food. While not extravagant on the food our meals were oatmeal with dried blueberries and cinnamon/sugar, and cliff bars/peanut butter for breakfast, flour tortillas and peanut butter was lunch but with lots of snack items like almonds, candy bars, raisins, craisins, peanuts, beef jerky, and trail mix. Dinners were store bought dried meals which packed a good dose of calories and each were meals for two rather than one as we knew we would need it. I also brought a treat, summer sausage. This turned out to be a real hit and at first I thought we would share with the rest of the group but we got a bit selfish and kept it to ourselves, with no regrets. I also packed some bags for hot peppermint tea which really helped sooth after a long day on the trail in the cool evenings.
I think we all got on the trail about 10am which would follow the ridge followed by some steady elevation gain. The skies were gray with some occasional sprinkles with one point stopping to put on our pack rain flies and rain jackets. The rain did not amount to much but we wanted to stay dry as the air really was not warming. We stopped for lunch on a ridge with a nice outcropping to the east and enjoyed the breeze and view. Amber spotted a bear on a ridge on the other side of a ravine to the east. It disappeared into the brush before I could ever spot it.
Back on the trail Amber really picked up the pace and with no signs of elevation impact, a real freight train. We took the lead on the trail and kept moving to our destination, Wilmer Lake. As we arrived we could see the lake to the east then the trail intersected the Pacific Coast Trail (PCT) and we made our way around the north side then west side of the lake. There was a couple camped just on the northwest side so we kept moving toward the southern end of the lake. Finally we found a really nice spot where we could all spread out to camp for the night. The air was really cool and damp with a nice breeze. Amber had long pants and a jacket on and I was in shorts and a tee shirt and cooling quick once we came to a stop about 4:30-5pm. We both worked very well as a team to quickly set up the tent, get temp appropriate clothing on (me principally) then sit down for some hot tea. Amber had a really nice Temp/Humidity sensor the size of a watch that strapped on to her back pack, temp was 45. Knowing the nighttime temps would drop into the 30s I put a silk liner in Amber's bag and then put a mummy bivy cover over the outside and gave her the fleece blanket I brought to stuff down in the bag around her.
The remainder of the group trickled in and we worked on collecting some firewood, it was sparse and we had to climb the hillside to get enough for the night and next morning. The fire was next to a nice wall of granite so it really reflected the heat and everyone enjoyed its soothing warmth. It was very tempting to get my bag and sleep by the fire for the night but the sky kept dropping the occasional rain and I felt sure I would end up with a wet sleeping bag by morning. We spent a relaxing evening sitting around the fire with some pleasant conversation and companionship. I think everyone had retired by 8 or 9pm.
This night I came to realize what I have missed after so many years of being on the trail solo and sitting next to fires alone and waking up only make coffee for one. While solo hiking, camping, kayaking has its own set of merits and rewards, I found having the companionship to be more relaxing is many ways. I am not sure why but waking up and hearing the breathing of another human was something that really moved me. I know it sounds odd to most others, but after years of solo you realize a certain sense of being that has not been there in the past, like a new sound, sight, or smell. Will I let not having a companion stop me from making a trip in the future, no. Will I seek out a companion in the future, yes.
Sep 17.
The day started cool with temp about 38 but with clearer skies. I really do not remember what time I awoke but pretty sure it was about the same time as Amber. I got a little chilled during the night but I am used to sleeping a bit on the cool side. We had a nice leisurely morning and breakfast by the fireside coffee then worked on packing up. I was kneeling by the fire then stood up quickly and nearly passed out. Fortunately there was a rock behind be to lean against instead of going face first into the fire. On occasion I have had issues with this and low blood pressure especially in the mornings. I also think the low caloric intake vs. what I was burning was beginning to send me a message, eat more.
I think we were on the trail by 10am again. The first mile or so was the PCT heading to the east then we would intersect with a trail that led back to the south toward Tiltil valley. We passed a couple along the trail that had been camped the night before on the north side of Wilmer Lake. I took the rear and let everyone else go ahead, I needed some solo time, not sure why. I stopped for some water and pictures when the couple caught up with me and we had a nice chat about the trail, and families and they questioned me on how did some group of people from Texas decide on this trail. They seemed very intrigued that we choose this particular lake and trail as part of our hiking plan. We parted ways at the intersection of the PVT and my trail back to the south toward Hetch Hetchy. After a bit I caught up with rest of the group taking a break on an overlook toward the east. Our destination for the day was a lake just about a mile or so further up the trail. It would be a short day, only about 6 miles and 300ft elevation gain, 8800ft. We arrived at the lake about 2pm. I scouted the perimeter of the lake for the beset campsites for us and the best was located on the NW corner about where we came in. There was a nice meadow in that corner and we put our tent near the edge of the trees in the grass.
The day was warm but the air was much drier and you could tell it would be a much cooler night. Once camp was set up I commenced to putting a fire ring together and collecting fire wood. Amber pitched in and soon we had ourselves a very nice pile of wood. This was the most scenic campsite so far. There was a perfectly placed log you could walk out on into the lake to fetch water for filtering. A bit later I shed my shirt and went for a dip in the lake, while cool it was very refreshing. By 4pm the sun was starting to get low and you could tell the temperature was starting to drop and it would chill fast. I got on my nighttime clothes then made tea and got out the summer sausage. Amber and I sat by the fire and had a really nice appetizer along with the rest of the group watching the day slowly fade and reflecting on the day's sights and hike and talk of what lies ahead for tomorrow. Dinner was the usual, another dried meal in a bag. I am not complaining actually I really looked forward to dinner each night as it was my main calorie intake for the day and my body was beginning to talk to me about that calorie depletion.
After looking at the map a bit I decided I would take some time the early the next morning and go scout out a couple of other nearby lakes back to the west. Darkness seemed to come fast that evening but we had a really nice hot fire with great seating for all. Finally we had a very clear sky to enjoy the starlight and did we have them from horizon to horizon with no city lights or moonlight to interfere. We saw amply meteor and the vast stretch across the sky, the Milky Way. I am not sure what time we all retired but it seemed later than other evenings. I think we all were really enjoying the deep warmth of the fire and when you take a step away you realize just how cold it was getting. I noted that I had really stopped looking at my watch, a good thing which means I was letting go of things and relaxing. When traveling solo I beat to a totally different drum, go, go, go. I tend to always be on a clock and set myself deadlines, milestone checkpoints for traveling and always trying to beat those milestones. This was really different for me and I found it quite acceptable and to my liking.
Sep 18
I got up about the break of daylight and it was very crisp out, 28F. Amber was wrapped up well with only her nose poking out. Again we put the silk liner, mummy bivy and the fleece in and around her bag so she was warm. I got a bit chilled again during the night but that keeps me alive. I got out and put a few things on the fire gave it a few puffs and it came to life. I loaded it up so it would be good and hot for everyone when they got up. I grabbed my camera and took off up a hill about 300 ft. then leveled back off and across some taller granite rocks to catch some sunrise pictures. After sunrise I made a quick trip back to camp for breakfast then grabbed my fanny pack, water and camera. I set off to find the lakes I wanted to scout back to the west. As I came over a ridge with a large granite dome I looked down from the top of the dome and about 30-40 down was a bear looking up at me. Well, before I could get the lens cap off and camera turned on he was nearly out of site. They can really run fast. I continued on through the forest skirting the edge of a long meadow back to the south back to where the bear ran but never saw him again. After about a half mile I came to the most beautiful remote lake, so quiet and capturing. Certainly if I ever hike this trail again this is where I will spend the night. I snapped a few pictures, soaked it all in and then walked the meadow back the north following a dry creek bed that led back to another much smaller lake. It was more of a shallow swamp lake but still pretty. I made my way back over the ridge and back to camp. Everyone was pretty much packed up and we all got on the trail about 10am.
Today's hike would be mostly down back below 6000 ft. Our destination was Rancheria Falls about 8.5 miles with a drop of about 4100ft. As we moved along we quickly noted have fast the vegetation and terrain was changing. After about 4 miles we made our way down to Tiltil Valley where the trail empties into a large meadow. I was first down and moved out and back to the SW across the grass with what I though was the trail. There were NO signs and many paths across the meadow. As you are about to exit the meadow there was a trail that I came to and took a right as the other path went back across the meadow and I assumed it was just part of the large maze of trails that meandered across the meadow. After crossing the meadow I thought that I should go back and meet the group as they came down the mountain and help guide them across the trail maze. We all made our way across the meadow and when we got to the TEE in the trail Jaws asked what was to the left and I insisted that right was the correct route. So we all went left then the trail came to a sign which what we were expecting based on the map and one trail went back up another mountain to a lake and there was no sign to the right but what looked like a trail. We moved down that trail and it go really hard to follow. However, a ranger had told us that the trail was hard to follow through here so we just thought we were going good. It just kept getting thicker and thicker until finally we were really bush whacking to get through. We came to a clearing and tried to get our bearings and finally decided we had made a mistake somewhere. We back tracked and as we were coming through the thick grass some ground hornets got a bit feisty and whacked Jaws, Diane, and Alan a few times so they did their best to go around them then one of them little bastard lit into my backside. When I reached to slap him he stung me in the hand, at this point all you can do is laugh and keep moving.
We stopped at the last trail sign to take another look at the map and collect our thoughts. It was now 4pm, there was a creek with good camp spots around the edge of the meadow so we decided to spend the night there. While I was filtering some water Amber studied the map and determined where we had gone wrong and Alan backtracked to the TEE in the meadow then walked the trail the other way. That was the trail to Rancheria Falls but still 3 miles away and way down.
As it turned out we had a much better campsite than Rancheria Falls and another clear, cool star filled night. Amber and I put the tent up the hill a bit away from the rest of the group but plenty close to see each other. Dinner was cooked and we enjoyed nice warm fire. We all decided we would need to be on the trail early the next morning in order for us to get back to the trail and on the road as planned. So I agreed to get everyone up by 7am with the goal to be on the trail by 8am.
Sep 19
I was up early, 5am and sat with my coffee enjoying the star light, coyotes, and a distant owl. The sunrise and subsequent pictures with great shadows on a distant cliff were some of the best of the trip. Amber and I enjoyed the last of our oatmeal and then she started the packing up while I went to roust the rest of the crew from their slumber. Everyone got up and got moving. Alan, Amber and I got on the trail ahead and would wait on everyone at Rancheria Falls. Once back across the meadow we had a little elevation gain but then it was down, down, down and the terrain got drier. I think we made Rancheria Falls by 10am. Alan and Amber took off for the falls while I hung around to make sure the others did not pass us by. After a bit I put my pack back on the trail for the group to see and could not resist the waters below. Off with the shirt and shoes and into a nice cool pool of water, whew that really felt good. The rest of the group caught up then we got Alan and Amber back up to the trail. From this point we have about 6 miles back to the truck with many ups and downs along the trail and it would be dry with no water. Alan and I took the lead and really hustled to make those 6 miles go fast. We got some good photos of the reservoir and made the trail intersection where we had been 5 days prior. This would be about 2 miles from the truck. We ate some lunch and I told Alan I was going to run the last 2 miles to the truck then drive it down the hill to pick him up. Once I brought the truck down the hill to get Alan we waited only about 10-15 minutes and the rest of the group was coming across the dam. Everyone piled in and we went back up to the backpackers camp and used the facilities to clean up for the long drive back to Dallas. We got on the road by 1:45 PST.
Wow, what a trip. It was nice to be done but sad to have to say good bye. I really enjoyed my time with the group at Yosemite and the friendship and companionship of Amber Scheurer. She is really tough and did very well on the trail with a heavy pack gaining altitude, and some long days on the trail. We worked very well together as a team to get the day started with breakfast, followed by packing up, hiking, taking pictures, then once arriving at the next nights camp getting the tent, sleep pads and bags out, dinner cooked, pack the food away, gather firewood, light the fire, then relax. She is great with a map and provided the key clues that help us understand where I went wrong on the trail. I found myself more relaxed and actually slept later in the morning than I would normally when solo. I did my best not to disturb her when I had to do a midnight bladder relief or on some mornings when I did get up early and make coffee and start the fire. Hopefully she will continue to pursue backcountry hiking and hopefully join us again sometime.
A big thank you to Dianne and Jaws for inviting me to join them, I am very grateful and look forward to our next adventure together.
There are no words or pictures that can come near describing the depth of beauty of Yosemite. I was awestruck by what I saw on that first morning after we arrived and knew this trip would far exceed my dreams. By 10am of the first day my entire body was smiling and soaking up what we were experiencing. I have hiked many miles and trails throughout the Colorado Rockies over the past 20 years and enjoyed every footstep, mile, sight, sound, experience and people I met along the way. I enjoyed all the same at Yosemite but with a special flavor that is unique to this true wonder and treasure. I will return.
Here is a link to the trek as recorded by my Delorme GPS tracker. Color separated by day thanks to Amber's astute skills.
https://www.google.com/maps/d/viewer?mi ... BWlS1Wxq_I
Here are a few of many pictures.
Half Dome in the smoke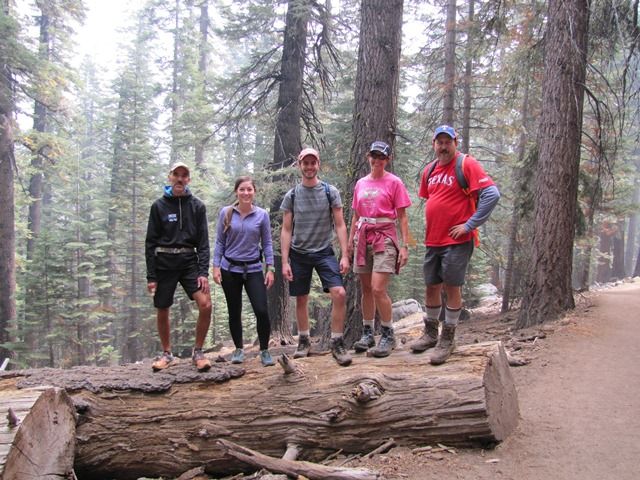 My Yosemite Compadres
Amber on one of our day hikes
Some very pretty ferns along a day hike
Yosemite Valley in the smoke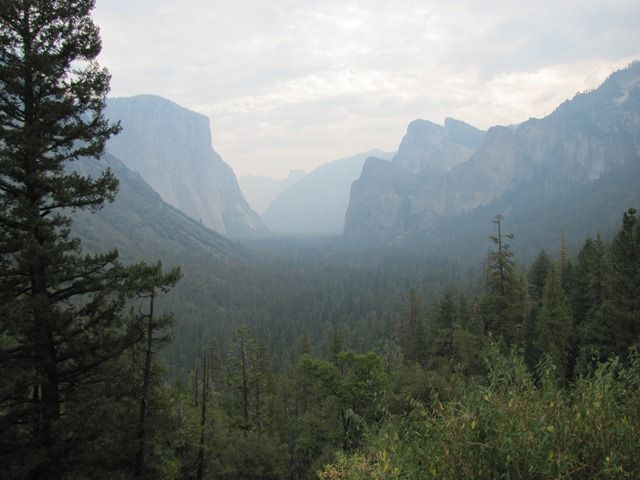 Yosemite Valley
Amber and The Valley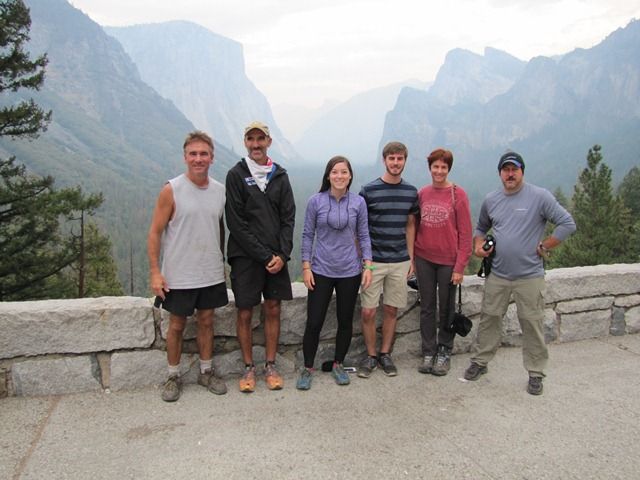 The whole crew of bandits, from right to left, Alan, Dianne, Jacob, Amber, Jaws,Earl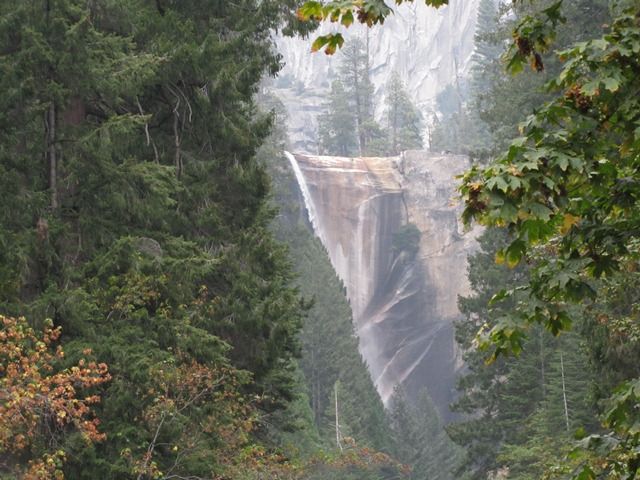 Nevada Falls
A day hike to the Giant Sequoias, this one is dead
The Yosemite Bandits just prior to the start of our journey.
Hetch Hetchy Reservoir Dam
Hetch Hetchy Reservoir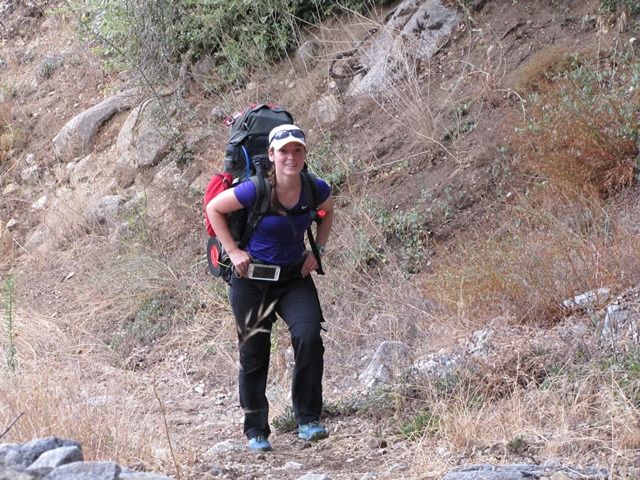 Amber on day one beginning the tug of war with gravity
Day one at a meadow not far from Bee Hive campsite
Day one campfire and fellow bandits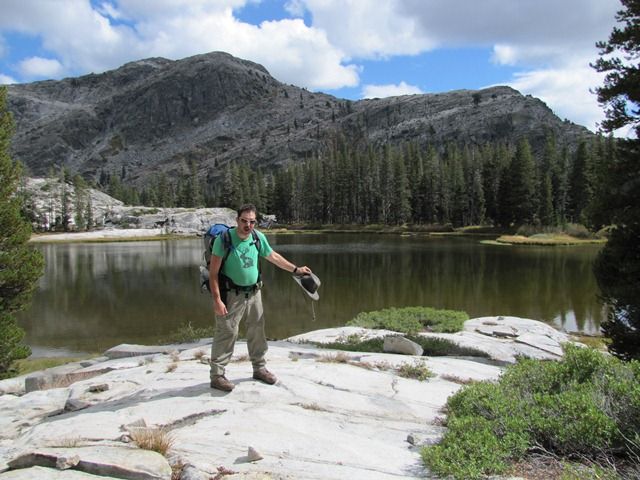 Alan on Day Two, made him remove that hat
Amber with her acrobatics
Day two of the bandits, used timer and a rock
Morning 3 of the lake we camped at with great reflections
More of the day 3 lake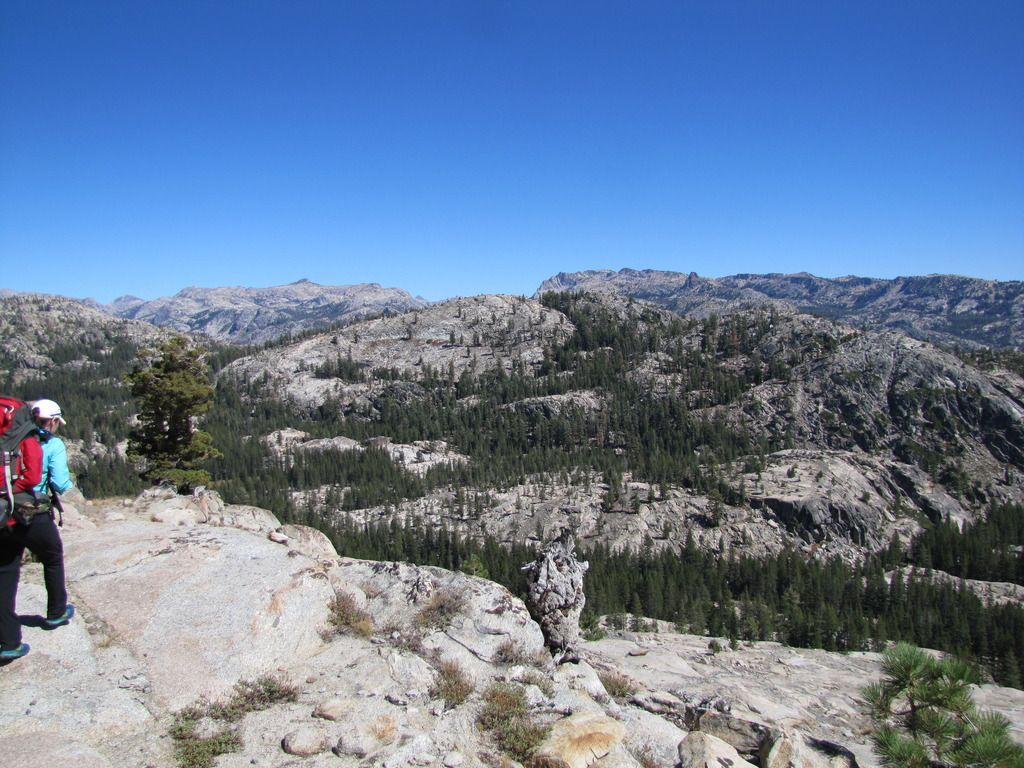 Day 3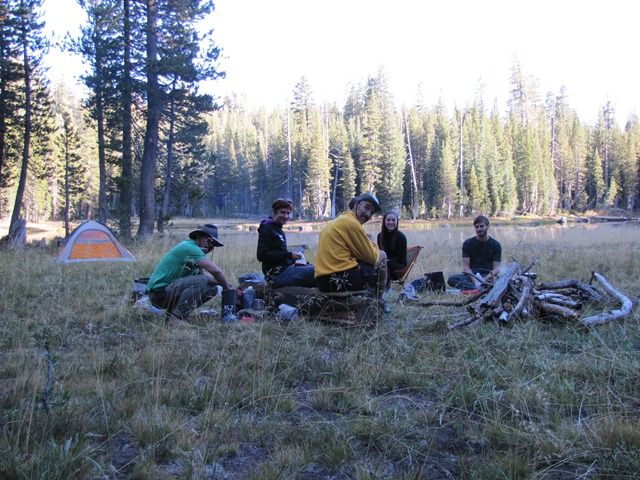 Day 3 by the lake with a beautiful campsite and friends
Day 3 campfire
Day 4 sunset at camp overlooking meadow
Day 5 on our way down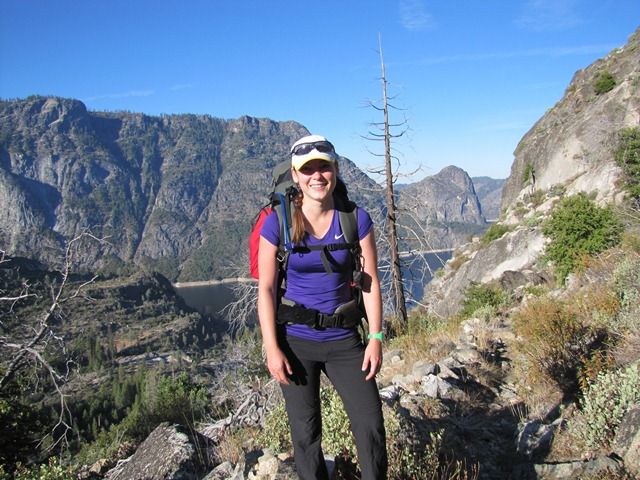 Amber with Hetch Hetchy in the background, getting closer
Day 5 along the trail looking across Hetch Hetchy
The Yosemite Bandits back in Plano, what a fun crew.
SYOT
Earl