By
Earl
- Mon Jan 27, 2014 3:07 pm
- Mon Jan 27, 2014 3:07 pm
#2006501
Illinois River, OK
Jan 18-20, 2014
Put In: Chewey Bridge
Take Out: Sparrow Hawk Campground
I have paddled the lower Illinois many times from No Head Hollow to Sparrow Hawk and always enjoyed the scenery. This would be my first for some of the upper stretches of this river. Along on this trip were my twin 14yr old boys Jake and Zach and my older son Alec and a friend of his drove from OSU to meet up with us. There were also 3 others from the DDRC with us. We drove in late Friday evening and set up our hammocks at Sparrow Hawk campground and would put in the next morning. Zach and I were paddling my 16' SOAR inflatable canoe, Jake was in his OK prowler 15 and Alec and his friend in smaller kayaks.
After some breakfast and warming up around a fire then thawing our drinking water we started loading up. It was a brisk morning 17F which was a bit unexpected as the forecasted low for Tahlequah was 29. The friend that Alec brought is from a town outside Tulsa and said yep that is just eastern OK for you in the winter, cold. We all got in the truck and headed upstream unloaded then ran our shuttle. Finally we managed to get paddling about noon and stopped within 300 yards for lunch. The day was warming up some but it was clear and sunny. The river is very scenic along this stretch and we were seeing bald eagles about every 2 miles along with a couple of Golden eagles. Our destination is a location on river left about 12 miles down just past and old iron bridge. Alec, Zach, Jake, Dominick and I got after it once we had our lunch down. The south wind really started to pick up late in the day the temps only reached the upper 40s to low 50s. By 3:30 we still were not to our campsite and the temp was already starting drop. We all just wanted to find the camp, get out of the wind and get a fire going. Finally about 4pm we arrived and found a long barren gravel bar in the wind and not so much firewood. After scouting a bit we found that up the high bank was a designated campground that offered some shelter from the wind behind some tall brush and plenty of firewood back down along the river bank downstream a bit. As evening set in the wind started to retreat and Alec and Dominick had put together a mountain of firewood. Jacob and Zach found the perfect spot for their hammocks and I decided to put up a tent rather than a hammock as I got just a little cold the night before and it seemed to me it was not going to be any warmer than the night before. Jake did the honors of getting the fire lit with 2 strikes of his fire steel.
After some chili and grilled cheese we all sat around the fire and visited a bit. They had found some pecan wood and you could really smell it. The fire was hot and the air getting colder which made it so very hard to go to bed. It was not long before we all got woke up by a group of coyotes in a field just behind us. After they quieted down then the cows got to going, I figure those coyotes were out there harassing the cows. Later in the night the coyotes were back at it but this time they seemed to be all around us and in pretty close. Then the owls set in a few times before dawn adding to chorus reminding you that you are in the great outdoors. After the owls piped down you could hear the faint trickle of the river gently moving on. I got up and got the fire started then put my drinking water in the river to thaw out at it was 15F. Once I downed my first cup of coffee I was much better and was ready for the day. Just at day break I heard what sounded like elk. The ranger I had talked to the day before mentioned to be watching as there are some in the area and that he had a group swim the river in front of him back in December.
After some breakfast we all got moving and packed up and on the river by 9am. The river was flowing just above 900cfs which really made for a gentle easy going day. There were some strainers to watch for in a few areas and Jake managed to get sideways with a log and in his own method managed to not go swimming and got himself free. That would have been a very cold dip on that morning and his clothes would have started to freeze once he got out but luckily it did not turn out that way. Again we were spotting bald eagles about every 2-3 miles. This is a very clear river and somewhat remote with very little trash along the banks except for some public areas along the way. We made our 2nd nights campsite by 12:45 which was a mid-point between the No Head Hollow put in and the Sparrow Hawk campground and left us with about 6 miles to Sparrow Hawk the next morning. This landing is actually owned by Sparrow Hawk. We all pitched in and gathered another mountain of firewood but this time we came across some easy pickens. A large sycamore had fell and broke into many pieces when it hit the ground and most was easily carried by one person. I got out my Platypus water filter and filter water for everyone to fill their day jugs and for the next day. While I like the Platypus bag system vs. my pump I do not care for the filter that came with it and have substituted a Sawyer filter using the Platypus bags.
After a nap in the sun and drying the prior nights frost off of tents and hammocks I pulled out my bag and new bivy I got for Christmas. I figured the night would be a bit warmer and really wanted to tryout my new bivy. The back of the bivy is waterproof but the top is water "Resistant" with a mesh face screen that zippers shut. I plan on using this thing on the coast when camped in the marsh or on the beach for skeeter abatement. The boys started playing with fire via a magnifying glass then erupted into burning two tires they found. Well, this really sent the smoke signals up and sure enough the rest of our paddling group who was still on the river several miles upstream could see it, teenagers for you. If that is their form of fun I did not oppose as I am so proud of all 3 of my boys. They all bust their hump in school and stay out of trouble and no issues with drugs or alcohol. They also are no wimps and low maintenance on trips like this. The twins are also distance runners for their track teams with one Zach having a mile time of below 4:40 and Jake a bit behind that. Alec is now 19yrs old and built like a brick sh$%house.
Jake once again did the honors of lighting the fire but today took 3 strikes from his fire steel and I started dinner. Dinner was a healthy dose of ham pasta with sautéed mushrooms, onions, garlic and red bell pepper with some sun dried tomatoes and parmesan on top of the alfredo sauce. After dinner was down I was ready to sit by the fire. Boy that sycamore was really burning hot and ended up smoking a pair of socks while warming my feet. The boys were tired and crawled into their hammocks early I sat by the fire and chatted with our DDRC friends Marc McCord, Tom Taylor and Chuck Baab the made may way to my bivy. The bivy already had frost on the top but I crawled in and could tell that just that thin layer was going to keep me a bit warmer during the night. The mesh screen is really nice as you can fall asleep staring up at the stars. This night was much quieter with only one set of coyotes and owls and my bag was just 20 ft from the waters edge so the gentle trickle of the river was more predominant and soothing.
Morning came and it was a balmy 25F with a scattering of light clouds. I cooked up what was left of our omelet fixins and had enough to feed Alec and his friend also. They brought their own gear and food and were eating dried mountain house when I asked them if they wanted an omelet. They were grateful for the additional calories. We packed up and were on the river by 8am for our quick paddle down to sparrow hawk. Chuck Baab got on the river with us and we all pulled out at the same time. Marc McCord and Tom Taylor are the late sleepers and stayed behind. I was very grateful to get all of my boys together at one time for another great trip on a fantastic river. I know this will continue to get harder to accomplish as they get older. This is a fantastic stretch of river and I will be back for more, perhaps putting in at Watts and paddling the full 58 miles and spend a few extra days.
Here are a few pictures.
The boys, from left, Jake, Zach, Alec's Friend Dominick, Alec. Loading up at the Chewey Bridge.
Water runoff that was frozen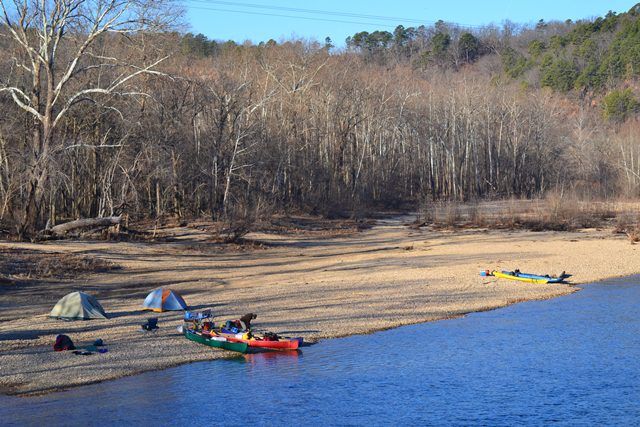 First nights camp
Upstream, taken from bridge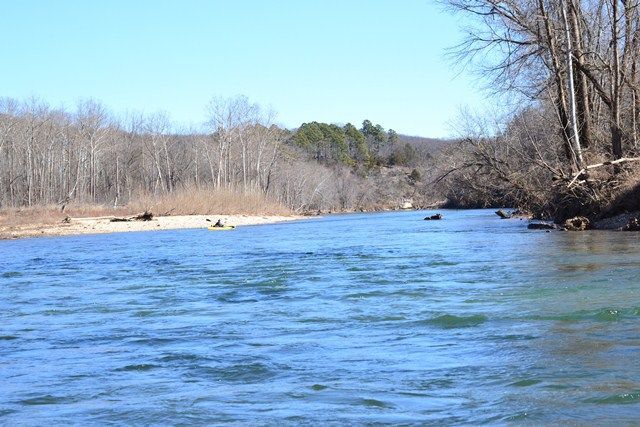 River
Some bluffs along the way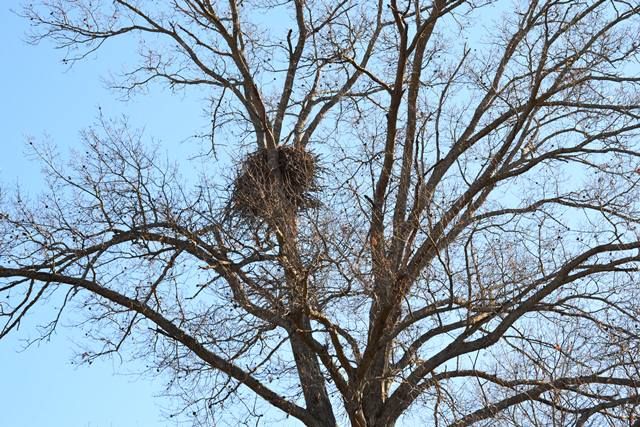 Bald Eagles Nest, A bald was in the tree next to it.
Bald Eagle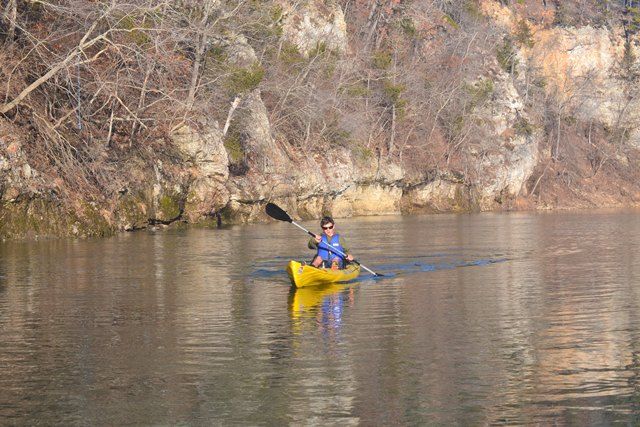 Jake making his way
Zach wanting to know when dinner is?
Jake working the firewood pile
Jake and Zach's camp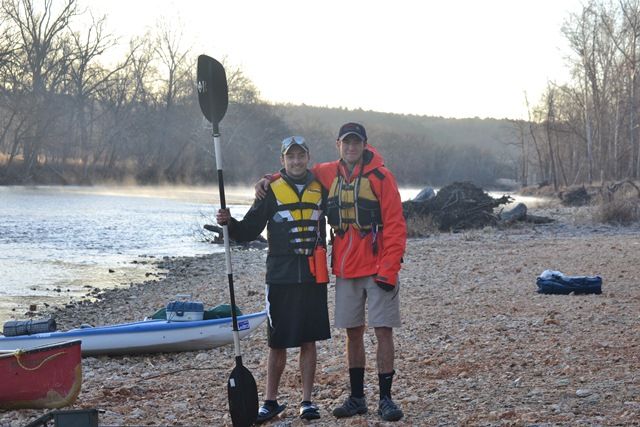 Alec and Dominick on last morning prior to getting on the river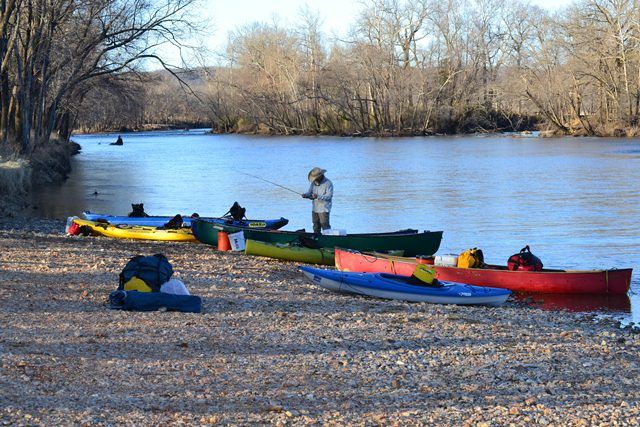 Chuck Baab getting his flyrod out.
SYOTW,
Earl