By
Earl
- Mon Aug 19, 2013 2:10 pm
- Mon Aug 19, 2013 2:10 pm
#1953707
Buffalo River, Arkansas
Aug 15-17, 2013
Put In: Ozark Campground
Take Out: Grinders Ferry
This was a spur of the moment trip with Jacob. I had seen the rain on the radar earlier in the week and saw the gages pickup then pulled up the forecast. With temperatures expected to be in the 70s/50s and plenty of water in August, I could not refuse. I have been wanting to get my boys up on this river for a while now and here was my chance for one of them before school starts.
Thursday 8/15
We left Plano about 3am and arrived at the outfitter about 10:30. Arranged a shuttle and we were on the water by noon. The gage was showing us with about 550-600cfs. After a quick couple of miles we pulled over for some lunch. I wanted to make at least 10 miles for the day as we had a total of 45 miles to make by Sunday AM. We stopped at mile 10 on a high gravel bar on river left. Jacob decided he wanted to keep going and find another spot. Well, we paddled further than I had wanted and finally about mile 16-17 we found a low gravel bar and called it a day. This was not a place I would normally camp as this river can rise quickly. However, the forecast had no rain and the river was falling so we made camp. We just put our bags out on the gravel and pulled out our chairs. After some dinner we were both very tired and crawled in our bags and were asleep quickly, it had been a long day.
Friday 8/16
I slept in until just before 6am. It was about 56 degrees and very foggy. I had awoken during the night thinking I was seeing distant lightening. However, after staring at it for a couple of minutes I decided it was a radio or cell tower strobe, but it sure did get me going for a moment. After some Spam and easy cheese quesadillas and chasing it down with some oatmeal we pack up and were on the river by 8am. Just as we were sliding in we saw 3 otters swimming down the river. Our campsite destination was a place just below Woolum, about 11 miles downriver. This was a place I had camped before and knew there would be trees to hang our hammocks. The day was cool and the temps struggled to get out of the 60s until late in the afternoon. We took our time as we adsorbed the beautiful river and day and fished a little also. The river sure looked a lot different from the trip in May when it was flooded. We made camp by 11am then set off on a long walk down some of the dirt roads. I think we walked about 10 miles that afternoon. Only saw two boats come past during the day, hard to believe with such a beautiful weekend. After dinner we sat out in our chairs and watched the stars a bit before crawling into our hammocks. I was awoken during the night to a hog snorting around the grass about 5 ft behind our hammocks. I sat up and snorted back at him a couple of times and he ran off. Then later I had an armadillo rooting around under my hammock. Would prefer being awoken like this to a siren or loud car any day of the week.
Saturday 8/17
Got up about 5am and made me a cup of coffee and listened to some coyotes across the river. Morning temp was about 51. Jacob and I finished up breakfast then packed up and were on the river by 7:30. He wanted to get on the river early to see wildlife and make our camp in time to make a decision to either paddle out or camp another night. Shortly after getting on the river we were both startled by a hog that appeared to have fallen river right behind us. I am not sure if it fell in or was actually chasing us. It crawled out then ran down the bank toward us then fell in the river again. It is not clear if he fell or jumped. He got out of the river again then ran off in the brush and we could hear him snorting at us. About half a mile later we came upon a Golden Eagle sitting up on a Sycamore branch. We made our third nights destination about 10:30am and had passed about 2 dozen other boats mostly day trippers. The gravel bar we had planned on camping on had some nice trees at the top to hang our hammocks from and plenty of firewood. This spot is just above Arnold Island looking out and a large bluff. There were two other tents at the far end of the gravel bar. After some swimming and fishing Jacob decided he wanted to finish out and go home. It was only a 4 mile paddle down to Grinders Ferry where my truck was. We were packed up and off the water by 12:30. I think Jacob just wanted to get home and tend to a sick dog and prepare for school. He really likes river camping but prefers the cold weather over warmer.
Here are a few pictures
STOTW,
Earl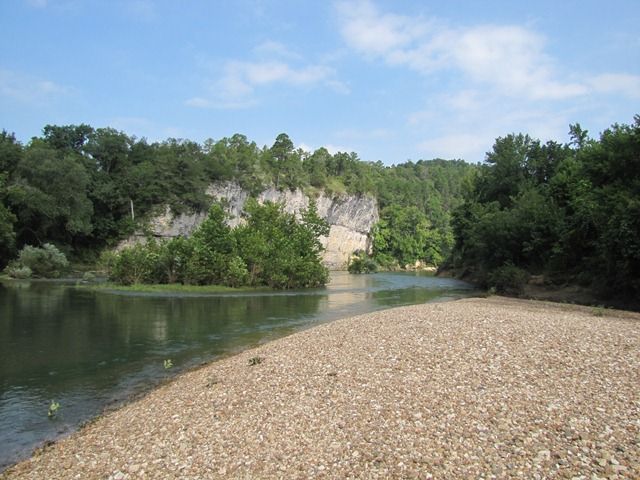 Second nights campsite