By
Earl
- Wed Jul 10, 2013 1:43 pm
- Wed Jul 10, 2013 1:43 pm
#1933257
Rio Chama, NM Jun 28-30, 2013
This has become a yearly trip for me and one I look forward to. For three years in a row now I have managed to draw at least one permit for this river, this year I got two launch dates. I kept this one and turned over the Aug launch to a fellow member of the DDRC. Along on this trip was my 18yr old son Alec, George Lackey, Anita Goss, and Jaws and Diane from DDRC. We all met at the El Vado Ranch below the El Vado reservoir on Thursday afternoon. Anita rented a cabin for that night also so Alec and I slept in our hammock or on the ground out in the front yard, Jaws and Diane did the same. We ran our shuttles late that evening that way we could get an early launch on Friday morning. Anita made dinner with Chili and a lot of other fixins and side dishes, we all had more than enough to eat and enjoyed every bit of it, many thanks to Anita.
Friday morning we enjoyed a large spread for breakfast that Anita put together. We all gathered our gear and finished packing up our boats. Alec and I were paddling my 16ft inflatable SOAR Canoe, George was in is 14ft SOAR, Anita in one of here kayaks and Jaws and Diane in a tandem canoe. Dell, BLM ranger showed up just before we were about to launch and let us know the river was running just above 800cfs. After a few minutes with him we were off about 8:40am. Our first nights campsite was only 8 miles down on river right and was a site I used last year. Of course we stopped at the hot spring ("Hot Tub") on river left. I estimate the water temp to be 104-108F and it sure feels good on a cool morning. We made camp about 11:15 with not paddling hardly at all, the water was really flowing and was a nice treat from years past. The campsite on river right is at about mile 8 and offers a little gravel beach and low bank. Up the bank there is plenty of shade courtesy of a couple very large juniper trees. One is the larges I have ever seen, ~3ft in diameter.
Once we downed some lunch and set up camp Alec, Jaws, Diane and myself were off on a hike to the top of the canyon and then maybe on to Galina Peak about 2 miles away. The view from the canyon rim is awesome and you can see the other river runners up and down the river. We walked through the forest for a bit and came to a dirt road that I had seen on the maps and knew it would take us to the base of Galina Peak. We began to get some afternoon thunderstorms push through with some close lightening but not too bad. We got to the base of the peak and decided we just did not have enough time to get up there and down before dinner so back down we went. Alec and Jaws found a pair of intact antlers from a deer. Once back to camp we snapped a few pictures and sat down for dinner then I made some willow bark tea then straight to bed for Alec and I. We packed light on this trip so dinners were dried meals and breakfast was a big pot of oatmeal.
Jun 29:
George, Anita, Alec and I packed up and were on the water by 8:30. We wanted to get our paddling done and be off of the river before the afternoon thunderstorms. Our first real rapid is Aragon Falls which is a nice little class III drop. We stopped and scouted but nothing had changed from last year. Alec and I went through first with George behind us. Anita comes through and intentionally runs the drop off, with no issues. A bit further down we come to an area of smoke up on the cliff side on river right. There was a small forest fire up there presumably touched off by lighting the prior afternoon. It was only about 1 acre the best we could tell. After a pit stop at the Chama Wall campsite and getting back on the water Jaws and Diane caught up to us. They stayed a little late at camp to enjoy a large breakfast. Then we saw a plane flying over the forest fire we passed earlier. After a coming through a couple more rapids we came to our campsite on river right. This is a campsite I have used before and offers a low landing making it easy to get the boats pulled up and gear unloaded. There is plenty of shade up on the banks and trees for Alec and me to tie our hammocks. This would be the last night of our 8 days from home, so far we have not pitched a tent at all, only hammocks and sleeping on the ground. I did tie a tarp over my hammock just in case the afternoon storms came along.
After some lunch and a little rest we start to notice some smoke blowing down the canyon from the fire that is about 3-4 miles upstream. The wind has picked up and the air is dry and sun in full force and you could hear helicopters on the fire scene.. Alec, myself, Jaws, and Diane set off on a quick hike to a box canyon but we have to wade or swim the river first in order get on there. After a quick was wade we set off for the box canyon which is short hike then some rock hopping to get up there. I was getting a bit apprehensive about the fire so we made a quick pace up there and spent a few minutes then started back. I got to the river and the smoke was thicker with some thunder and lightning around. After a quick wade back across the river and walk back to camp I discussed the situation with George a seasoned river man. He had not encountered a situation like this before. If we had to evacuate the only way out is down the river and the take out is 4 hrs. to where our truck is. At least the fire was not downstream and moving toward us. We had heard from other rafters coming by that the rangers was stopped at the Chama Wall camp waiting to see if they were going to evacuate the river. We that had me going at that point. I am not fond of paddling a class II-III river in the dark and anything past about 4:30 meant we would have some dark paddling and it is 3:00pm now. Then the skies opened up and the rain started coming down and you could tell this was not just a local storm but a bit larger maybe 5-15 miles across. After 2hrs of rain the skies lightened up and the smoke was all gone. A bit later the helicopter came back to check on the fire and he did not stay long, we presumed it was out. That sure made sleeping that night a lot more restful. I made some mint tea from wild mint I found along the rivers edge, that warmed me up after the cold rain. After some dinner and river story sharing we all called it a night about 9pm but not before I downed a cup of willow bark tea. About 2:30am I awoke to the sound of something slipping into the river very quietly then I heard it climb out on the other side. A couple of minutes later a large rock rolled off the hillside into the river and made a mighty ploop.
June 30:
I got up at 4:15 and made some coffee then grabbed my chair and sat down by the river just soaking up the day slowly creeping in. First hints of daylight showed up about 4:45 then the birds filled in. I had a few bats flying right through the brush, it is amazing how those guys fly through the thick brush and tree limbs. Alec and I enjoyed a large pot of oatmeal then packed up. Everyone was packed up and we were on the river by about 8:15. Once again we wanted to be off of the river before the storms set in. In years past we had to make stops due to intense lighting and even encountered a flash flood on this river. I have come to treat this river like climbing a 14k ft. mountain, get off by noon. After paddling through a few small rapids we enjoyed the slow water and views as we passed through the Christ Monetary. Our first rapid is meandering rapid which is where Zach came out of his kayak last year. As we approached the rapid Alec pointed out the rock that Zach hit last year and we slid past. Then we turn around and see that George found the rock and is stuck. We eddied out and I was headed upstream with my throw rope when George managed to free himself. Alec and I paddle a bit down and George catches up to us and says Anita hit the same rock and came out of here kayak and is swimming. We eddied out again and I am headed upstream when I see her and her kayak come flushing downriver. Jaws and Diane had eddied out above us and managed to grab both her and her kayak. After a quick pump out Anita was back in and we were all on our way. The next was Bridge Rapid, Anita got pinned briefly on a rock but Jaws and Diane got here free. They came through and had to pump out a little but not a big deal. We all made it through the rest of the rapids without incident and made the Big Eddy takeout by noon. We were all packed up by 1pm with some great pictures and lots of memories. Alec and I made it back to Plano about 2:00 am and I made to work by 6am.
This year I packed lighter and loaded the SOAR a bit differently this combined with pumping it up a bit tighter made handling it down this river a breeze. I was in back and Alec up front. Alec really never had to paddle much the entire trip except a few quick maneuvers on the last day through Screaming Left Hand Turn rapid. He did a great job of being my second set of eyes watching for rocks that maybe I was not seeing. I also kept the boat slow and moving no faster than the current through the rapids. This allowed ample time for reaction.
Here are a few pictures, enjoy,
An Osprey that I watched catch his breakfast just before our launch.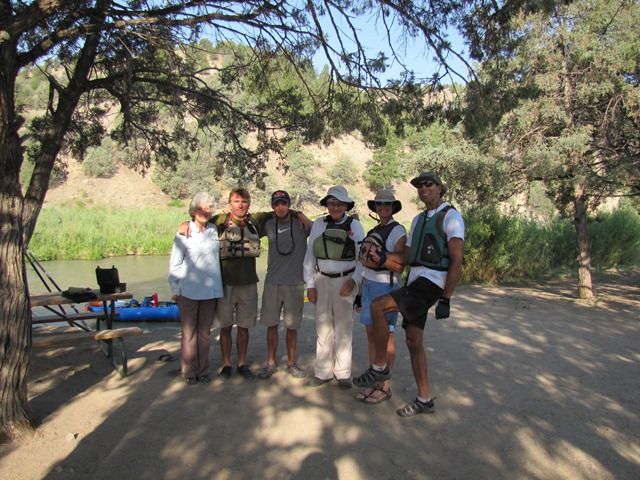 The paddling crew at launch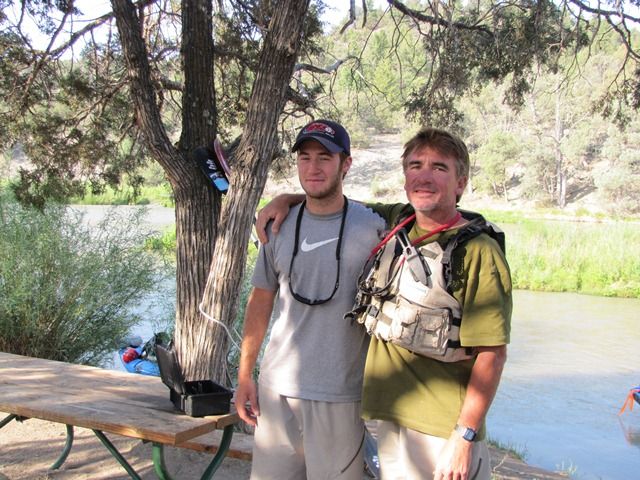 Alec and I at launch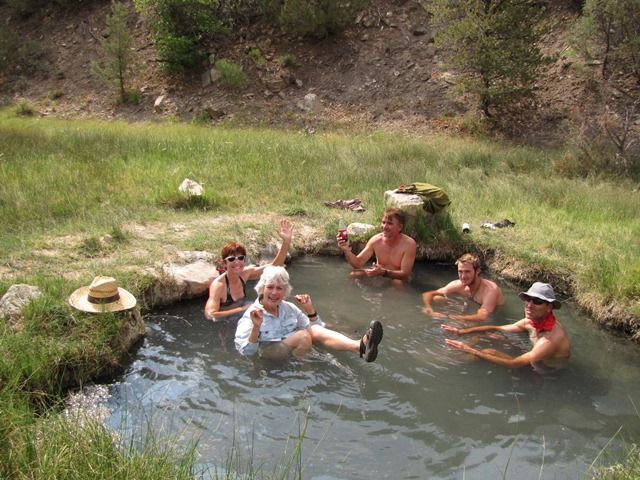 The "Hot Tub"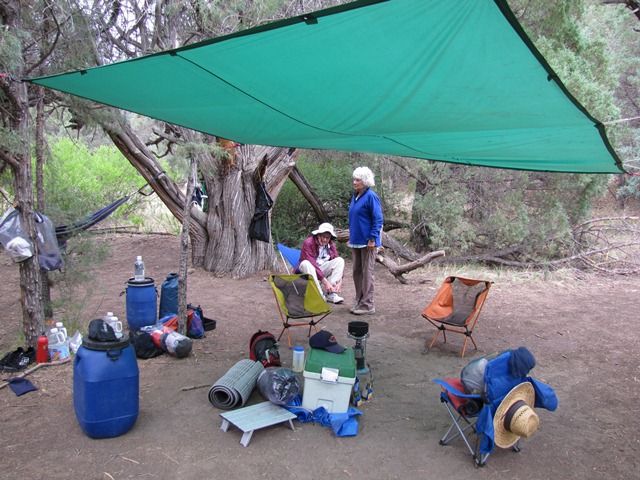 First nights camp. Large Juniper in background
Riverside view first night.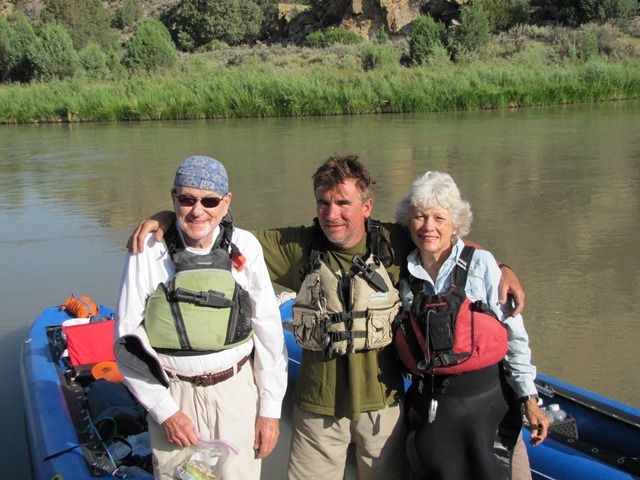 Two of my favorite paddling partners. The man is a VERY seasoned river man and Anita is VERY fit woman
Making our way the only way we know how
George and Anita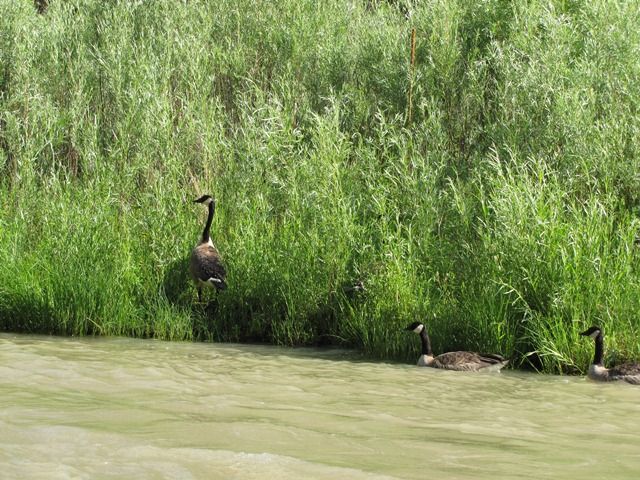 Some of many geese we observed along the way.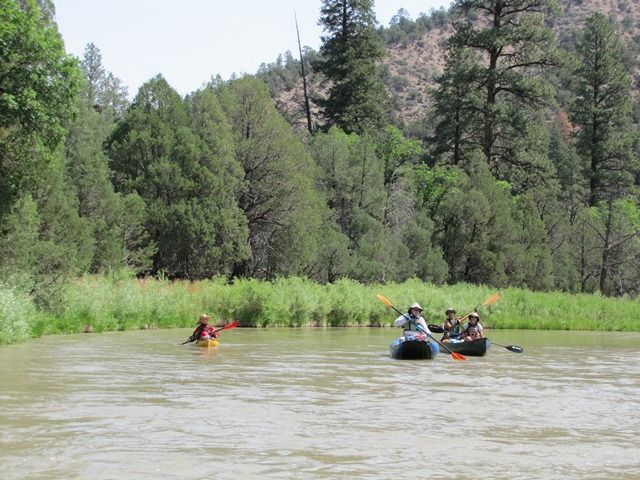 George, Anita, Jaws, and Diane
Last day scenery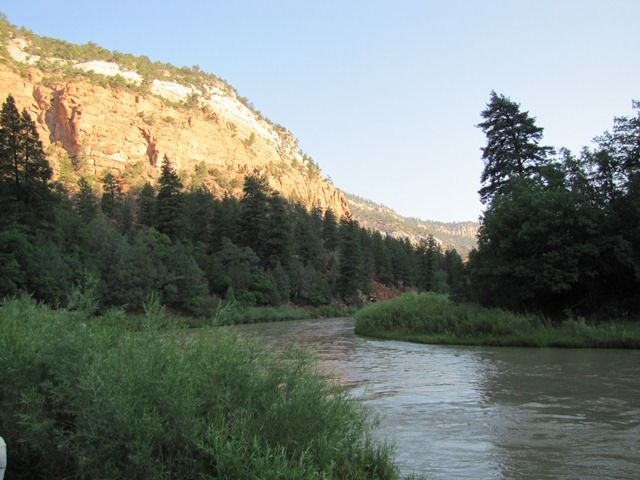 2nd nights front porch view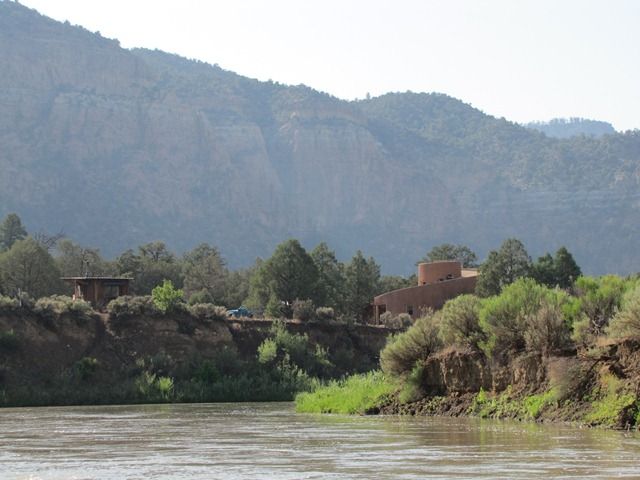 Christ Monastery on last day
Jaws and Diane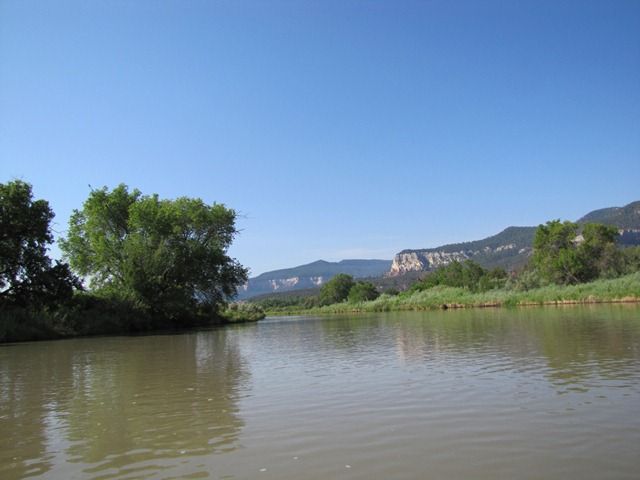 Last day as the canyon opens up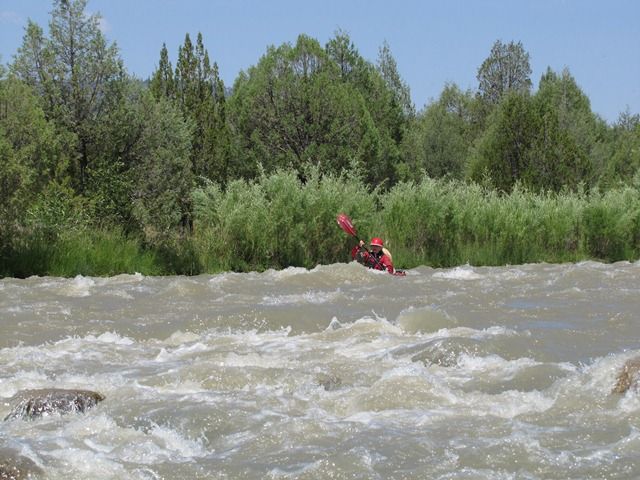 Anita coming through Bridge Rapid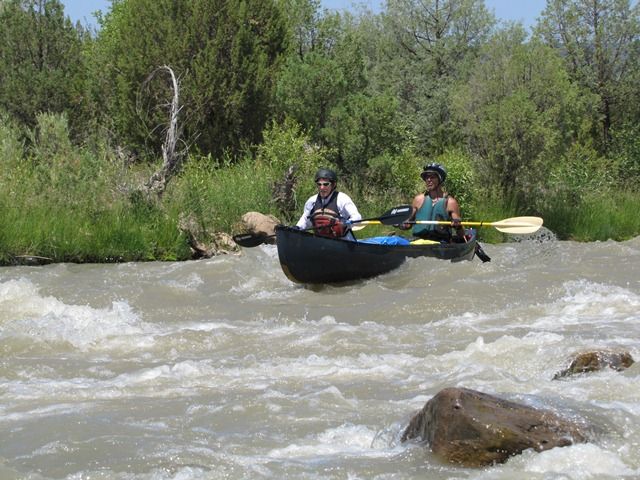 Jaws and Diane coming through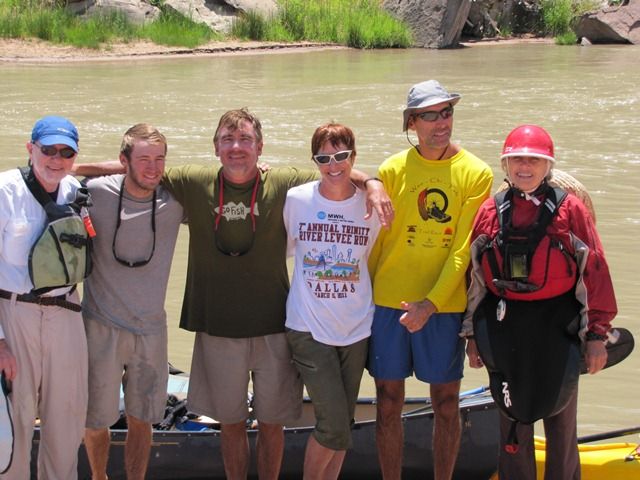 The Rio Chama survivors
SYOTW,
Earl