By
Earl
- Fri Jul 05, 2013 3:06 pm
- Fri Jul 05, 2013 3:06 pm
#1930742
Colorado Hiking and Climbing: Mt Shavano
June 25-26, 2013
My oldest son and I finished up our white water paddling on the Arkansas River outside of Salida, Co then set our sights on getting on top one of the local fourteeners. Climbing one of these mountains has become a yearly ritual and it is such an inspiring moment when you get to the top and then you feel like you are on top of the world for a few moments. In the days prior we had seen a forest fire south of Salida and it filled the canyon with smoke and ash one day so we were a bit apprehensive about setting off on this trip with a fire close by. However, the day we got up to go up it seemed like the fire was out and the wind had changed from the north and cleared the smoke out. We drove up to our trailhead then unloaded our packs and set off. Our intentions were to go make a base camp somewhere then drop out big packs and load up our day packs with water, lunch, snacks and camera. We traveled the Colorado Trail about 2 miles north from the trailhead and came to Squaw creek. After a quick scout of the area we found a suitable place to hang our hammocks and drop the packs. I hung the food and packed our daypacks and we were off to the summit.
We were getting a late start as we did not start toward the summit until 9:40am and expected it to take us 3 hrs to reach the top. We were out of the tree line by 10:50 and could see we picked a really good day to be late and go up top. There was not a cloud in the sky and it was a bluebird day. We could also see the summit and it just seemed so far to go. The trail winds around the mountain up to a saddle point at 13,600 ft. then on up to the summit at 14,229. Our base camp was at ~9500 ft. This was one of the more challenging trails I had done in a while. The trail was filled with scree and lots of larger rocks and VERY few switch backs so it was steep. We both settled into our breathing rhythms and just kept plodding along. We passed a few people and some already coming down. As we approached the saddle the wind really started to pick up and of course both of us in shorts and a tee shirt with no jackets. At the saddle I estimated the wind a steady 40 with gusts up to 50.
As we climbed above the saddle the wind started to drop. The last 250-300 ft. to the summit was a rock scramble and some points we were on all fours. Once on top we were really treated to the beauty and clear skies to the west and south but the north and east was a little smoky and the wind was nearly calm. The top does not have much room and not many flat spots to sit down. There was a couple up there and a young man probably 16-17 yrs. old who live close by. As we sat there and marveled on the view we looked west and you could see many of the forest fires around the state, we counted 6-8 fires. We also clearly recognized another peak to the west as that of Mount Uncompahgre some 77 miles to the west. I am guessing that our visibility to the south and west at 100 miles. After a lot of pictures, lunch and rest we decided to make our way down. Still no clouds in the sky so no need to hurry. As we got the saddle the wind once again began to really punch on us and then let up as we moved on down. As we descended we came upon a big horn sheep and some mountain goats.
We got back to your base camp filter some fresh water from the creek and began some much needed re-hydration as we both consumed 2 liters up and down the mountain and then ran a little dry. After dinner we were quick to crawl into our hammocks even though it was still daylight. During the night something came walking right next to my hammock, figured it to be a deer or elk as it moved rather slowly and was not a heavy breather like a bear.
I got up about 5am and made me some coffee and enjoyed the sound of absolutely nothing then the birds began to slowly fill in along with a squirrel who seemed to be rather offended that we tired our hammocks to his tree. We made a big pot of oatmeal then packed up and made our way back to the truck. We wanted to drive south toward the New Mexico state line and campout somewhere along the Conejos River before needing to be in Chama, NM the next day. We did find a nice place in the Mogote campground. Now I am not fan of sleeping in campground anymore but this one did have freshwater so we did not have to pump. However, about 2:30am I was reminded why I do not like campgrounds. Someone pulled in and drove around and parked then I heard two car doors close so a least 2 got out. Then I hear some verbal exchange then some dog going absolutely nuts. This was followed by at least one individual walking through the woods cracking sticks, collecting firewood despite the burn ban. After a few minutes I heard some more verbal exchange and more dogs, I decided I would get my pistol and put it between my legs in the hammock. If these characters came over to my camp looking for trouble I would just invite them to check the plates on the truck. Yep, from TX and that means we sleep with one eye open and a pistol between our legs. Then you could smell the fire they had started and it seemed to quiet down. Then minutes later they packed up and drove out, you just got to wonder sometimes. Then about 4am a deer came walking right next to my hammock and I heard him coming very slowly then as he was about 3 feet from me my leg slid in the hammock just a fraction and it was enough to get a good snort out of him and off he went.
Alec and I had a very lazy morning enjoying sitting along the river bank laying in the sun and watching a fly fisherwoman. Then it was time to be off to meet up with some friends below El Vado reservoir on the Rio Chama. I had a permit to camp out on that river starting June 28-30.
Here are a few pictures: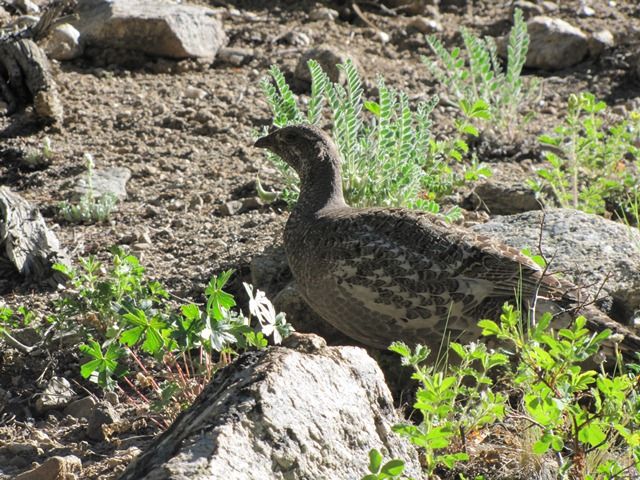 White-tailed Ptarmigan and one of her five chicks in the next picture
Alec and me on the summit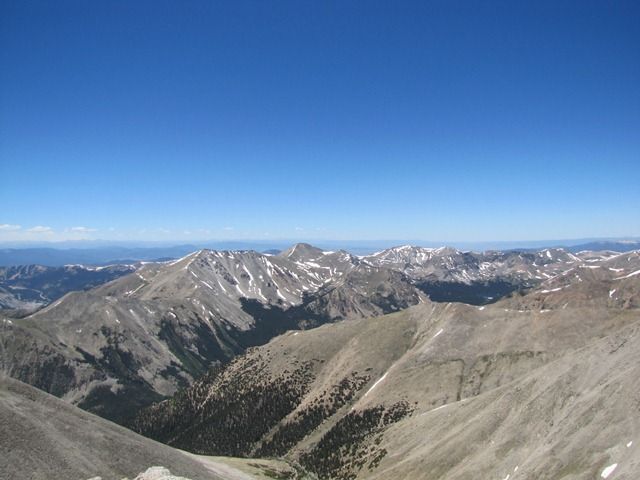 View from on top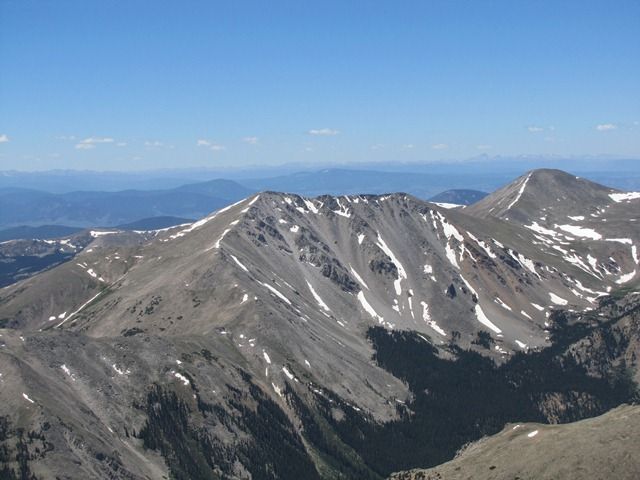 Another view from on top. The mountain tops in the upper right is Uncompahgre 77 miles to the west.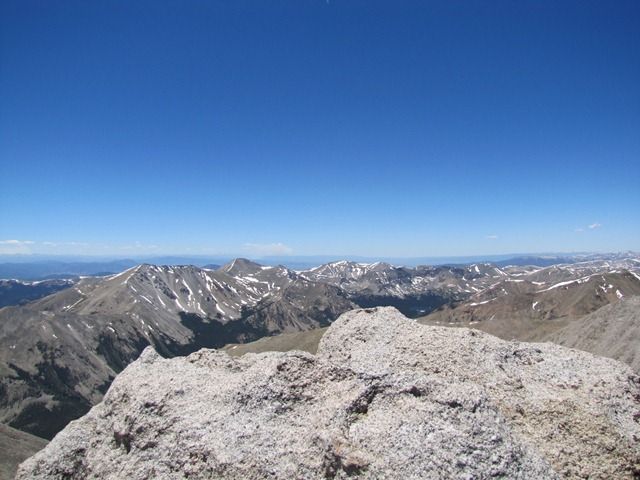 Just left of center in the distance you can see a smoke plume from a fire. We counted 8 of these.
A marmot that was on the summit
Bighorn on the way down
Mountain Goat on the way down
Base camp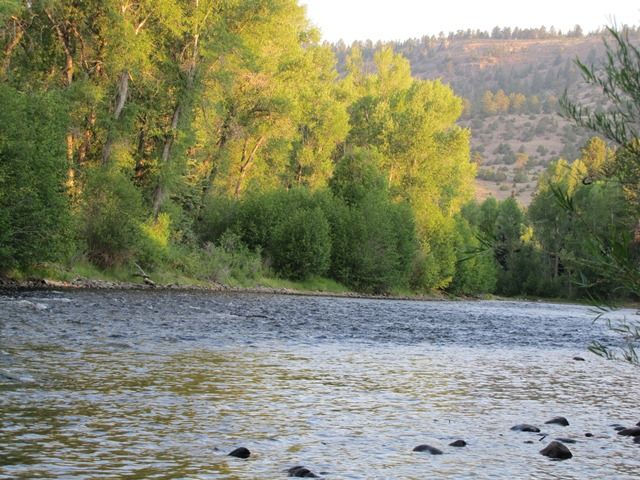 Conejos River
Earl