By
Earl
- Tue Apr 09, 2013 9:44 am
- Tue Apr 09, 2013 9:44 am
#1887044
Mulberry River, AR
March 29-31
Along on this trip was my oldest son a senior in high school and 16 members of the DDRC (Dallas Downriver Club). Alec and I got away from Plano at 4:40 Thursday afternoon and made it to Byrd's Adventure Center north of Ozark, Ar about 9:30pm. The forecast had rain all weekend so we made quick work of getting our camp set up. We found the perfect 3 trees forming a right triangle for our hammocks and tarps. Good thing we did as it started raining about 11:30 that night and did not stop. We stayed warm and dry up off the ground in our hammocks. I got up at my usual 4:30am and made me a cup of coffee and sat in my chair and listened to the river and the rain. I am always so relaxed sitting next to a river and soaking up the sounds. I was eagerly awaiting getting on the river and taking that first stroke of the blade through the water. It is like getting your runners high and is an instantaneous sensation of relaxation. For me reaching out and touching the river is analogous to touching a woman. Each curve is a new experience with some being soft and gentle and others wicked and wild, in either case you are always left looking for more and curious and tantalized for your next rendezvous.
Friday March 29
After some omelets for breakfast and everybody else getting their act together we finally got moving to our river put in for the day at 10:30am. Based on the forecast and current river level we elected to paddle the lower section of the river from Campbell's cemetery down to a take out near I40. This is about a 12-13 mile paddle but very scenic and not travelled often. The shuttle for this run is long and takes about 2hrs total. We did not get on the water until 1:30pm and got off at 5:30. We had several bouts of rain but nothing lasting to terribly long with temps in the 50s. I elected to go without the wetsuit and just wore my nylon long pants and a good warm top wicking layer, Alec wore his wetsuit. I was paddling my OK Trident 15 and Alec his Malibu Mini x. There are some really nice rapids in this section all class I-II with a couple of Class IIIs.
Due to our late start I did not have time to play in the rapids too much. Alec and I worked our way out front in order to pull out and get some shots of people coming through a real good zinger of a rapid called "Wrecking Rock". I got set up with the camera and told Alec I expected 3 wipeouts on this one. Sure enough the first guy through bought the farm and was taking a scenic tour of the rapid. Alec swam out to him and helped him get to the bank while I snapped shots of others coming through. I was wrong on the wipeout count, only the one with a couple of close calls but everybody faired well. After a long day on the river everyone was ready to get back to camp and start on dinner. Alec and I had salmon, steaks, baked potatoes and salads. Since we were base camping I brought the works for meals.
After dinner we got a fire going and sat around the fire for a bit and could see lighting in the sky. I fell asleep in my chair next to the fire and was awoke about midnight by rain, everyone else was already asleep in their tents. I made my way to my hammock and once again it did the trick on keeping me warm and dry during a brief thunderstorm and then rain most the rest of the night.
Saturday March 30
After breakfast the group got moving and we loaded up for another day on the water. Most put in at the Reddinng campground about 4 miles downriver from our camp with our destination Campbell's cemetery. Alec, myself and a few others put in at camp and made the longer trip to Campbell's. This would be about a 16-17 mile paddle for the day. We got on the water about 10:50am in a cold rain with temps in the upper 40s. No wetsuit for me but it was tempting, as long as I kept paddling I was warm and I could feel my body burning through the calories. We made the Redding campground in about 50 minutes and made a quick stop to assess the facilities. This campground had really nice tent sites and hot showers, really could not understand why nobody was camped there, I will camp here next time.
We stopped for lunch about a mile past Turner Bend. Last year there was a major log jam here which was a sure boat pin and high risk of loss. This year the logs were gone (sort of) and the rapid was open. This is a very nice drop on river left and then it shoots you to the left and then sharply to the right. There is a log that is laying parallel to the left bank and in the sharp turn such that a good portion of flow is moving under the log. When you sweep down the shoot you get too much speed and it sweeps you right into the log and if you pin you will be enjoying the water at eye level. I was the first one through and learned all this rather quickly but did manage to not come out of the kayak but did caress the log with my boat and at least one word of praise. Everyone else made it through also without incident.
Finally the sun broke through the clouds and improved our day. We caught up with the others about 3:30. I took some time to play in a few rapids. Did you know you can surf a 16 foot kayak, well I can. I found a couple of wave trains that presented the perfect opportunity to sharpen my surfing skills. I found one where I got the boat balanced so well in the rapid that I could pretty much just sit there without moving. If you did itch your nose though you would knock it out of balance and toss you out. Yep, I did just that and went for a swim.
We all got off of the river about 4:30 and made our way back to camp for some refreshments and dinner. Alec and I had bacon bleu cheese burgers and leftover salads. There was Dutch Oven apple cobbler later and a warm fire to sit next to, my recipe for a good snooze. Once again I was rattled out of my chair by a thunderstorm. This one was a bit more vigorous than the night before and seemed to be more widespread across the area and it did not stop until 6am.
Easter Sunday March 31
I awoke to rain and thunder and just laid there in my dry warm hammock and could hear that the river had come up during the night. This was perfect as most of us wanted to make the trip from Wolfpen back down to the campground. This is a good class III filled run with several being significant. The night before we made it clear that those who wanted to run it needed to be ready to run boats and shuttle by 8am with plans to be on the water by 9am, no more crack of noon club. As it was we did manage to be on the water by 9:25am. The rain had stopped and the temps were in the upper 50s. I elected no wetsuit but did put on my helmet. There is a very nice class III rapid just below the put in and it really looked like a rock filled torrent. I was the first one down and everybody was watching as I made my shot into it and promptly came out of the kayak. After a quick 5s re-mount I was back in control in time to swing the kayak back downstream and enjoy the rest of that rapid. That was my last time coming out on this stretch. This was some of the most intense whitewater I have paddled in a good while and this stretch of river is a great place to come and sharpen your skills. I rounded several rapids and got back into the wash to surf several rapids. I figure if I can learn how to handle a 16ft sit on top kayak in water like this then I should be all the better once I finally do break down and buy me a whitewater kayak.
Alec, myself and Anita, a good friend of mine (call her my river wife) paddled out front again to set up and get pictures of the others coming through some of the rapids. The river was up about 12-18" and in some areas out of its normal path. We came through a section and Anita elected to padded river right around an island. I did not say anything but I did not think it was a good choice. Alec and I went river left and went to the backside of the island. As soon as I looked back upstream from the back of that island I knew this would not end well. There was a wall of small trees and brush blocking her way through. There was one small shoot but you would need to hit it moving and duck. She stopped to evaluate and then her kayak turned cross with the current and she was swept down into the brush and trees where she was immediately pinned. She was upright but in a precarious situation. I was already on the bank and started walking upstream to get to her and told her to be completely still. If she rolled she would be pinned with her head below water. I got to her and told her on the count of three I was going to pull her out. Just as she released her grip on a tree she rolled and that put her head on the water. I pulled once more and slid her out and past the trees. A couple of thank yous and we were on our way and made it back camp without further issues.
Another fun trip and I will certainly be back to the Mulberry hopefully in a couple of weeks for a weekend.
A few pictures,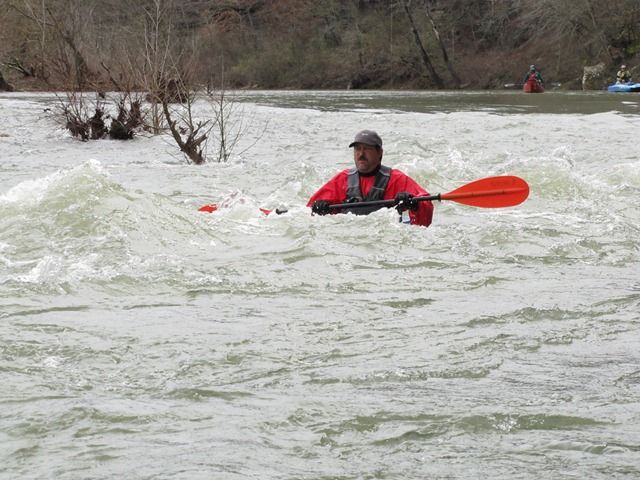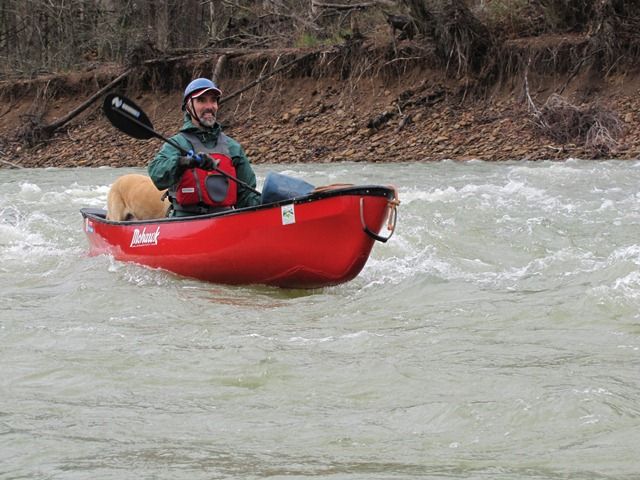 Alec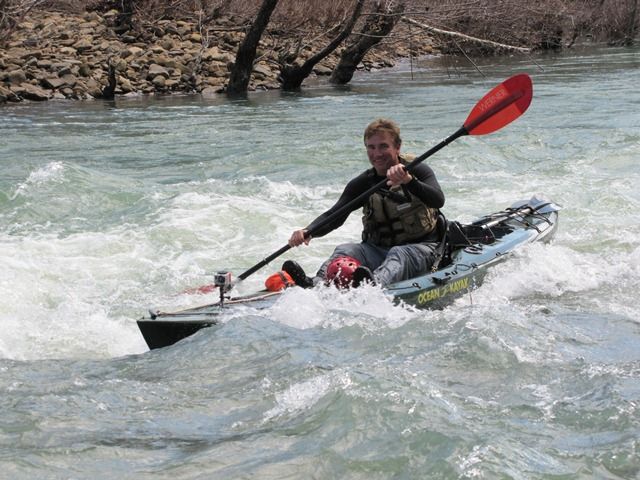 Me Surfing in a rapid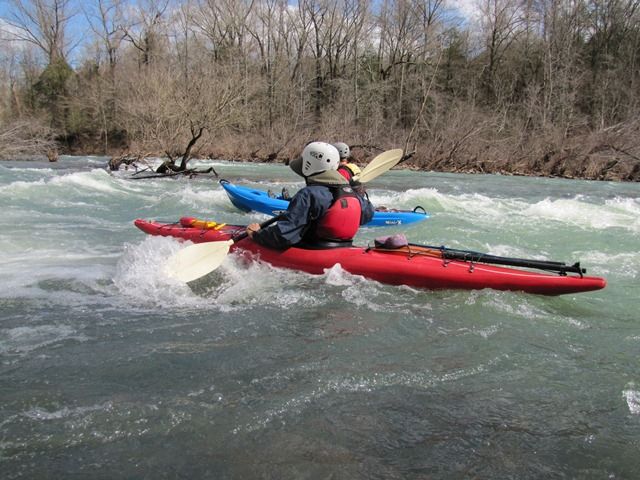 Alec and Anita surfing a rapid
Uh Oh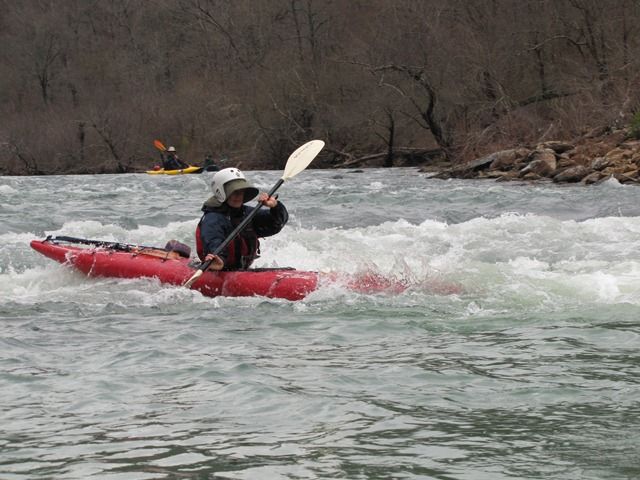 Anita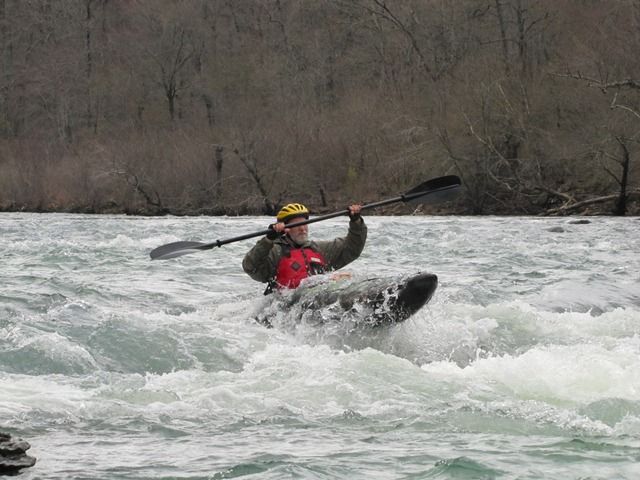 SYOTW,
Earl