By
Earl
- Mon Feb 11, 2013 4:35 pm
- Mon Feb 11, 2013 4:35 pm
#1863018
This is not a camping trip, at least not my style. This is a report for day trips on the Upper Mt Fork River in OK and AR.
Day One
Upper Mt Fork River, AR to OK
Feb 8, 2013
Put in: Polk Co Rd #48
Take Out: Rivers Edge Cabins just outside of Watson, OK
Along on this Trip: Solo
The put in is about 5 miles ESE of Mena, Ar. I had paddled from the HWY 246 Bridge 2 years ago and wanted to find a put in a bit further upstream. Co Rd 48 is about 8 miles upstream from HWY 246. It was a fair day with spotty sunshine and temp was 42 with a launch time of 9:53am. There is very little room to park along the road at the bridge but enough for 2-3 cars. Immediately upstream from the bridge is an old low water bridge. I scouted this pretty well as I will someday put in further upstream at Co Rd 95 or HWY 8 and paddle down to Co Rd 48. This low water bridge will represent a significant hazard as there is no fair portage around it. On river left is a high bank and one might squeeze through without being sucked under. On river right is a low bank with numerous small trees growing out of a gravel bar such that when the water is up you could portage here but will need to contend with the trees. The river flow at put in was estimated about 100-150cfs. The gage at Smithville at launch time read 275 but that is a good 30 miles downstream from my launch. It had rained lightly the day before so there was still some runoff coming from countless creeks along the way. This part of the river is fairly pristine with little signs of human activity and was amazed on how little trash was along the river about one piece per mile. The paddle from the put in down to HWY 246 is dotted with several little class I rapids and one Class II maybe a III. This rapid is immediately downstream from Camp Pioneer Boy Scout camp. There is a spillway type dam which is about a 20-24" drop off and has a fair hydraulic at that water level and should not be run. There is portage on river right and a small shoot that eases down on river left but it is hairpin turn and immediately dumps you into a class II rapid with a few boulders to contend with. Of course I put my helmet on and did the river left option and sailed through without an issue and it was quite a ride. As you paddle down there are many small rock gardens to find your way through and a few rock ledges with small drop offs. The next sign of civilization was the Polk Co Rd #38. This is a one lane bridge with a wood decking and a span of about 300ft. A launch here is doable but not much place to park but then again did not see any traffic either, very remote.
I made the HWY 246 Bridge at 11:50am and stopped for a break. While walking up on the south west corner of the bridge I was startled by big movement up in the grass. Upon further investigation I saw it was a fair size doe with two or more broken legs. She could not stand at all and crawling was very limited. I did not have a firearm with me or I would have taken care of it. As I was turning back to the kayak there was another doe standing just inside the trees. She took off when I turned around. I paddled about one mile then pulled out on a large gravel bar on river right for some lunch. I had my sandwich in my mouth when I look just upstream and there is a doe quietly crossing the river, perhaps the one I spooked back at the bridge. I at least did have my camera by my side and managed to gently pick it up for a picture. After lunch I got my survival bag out to do some fire starting practice with my fire steel. Even with the rain the night before I managed to find a stand of grass growing out of the gravel bar which was wind dried and then some driftwood. A couple of strikes and wha-lah, I make fire.
This section of river is quite scenic with 100-300ft occasional bluffs and many rocky out cropping's into the river. The river is dotted with occasional rock ledges and rock gardens and narrow points with no hazards along the way. There were no trees blocking the river in fact very few in the river at all. I spotted a couple of bald eagles along the way but never close enough to capture a picture. About 2 hrs downriver from the HWY 246 Bridge and already into OK there is a low water bridge which is McCurtain Co.rd E1750 or Beachton Rd. There is a cabin (Cloud 9 Cabin) up on river left just downstream from the bridge. I saw a couple of people standing up on the porch. The portage around the bridge should be done on river right and is straight forward drag over and drop and can be done in under 30s. This point of the trip is about 4 miles upstream from my take out. I arrived at my take out at 3:15pm with temps in the upper 50s although it felt much warmer. This is where my wife and I were spending a long weekend away without kids. She sat by the river's edge and also on the porch which is about 300ft above the river and read a book and sipped wine from one of her favorite wineries "Girls Gone Wine" located in Hochatown on HWY 259 just north of Broken Bow. Besides the people at the Cloud 9 cabin I never saw another human being all day long. I estimate the total paddle distance for the day to be about 22 miles in just over 5 hrs with several stops along the way. I had a GPS cell phone tracking turned on and it which only uploaded every 10 min and was making max of 7 knots with min of 3. The plan for the next day is to paddle from the cabin down to "The Narrows" which is past Smithville back south along HWY 259.
Day Two
Upper Mt Fork River, OK
Feb 9, 2013
Put in: Rivers Edge Cabins just outside of Watson, OK
Take Out: "The Narrows" Low water Bridge along HWY 259
Along on this Trip: Solo
This is a section of the river that I have always wanted to paddle but just have not had a chance. Many thanks to my wife for being my shuttle for the weekend. I cooked my wife and I some breakfast and we sat around the fire at the cabin before I got the itch to paddle. It was quite a bit cooler with the temp at 36 and cloudy with rain on the way and no wetsuit, I left it at home. I knew that if I took a spill I would need to stop and make a fire to warm up and try to dry out and drink some hot water. I did have dry clothes along but no raingear. I launched at 9:30am and within just a short paddle found myself in a large rock garden. While not particularly hazardous at this flow it was a bit of a maze finding the main river flow. Most of the rocks are 1-3 feet out of the water so in higher flows these guys will really make some white water. There was also a very large sloping rock on river right this face sloped right into the water and was about 500ft in length along the river's edge. About an hour into the trip I came across what looks like an old mining conveyor crossing the river. There were several additional rock gardens and rock drop offs and several stretches of flat water on the way to Smithville.
Just past the Smithville (HWY 4) bridge on river right there is a significant class II-III rapid on river right. I have seen this from the bridge in years past and it looked quite formidable from that vantage at 800cfs. This was my first time to actually run it and decided to scout it first. The current river flow was at 350cfs. As you paddle up to it there is a nice gravel/boulder bar in the middle of the river and you can go river left and avoid the rapid all together down a nice class I path. Or you can go river right and it will take you into a nice twisting torrent around some very large boulders which creates a bit of a toilet bowl swirling rapid. Once scouted, I made my plan of attack and of course went river right. I shot straight in middle past the first boulder then hugged the left side of the rapid as the right shoots up an over some large boulder then drops you into the toilet bowl. Well, my plan almost worked, I missed the large boulders and landed in the toilet bowl. I thought I would have enough momentum to shoot me through it without getting caught. It spun me around then sideways slipping back up into the spill which filled the cockpit. I managed to get the paddle blade dug into the current on the left side which spun be back around and pointed me downstream then shot out of that bit of excitement without taking a spill but I was wet from the chest down. I paddled on down the pulled over to squeeze out my clothes then get back moving. I was not that cold so I kept going. Then it started to rain, there was only about 4-6 miles to go so I just kept paddling.
This is another pretty and remote section of the river that is dotted with numerous rock gardens and ledges a couple of which have some hydraulics on them. The last rock garden and drop off is just prior to the low water bridge take out. I put on my helmet as you could really hear some rapids ahead and see nothing but rocks. I then followed the flow through the rocks on river left then approached the drop off which is about 20 inches. I got right up to it and observed a good hydraulic on the other side and quickly backed up against the current and made my way to river right. The drop off was about the same but more sloped and only a minor hydraulic. I paddled on through then pulled out on a boulder bar well in advance of the low water bridge, take out time was 1:15pm, total distance about 14 miles. I drug the kayak across the boulders to the bridge and called my wife. She was a headed back to Girls Gone Wine for some additional supplies then would be back north to pick me up. After I stopped paddling I began to chill a bit as the air temp was 40 and still some light rain. I packed up all the gear in my bags and walked it across the bridge up the hill toward HWY 259 where it would be easier for her to park. Then I carried the kayak up there also. That entire workout kept me warm. I then dug out my dry clothes and lunch. Once the dry clothes were on I grabbed my lunch and fishing pole and headed out on the bridges to enjoy the river one more time. I had just finished my sandwich and my wife drove up. I packed up and called it a day.
Early Sunday Morning it rained pretty hard for a couple of hours as storms passed through. My wife and I packed up and started the drive back to Plano but not before I did some driving and exploring. I found a place to put in on the Mountain Fork which is right on the OK/AR border just south of HWY 63/8 on Co Rd 95. With rains the night before the river was flowing adequately enough to have made the trek through. There are many significant creeks which feed the river in a relatively short distance. From there the river runs back into AR then turns south and eventually back into OK. We then drove back over a small ridge toward the Kiamichi watershed. The Kiamichi was also running very nicely and I thought about putting in at HWY 63 then paddling the short distance to HWY 259, likely only about a 2 to 3 mile stretch and it would have been fast. I decided to save it for another day. I would love to catch the Kiamichi running like that again and make the trip from there to Antlers which looks like about an 80-90 mile paddle and spend 2-3 nights on the river.
Day One Pictures
View from the porch of our cabin, looking upstream (East)
Launch at Polk Co Rd 48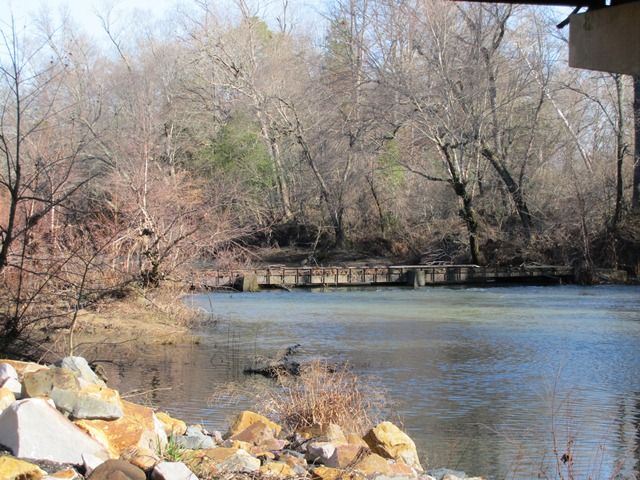 Low water bridge just upstream from Co Rd 48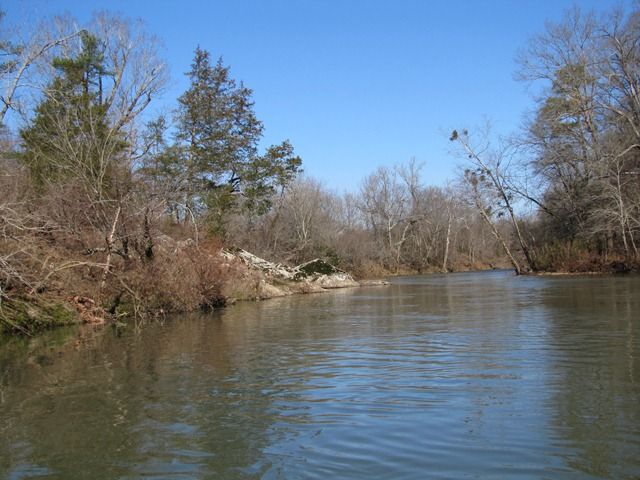 River about 2 miles down from put in.
Spillway at the Boy Scout Camp. Note right side of picture (river left) small shoot to get through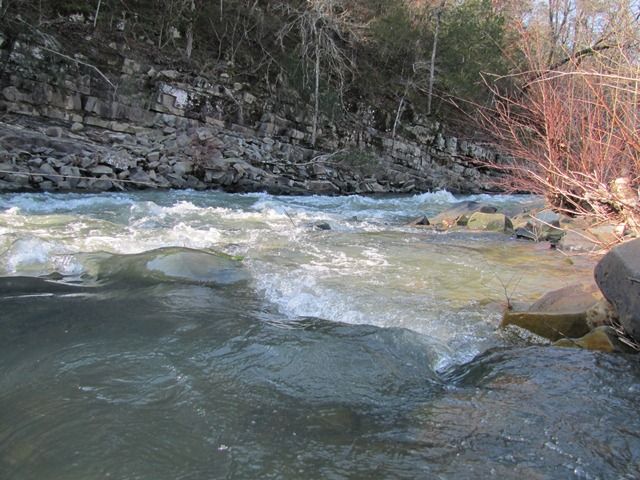 Rapid below the spillway looking downstream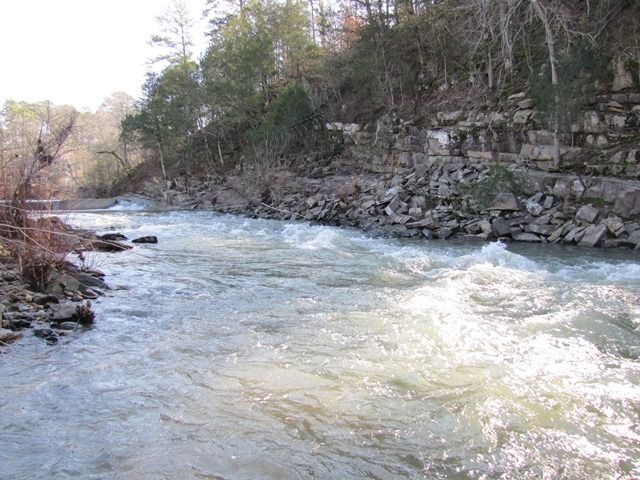 Rapid below the spillway looking back upstream
Polk Co Rd 38 Bridge
Doe crossing the river as I ate my lunch
One of many rock ledges
Day two pictures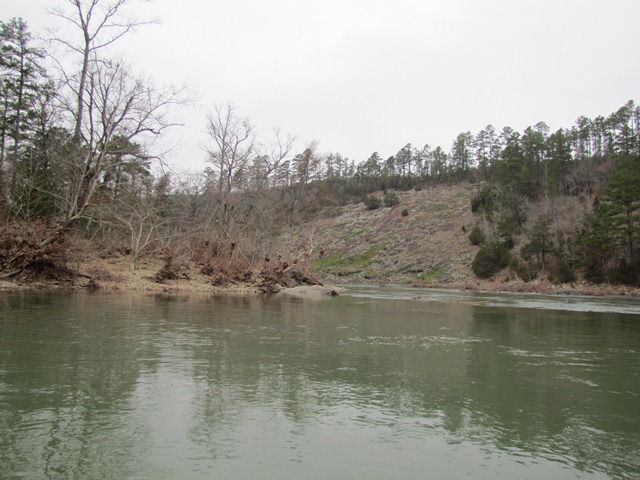 Hillside rock sloping into river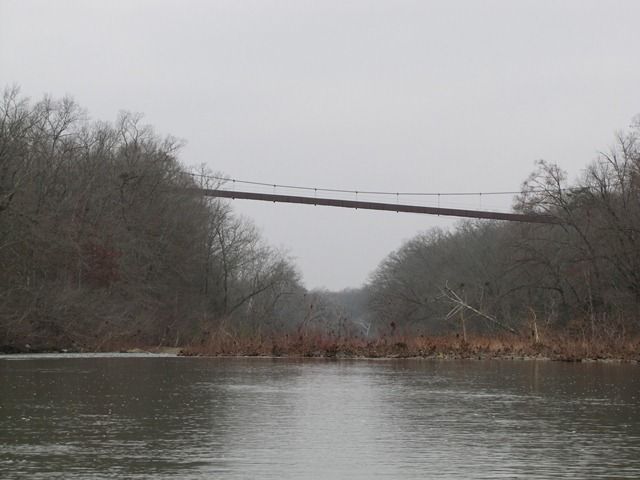 Mining conveyor over the river on route to Smithville
Rapid at Hwy 4. The picture does not do it justice
The Narrows just upstream from the low water bridge take out. Left side of the picture (River Right) is optimal.
SYOTW,
Earl