By
Earl
- Mon Nov 12, 2012 9:43 am
- Mon Nov 12, 2012 9:43 am
#1835877
Illinois River, OK
Nov 9-11, 2012
Launch: No Head Hollow
Take Out: Sparrow Hawk campground
This was a quick trip up to northeastern Oklahoma to enjoy some great fall colors and this beautiful river. Along on this trip was myself, Anita Goss, and Sam Sloan and his dog Austin of the DDRC. Sam and Anita arrived mid afternoon on Friday and I got there about 5pm. I unloaded a good bit of firewood I brought up and set up my camp (hammock and bag) in 5 min. So after all the hard work of setting up camp Anita and I took off into town (Tahlequah) to find something to eat. We set out looking for a Mexican place on 4th street but ended up at an Italian place called Napoli's which was terrific. We passed the Mexican place on the way back to camp and it must have been good as the parking lot was packed. We sat around the fire for a bit then retired for the evening. I laid by the fire for a couple of hours then found my hammock and crawled in for the night. I got up at 4:15 made some coffee and sat out as the stars were is full force and saw several meteors. Everyone got up and got moving on breakfast, for me it was a loaded omelet with sausage, cheese, onions, mushrooms, jalapeños with side of toast and jam.
We loaded Sam's canoe on my truck then put Anita's kayak in between my kayak and Sam's canoe. It is a very short drive (2.5 miles) up to No Head Hollow put in. The river makes a 12 mile loop here and this makes for a really nice day paddle. We were all unloaded and hit the river by 9:15. There was a couple putting on the river behind us but they were pulling out at the lunch stop. They were kind enough to take a group picture of us before we took off. We were immediately hit by the spectacular autumn colors with the wind behind us for the time being. After snapping a few pictures I broke out the fishing pole and picked up a couple of small mouth with very pretty colors. The river was low but very clear and we did not see another person the whole trip. We made our lunch stop about 11:15 and enjoyed the warm sunny day laying in the grass after lunch. After getting back on the river we were greeted with some steady 30 knot south winds right in our faces for the next hour. As we slowly rounded the bend the wind started funneling down the river on our backs again. I caught white bass in a little hole with some swift water, tried to get a couple more but they were not having it. We pulled out at the Sparrow Hawk campground just before 2pm. This time of year the campground is empty, we were the only ones there.
After dinner and some fire time I made it over to my hammock. I knew there was a chance of rain with the cold front that was to push through. Sure enough about 3:30 I hear it, plop, plop on the hammock. I slid out and put my shoes on then grabbed up camp the put it in the truck. Anita was already packed up also and was heading out. I was right behind her and the rain got started before I even got to the highway. Sam, said good bye and went back to sleep.
This was great quick trip for a weekend get away and some rest.
Here are a few pictures.
SYOTW,
Earl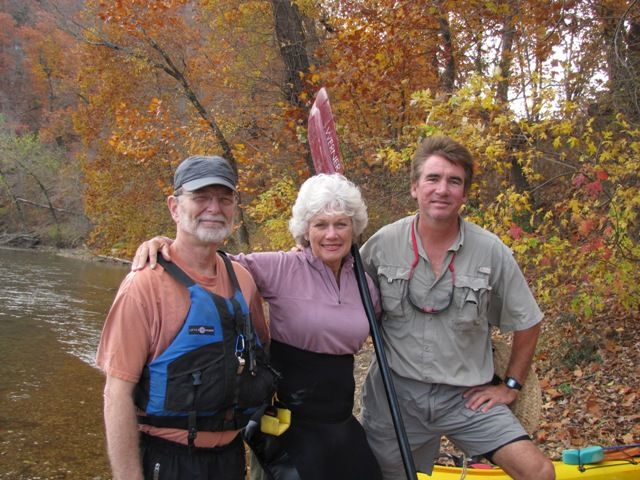 The paddlers
Bald Eagle along side of the river
Belted Kingfisher
Morning Colors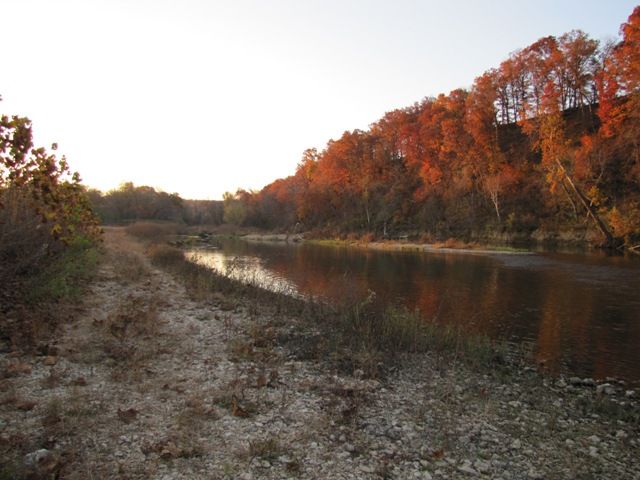 Launch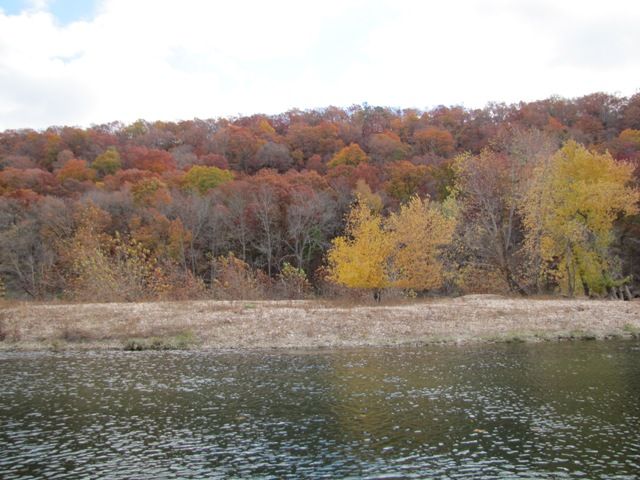 Clear water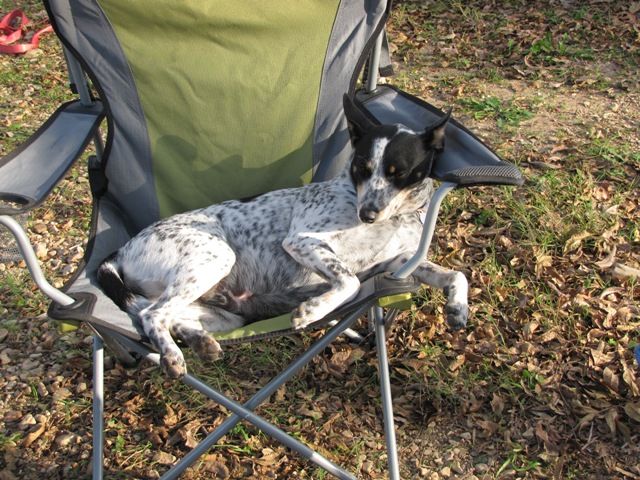 Dog tired