By
Earl
- Thu Jul 19, 2012 8:47 am
- Thu Jul 19, 2012 8:47 am
#1787913
Rio Chama, New Mexico
July 13-15, 2012
Launch: El Vado Ranch
Take Out: Big Eddy
This was my 4th trip down this river and was a surprise invite from a friend who came by a permit at the last minute. I will be making this trip again later this year with my 3 boys and my wife. This is a very scenic river with the section that we paddled starting below El Vado Reservoir and running down 31 miles to a take out called Big Eddy. For the first 20 miles the river sits nestled in Chama Canyon and the last 10 miles the canyon walls widen out with desert floor in between. In the summer time there are frequent monsoon rains that can create flash floods that flow across the desert floor and slam into the river. This always adds some excitement and is a site to see. This happened on last year's trip and was certainly awesome to see Mother Nature at work. The river rose sharply and fell just as fast. For this trip we did not see that but there was evidence of recent events and you can also see it on the river flow gauge on the website below.
http://waterdata.usgs.gov/nm/nwis/uv/?s ... 0065,00060
Friday the 13th
My two friends and I ran our shuttle the night before so we were ready to launch early and got on the river by 8:15. There were several outfitters putting many rafts and people on the river and other private groups. We were happy to be the first ones on the river that morning. The first few miles are through desert canyon and the only rapids are simply class I or II. At mile 4.4 on river left there is a hot spring which we stopped at and Anita and I sat in for a few moments, that water felt good and was quite warm. I had already decided I wanted to try a new campsite and do some hiking later in the day. The paddle down to the campsite on river right was only 8 miles and we made it in 2hrs. We unloaded and set up camp. I put up a large tarp just in case of rain and George and Anita got their tent set up. I had to get my bag out in the sun to dry off the prior nights dew because I slept our on the ground next to the river at the launch. I was exploring our campsite and walked along the bank up river a bit and ran into a rattlesnake. He did a good job of letting me know if his presence and I went back to camp to get my camera and got some good shots. Later on Anita and I set off to hike up to the top of the canyon and along the way ran into another rattlesnake. Again he did a good job of letting us know where he was. He was sitting on the top of a rock just off of where we were ascending up the hillside. We took a few good looks and just kept walking. After our hike we sat resting when the lighting and rain set in. I had to do a quick scramble to put up my tent. I was determined not to put it up for the whole trip but the rain really changed that plan. Good thing we had the tarp up it made a good place to cook dinner and visit before bed. It did not stop raining until 4am, long night listening to the sound of that hitting the tent all night.
Saturday the 14th
I got up after the rain stopped and sat in my chair and enjoyed the warm coffee and watching darkness slowly give way to daylight from over the canyon walls. The birds begin their songs and the bats are finishing up their nighttime meals. We three got on the river by 8:20 and made our way to Aragon Falls a nice class III that you can hear but cannot see until you round the corner and boom there it is. This rapid has changed a bit since last year as a large rock has fallen into the rapid. Past Aragon we go through Down Pour rapid (II), Dark Canyon rapid (III), and Mine Canyon rapid (II) before arriving at our campsite at mile 17.2 just as you enter Huckaby Canyon on river right. We arrived about 11am and again made camp setup a priority and again good thing as it rained just after I got the tarp and tent. However, this was a brief shower and we did not get any more rain for the day but could hear plenty of thunder nearby. Anita and I set of on a hike downstream and to the top of the canyon wall where we could look down to the other campsites down stream and see to the southeast where the canyon opens up. After dinner I fell asleep in my hammock but got up around midnight as the temperature dropped into the upper 50s to low 40s so I made my way to my bag in absolute pitch black darkness.
Sunday the 15th
Once again I got up and about 4:30 just before the daylight starts to penetrate through the atmosphere and caught a few shooting stars and did a bit of star gazing. The back porch view was awesome again with bats fluttering above me then the birds begin to fill in and then the bats go to bed. Coffee is so much better on that porch than my one in Plano. We got on the river at 7:40 as we really wanted to hit the take our early before it became a zoo with all of the others outfitters on the river. The first 6 miles are pretty slow water followed by 8 miles of some fast water with 11 more class II and III rapids. I came through Gage rapid and found myself perched on top of a rock then the kayak began to rotate perpendicular to the current and was about to fall off of the rock. I knew that if that happened I would be swimming for sure. I managed to lean forward and put the paddle down on the port side and swing the kayak back around and launch me off of the rock. Whew that was close and as I looked back at that rock I saw it was actually a Mad River canoe pinned between two rocks but covered with water from the front. The rest of the rapids were fairly uneventful as I have run them before and knew the best approach. Even Screaming Left Hand rapid which lives up to its name was really straight forward, experience pays off here. We made the take out at 11:50 and wasted no time getting loaded up and a good thing as just as we were finishing the first rafters began showing up.
Here are a few pictures.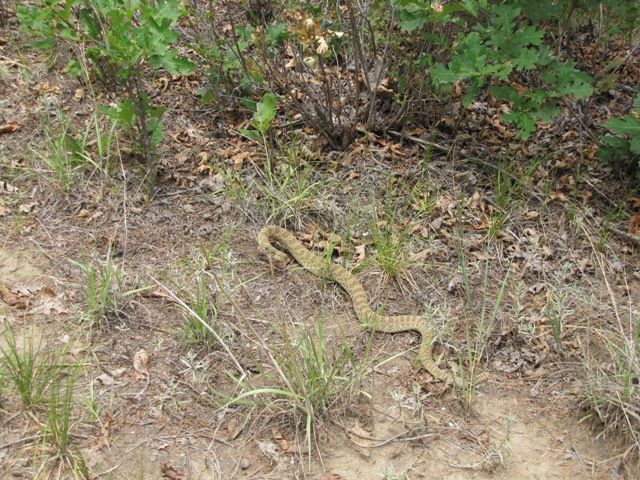 Minding his own business
Posing for the Picture
The Hot Tub
On top of the West Canyon Rim
Same Canyon Rim but looking upstream
My camp, keep it simple dude
My back porch watching the sun light up the canyon walls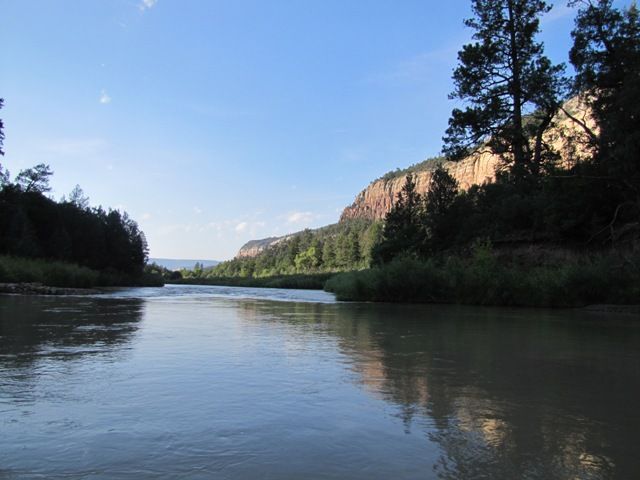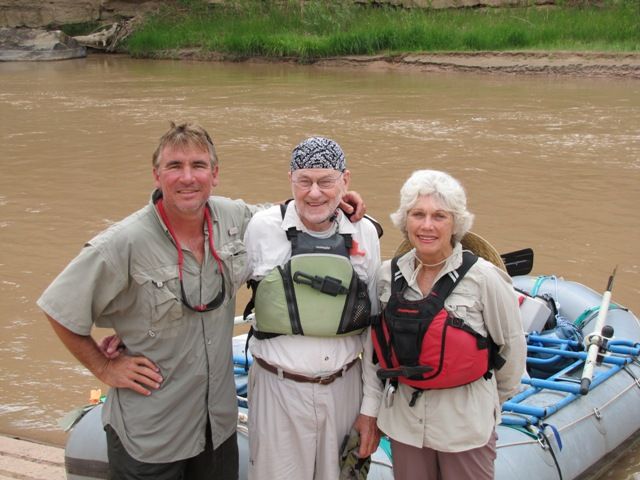 My paddling partners, George (middle), Anita (right)
SYOTW,
Earl
Last edited by
Earl
on Thu Jul 19, 2012 9:11 am, edited 1 time in total.