By
Earl
- Tue Jun 12, 2012 10:42 am
- Tue Jun 12, 2012 10:42 am
#1770796
Lower Sabine River May 26-28, 2012
Meant to get this report out earlier but work has had me tied down.
Along on this trip was Jacob, my Father, our dog Beau, and 11 members of DDRC including Randy and Libby and their daughter and boyfriend, Ginny and Steve V. John K. Morray, Billy C. and his son. This gave us a total of 13 people in 11 boats. I arrived at the launch site about 7:20AM Sat morning to find a very busy river. The launch is at HWY 63 on the TX side and is steep drop down to the river and a bit across the sandbar to the water. We all got unloaded and ready to run the shuttle by 9:30. The shuttle service was kind of pushy and really wanted to get going by 9:30 even though I told him 10am. The take out is about 28 miles downriver and is at the end of a dead end road on the LA side just past Anacoco Bayou.. Once done with the shuttle we all got on the water about 10:30.
Saturday
We all made a stop for lunch on a sandbar then kept making our way downriver. The river had a nice flow as they had been releasing water earlier. However the river was falling and our flow decreased all day. The river is filled with many sunken logs. Other than an occasional obstacle course through the logs the river is very tame with no rapids at all. There is heavy forest on both sides of the river with a mix of hardwoods and pines. We paddles just over 10 miles on Saturday and found a large sandbar on river right about 2:30. The sun made for a warm paddle but we did have an occasional cloud to help out. I made dinner once the sun dipped below the tree line. Dinner was spicy sausage ravioli pasta with dried tomatoes, onions, topped with alfredo sauce with side salads and pineapple. Just after dark the mosquitoes woke up and you really hear them buzzing and zeroing in on their targets. My dad and Jacob crawled in the tent and I put my bag out on the sand and covered up with a light blanket and a river bag over my face to keep the mosquitoes at bay. It really cooled off more that I expected with low temp in the low 60s and fog in the morning.
Sunday
I got up at my usual 4:30 and made some coffee sat in my chair and listened to the forest , frogs and Owls. Dad got up and had coffee with me about 5:30. Jacob was up by 6:30 and we made omelets and began packing up. Dad set his omelets in his chair for about 10s and Beau made tried to make quick work of it and managed to get half of it before dad caught him. We were packed up and on the water by 8:30 while it was still cool. We needed to make a fair distance for the day of approximately 12-14 miles leaving 4-6 for Monday. The rest of the group was up and moving and I told them the plan was to paddle about 12-14 miles for the day and camp on first sandbar on river right after that. Morray caught up with us after few minutes and we stopped for lunch about 12:30. The day was really shaping up for a hot one. I kept seeing evidence of alligators, pushed in mud and weeds along the river bank but never saw one. Beau kept jumping off of the kayak to cool off and would swim across the river from Jacob's boat to mine all the while I am thinking he is going to be lunch for an alligator. We passed a nice sandbar on river right about 1pm at about 13 miles for the day and decided to keep going until 2:30. About 2:30 we paddled up on a large sandbar on river right just before Anacoco Bayou. This was a bit further than we wanted to paddle but did put us about a mile from the takeout. The day was hot and still and I got the shade setup then we all took naps. Beau would dig the hot sand away from the surface and then lay down in the underlying cooler sand. After our naps we kept going for swims in the river to stay cool and pass the hot afternoon. Others started showing up about 3:30 to 4:30. Once the sun got to the tree line I pulled down the shade and started dinner. Dinner was ham mixed with cheese ravioli, dried tomatoes, onions and topped with alfredo sauce again with a side of salads and pineapple. Dad elected to sleep in the tent and Jacob and I put the tarp on the sand and bedded down with some blankets and river bags over our faces to keep the mosquitoes at bay. It did not cool off nearly as much as the night before but was pleasant.
Monday
Again up by 4:30 sitting enjoying my coffee and peace. Dad got up about 5:30 and Jacob about 6. Omelets again for breakfast and then a quick pick up of camp and on the water by 7:45. It was a 5 hr drive back to Dallas with us stopping in Tyler to drop my dad off so I wanted to get r done. We got to the take out about :8:10 and I backed my truck down across the sandbar to make it a bit easier to load up. We were loaded up by 9am and on the road to Tyler. Jacob and I got to Plano about 3pm. I got out and did my usual check of the trailer hubs to see if they were warm. First one felt fine then walked around to check the other one and it was not there. The bearings were completely gone and the wheel floppy. I have a Sportsrig trailer that has motorcycle rims and tires. The bolt that holds the tire on was able to pass completely through the rim and off of the trailer. I cannot believe it did not come off while driving and I am thankful it did not.
While it was nice to get out on the water this trip is not as nice and others within shorter driving distances of DFW. If they are releasing water from the lake then the flow is nice but very slow without the releases. The river access for both the put in and take out were long hauls across sand and the put in was steep drop. The best thing for me on this trip was the sandbars and sleeping on sand. Here are a few pictures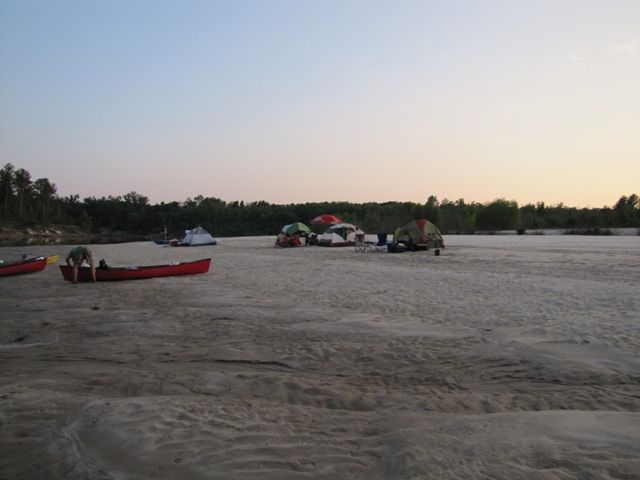 SYOTW,
Earl