By
Earl
- Mon May 07, 2012 1:18 pm
- Mon May 07, 2012 1:18 pm
#1756108
North Fork of White River, Southern Missouri May 2-5
This was the first time on this river for me. I met a group of people from all over the country who converged on the Twin Bridges Campground in southern Missouri along the banks of the river. This is a group that has been meeting for a spring and fall Ozark rendezvous for many years. They meet at various locations in the Ozarks each spring and fall and paddle one or more rivers over the course of 3-5 days. I arrived late Tuesday evening a bit after 11pm. Got up the next morning and introduced myself to the group. Some had arrived the day before and others would arrive over the next day or two. The lack of rain had the river running a bit on the low side. However, we decided to paddle the upper stretches first as there was no rain in the forecast.
May 2
After a lazy morning we all made a plan to put in at Hale Ford Bridge at river mile 14.8. This would be the furthest upstream that we would be able to paddle. This is a low water bridge down county road 278. Even though guidebooks or online information will tell you county road 275 it is marked CR278. You go on down this road about 3 miles to the river. There is a fork in the road and stay left to go to the bridge. There is no parking down close to the water but you can stop and unload then there is a small parking area on the East side just up the hill about 50yrds. The water is crystal clear as this river is a spring fed river. We were set to paddle back down to the campground about 10 miles downstream. The water was certainly skinny with lots of boat dragging on rocks but not to bad. The real issue was trees out in the river. These 10 miles turned out to be a real obstacle course. We all stopped at a gravel bar on river left shortly after noon. After lunch I had a first. I got knocked out of my boat. It was a little tree growing at an angle out across the river right in front of the gravel bar where we had lunch. I saw it coming and just though the small limber branches would give way and I would go right through it, WRONG. The tree had been trimmed by other paddlers on the river and had fresh shoots of coming out of a larger branch and it was hidden very well. I did not see the hidden branch until it was already on the bow. I made a move to dodge but it caught my right arm and dragged me out of the kayak. Back in the kayak in about 10s and on my way with only my pride hurt. As it turned out there were plenty more to come. We had to drag boats over or around about 6 more logs along the way back to camp. We all made it back to camp about 4:30, time for a cold one and kick back for a bit before dinner.
May 3
After another lazy morning the plan for the day was to split up into two groups. Some were to put in at Hammond camp and paddle to Blair bridge and the rest of us put in at camp and went down to Blair Bridge, about 10 and 15 miles. I went with the 15 mile group and as it was we caught up with the 10 mile group and had lunch together on a nice gravel bar. The river passed by several amazing springs which were adding enormous amounts of 50-55 degree water to the river. Below these is where the trout fishing got started, I managed on 18-20" Rainbow. There was also a shoal simple called "The Falls" which was a 3ft drop but was easily run in the right location. We made our way on downriver to the take out at Blair Bridge about 4pm.
May 4
Again we decided to split into 2 groups with some wanting a shorter paddle and some a longer. We all put in at Blair Bridge and some pulled out at Hwy PP about 5-6 miles down and 6 of us paddled on down to the Tecumseh campground on the right. This is just after the confluence of Bryant Creek and the beginning of North Fork Lake, about 10 miles down from the put in. Those of us on the longer trip passed by Dawt Mill which is an old mill now a resort. There is an old dam here which you can run in high water but for us it was marginal. I choose to line mine down the 4ft drop as I did not have a helmet and there were a lot of rocks. We did have one in the group who ran it though. We sat and ate our lunch at Dawt Mill then paddled on down to Tecumseh and back at camp by 4:30. The group had a potluck dinner that night with more Dutch Oven recipes than I have seen in a while, I cooked a Dutch Oven Lasagna. There was also a lot of other food and desserts.
May 5
I packed up early and got on the road by 5:30am. I did manage another trip without having to put up a tent. I just slept out on the grass on my bag with a blanket. There were a few mosquitoes buzzing me during the nights and a full moon which did not get behind the trees and hills until early mornings. I got to go some place new and meet some new people. The river is certainly a nice place but I would prefer to paddle the Buffalo River as it is more scenic and I prefer remote camping rather than in a campground.
Here are a few pictures.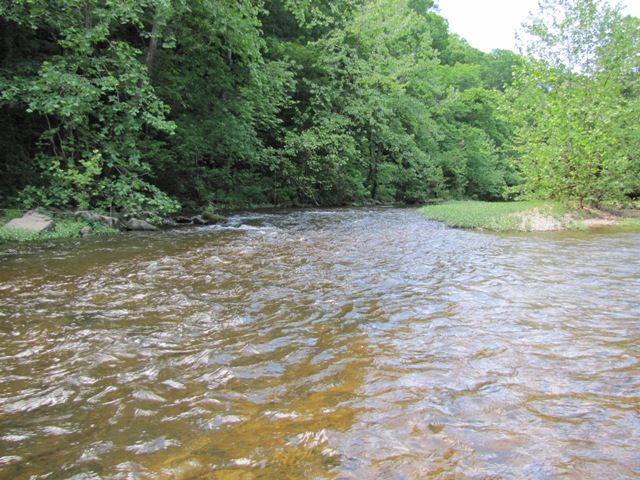 Banded water snake, lots these guys swimming around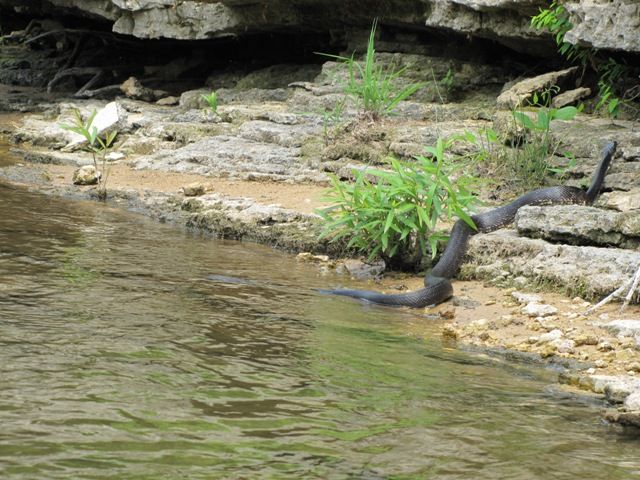 Yellow Bellied Water snake
Distance shot of this guy
A Rainbow I caught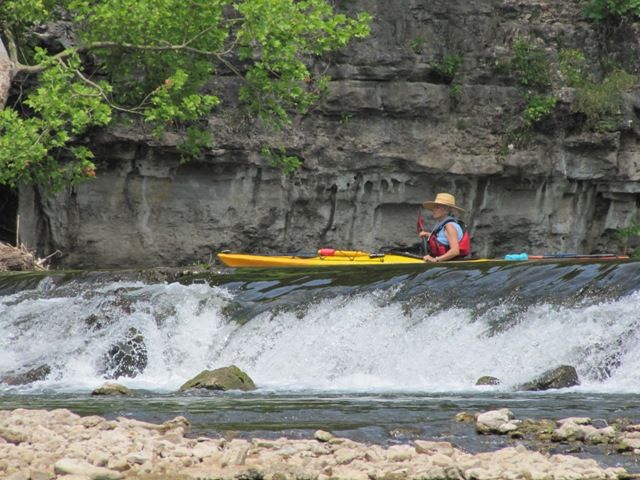 Dam at Dawt Mill, She ran over without a hitch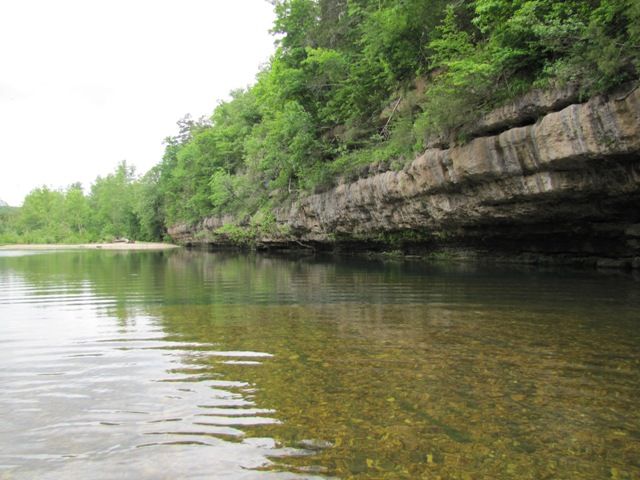 The Falls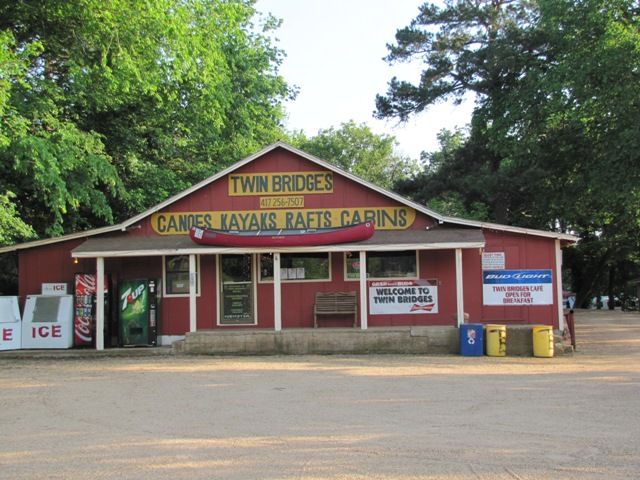 The crew campout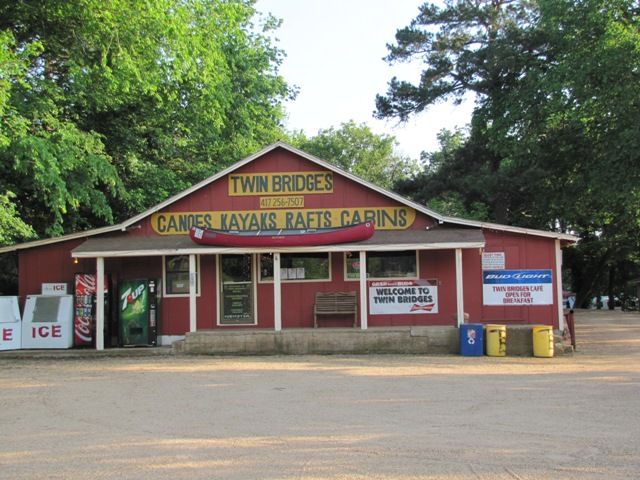 Front Store for Campground
SYOTW,
Earl