By
Earl
- Thu Oct 20, 2011 9:16 am
- Thu Oct 20, 2011 9:16 am
#1695218
I realize this report is a bit late but after I got back the people at work decided they loved me just a bit more and I got terribly busy at work then just let it slip. Cannot wait to retire but will sure miss the younger days of my boys.
Colorado Rockies, Gunnison Rive and Rio Grande River Trip Report (July 23-28, 2011)
Along on this trip is my 16yr old son Alec and one of my twin 12yr old boys, Zach. This trip is part of our annual Colorado and are river expedition. Our intention was to arrive on Sunday rest and then make are first fourteener climb up Handies and then climb Redcloud and Sunshine the next day. We arrived at Lake City about 3pm and dropped off my kayak trailer and gear with a wonderful fellow that I had talked to earlier in the week. We then made the drive up into the mountains to the Grizzly Gulch trailhead and set up our base camp. I got some much needed sleep after the 15 hour drive. The next morning was rather crisp with abundant frost on the grass and sleeping bags, we slept out on the grass for the night and enjoyed the stars. After a full breakfast we drove up to the American Basin trailhead and got started on our trek up to the summit of Handies. The total distance is only 3 miles but the elevation gains is from about 10.8 to just over 14k. This gave us less than 24hrs to acclimate but we were doing fine. We packed our day packs with a lot of water, lunch, snacks and the camera. The hike was all tundra and fairly scenic. As we got to 13k I could tell the boys were slowing down a bit. As we got to about 13.6 Zach began to discuss a headache that was getting started and he was tired. We left Zach with his lunch and water behind a big rock at about 13.6 and Alec and I proceeded up to the summit which only took us another 20-25 min. There is nothing technical about this climb and once on top we were greeted with excellent clarity and a few other climbers. Alec and I enjoyed the view took a few pictures then ate our lunch and started back down. Zach was doing fine and we all started the hike back to the truck. There were a few afternoon clouds gathering with a few distant claps of thunder but nothing on top of us. After getting to the truck we got back to base camp and Zach's headache was now full blown. I made sure he was hydrated and had him snack a bit. About an hour later he lost it all. I then made both him and I some willow bark tea and had him sip that. About an hour later his headache was gone and my old bones felt a bit better also.
The next day our plan was to climb Redcloud and then Sunshine and back down to base camp. We got up and pretty much knew that the weather was not going to cooperate with rain overnight and lightening in the distance at 5am. We made the quick decision to go pick up the kayaks and head to Gunnison so we could paddle a day trip on the Gunni. We got to Gunnison about 8:30 and had some breakfast at the Tic-Toc dinner then made our way over to Scenic River Tours who helped us out with shuttling our truck from North Bridge down to the white water park, about 10-11 miles. Once we got to North Bridge we could immediately see that the water level was up significantly from the year before. We got unloaded and on the river by 10:30 or so and were greeted by some nice class IIs and maybe one Class III, in any event a lot of fun for us. I think we made the white water park in Gunnison in about an hour and half to 45min. We only went through the first rapid of the white water park as our truck was right there and had we gone on down we would have been walking back to the truck as the next take out is a 3-5 miles downriver. If we do this section again we will make sure that we take out downriver and run all of the rapids in the park. Once we packed up we drove back toward Lake City and camped at NFS campground called "The Gate" right on the Lake Fork River. This is a very scenic campground with 750 to 1000ft cliffs on each side of the river. We got camp set up and it immediately came a pretty good thunderstorm. I made some pine needle tea which the boys tried and decided it was not so bad. The storms cleared just about dark and we were treated to a magnificent star filled night.
The next morning we got up and had a late breakfast and decided to hike up the west side cliff. There is a road that crosses the river at the entrance to the campground and then you can start your climb up the hillside and make your way around the west side of the cliff then ascend to the top. We had seen a small dead pine tree from camp and we were determined to make our way to that tree. As we got to the top of the cliff you could see a thunderstorm coming and hear it also. We worked quickly to find our tree and then snap a few pictures then started back down. As we got a little more than halfway back to camp the rain started but it really felt good. We just goofed off around camp the rest of the day and made a plan for the next day of paddling a section of the Rio Grand either upstream of Creede or Southfork.
The next morning we got an early start with breakfast of oatmeal and juice. We had the number of a possible shuttle in Creede but could not get connected. We drove on to Southfork and stopped at a rafting guide to see if they would run a shuttle. He said he did not do that but gave me the name of two ladies who did. Once worked at the grocery store the other at the Spruce Lodge. The lady at the grocery store was in Durango for the day so off to the Spruce Lodge we were to track down Dee. Dee was more than happy to take my money and help us out. We drove upstream about 12 miles and got unloaded. There were a few other rafters unloading as well. This was a pretty nice day trip and the water was not nearly as cold as the Gunni. It was a warm day and the river was moving pretty good. This stretch of the river is Class I and a couple of IIs. It is also a very scenic trip and I would love to do a much longer trip from upstream of Creede to DelNorte next year. After our paddle and landing in South Fork we loaded up and ate lunch in the parking lot just as a thunderstorm was approaching and dropped a little rain on us. Then we were off to find another campsite for the night. We drove through a couple of NFS sites on the south side of the pass between South Fork and Pagosa Springs but it was crowded and not a nice as where we had been. So we drove on into Chama and made our way down to a small campground below the dam at El Vado Reservoir. This is where we were to meet a group of people for a 3 day trip down Rio Chama a trip that I was leading. The boys and I set up camp then got some dinner made.
The next day we set off on a couple of hikes in the hills and then just goofed off. Later in the afternoon people for the Rio Chama trip began to arrive. As always this was a relaxing fun trip with my boys. We thoroughly enjoyed our time in the high country soaking up the star filled nights, cool air, rivers, and the mountains. I will be planning a multi-day trip down the Rio Grande for next summer.
I will write a separate trip report on the Rio Chama and lots to share.
Here are a few pictures of our trip
See you on the water,
Earl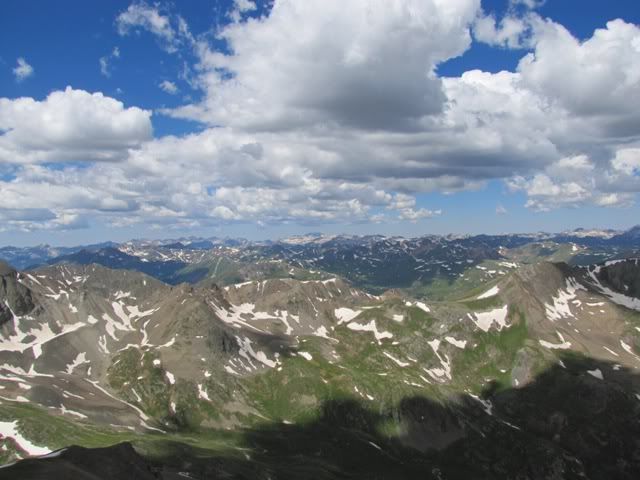 View from the top of Handies peak, 14053 ft.
Alec on top of Handies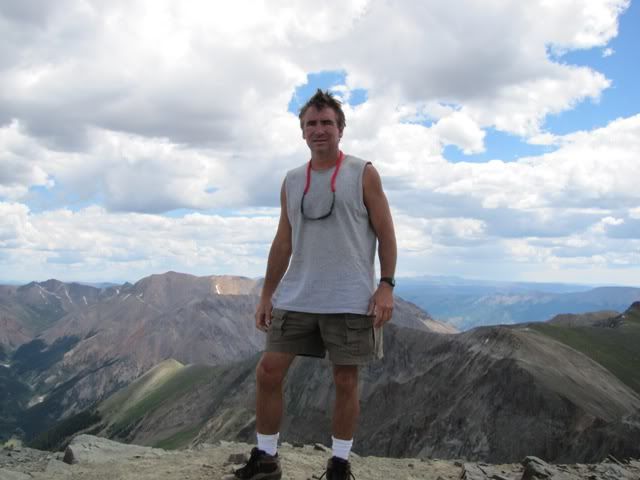 Me on top of Handies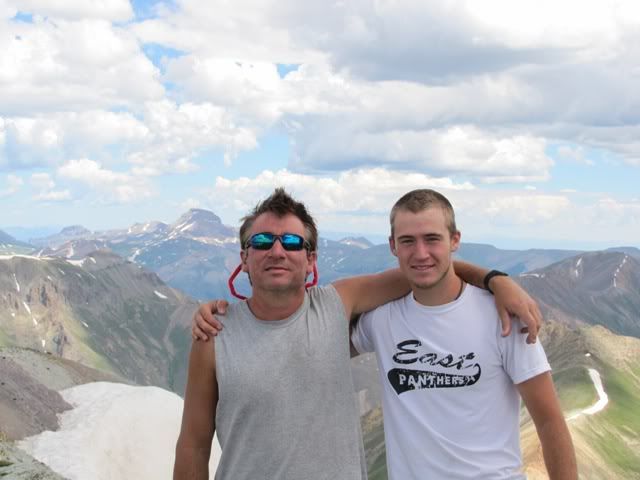 Both of us
Alec and Zach at about 13.6k ft
Gunnison River, put in
Ready to run the Gunni
First rapid at the white water park in Gunnison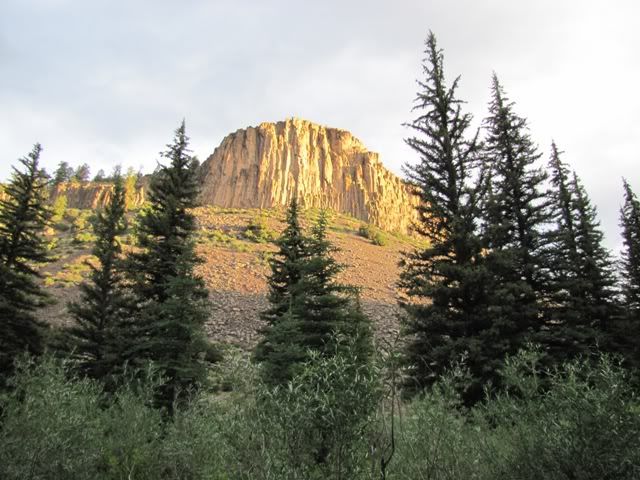 Picture from our camp at "The Gate" campsite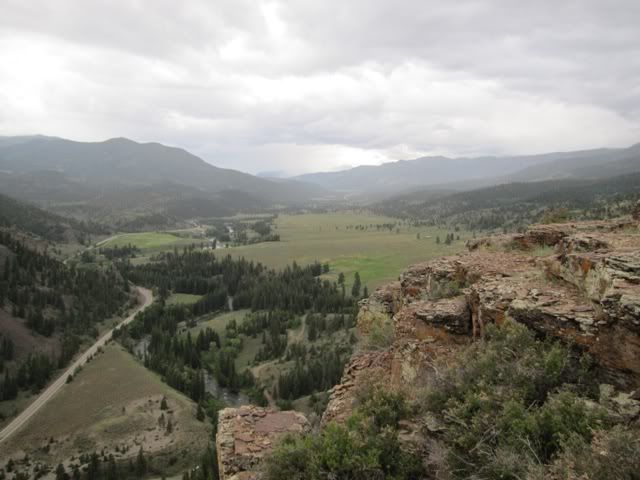 Picture from the top of the cliff at "The Gate"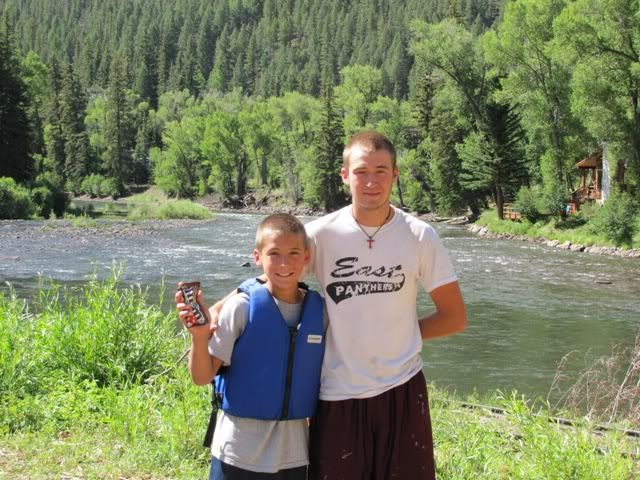 Ready to paddle the Rio Grande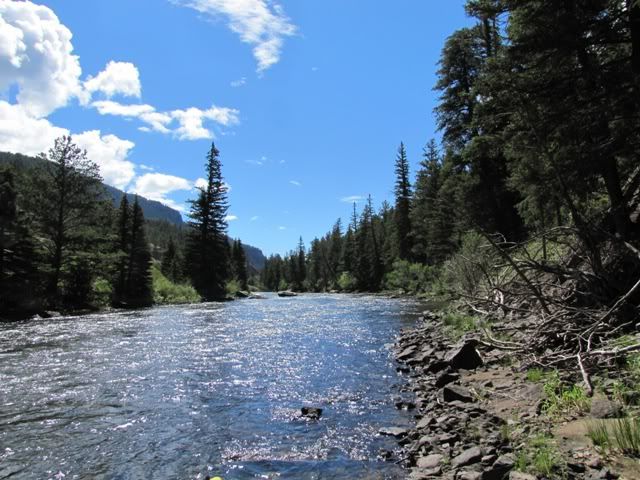 Rio Grande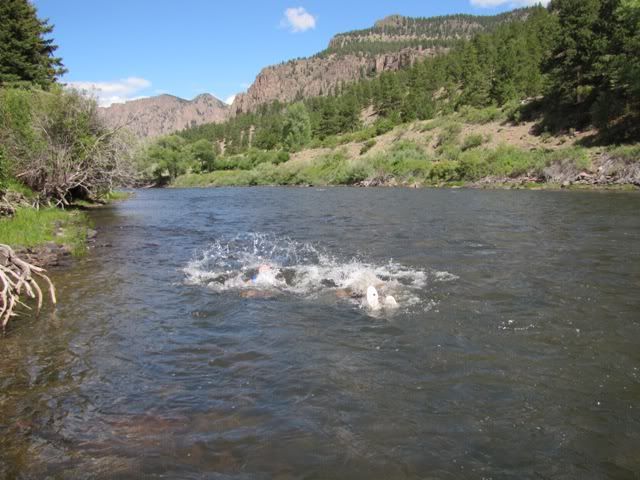 Taking the plunge in the Rio Grande
More Rio Grande scenery