By
Earl
- Wed Oct 19, 2011 2:47 pm
- Wed Oct 19, 2011 2:47 pm
#1694952
October 10, 2011
Illinois River, Tahlequah, Ok
October 8-9
Along on this trip was one of my sons Jacob and one of our dogs Beau and 13 members of the DDRC. Most of us met at the Sparrow Hawk campground Friday evening and enjoyed a great fall night under the stars. Jake and I arrived just as it was getting dark and quickly got the camp set up and then sat around the "Fire" provided by John K.
I am usually an early riser (4:30am) but I guess I was really relaxed as I slept until daylight. Jake and I got up and most the rest of the group was already stirring some. We made some sausage, eggs, toast, juice for breakfast and enjoyed the cool fall morning. Everyone finished up breakfast then started getting their boat and gear ready for a great day on the water. Everyone packed lunches, gear and boats and made to 2 mile trip up the road to the "No Head Hollow" put in. The paddle back to the camp is about 12 miles as the river make a large loop around a hill. Jake and I got there first and got our boats off and gear then moved them across the river to make room for everyone else. The put in is a boat ramp with a small island about 20ft across the river. The river flow was not up so it was an easy walk across with the kayaks.
The rest of the DDRC group arrived, unloaded and was ready to paddle by about 10am. There was a total of 15 boats on the river plus a few others who were not in our group. It was a beautiful cool fall day with only spotty clouds. I decided to also do a little fishing along the way and it did not take long. I hooked my first smallmouth bass within the first 5 minutes. This would be followed by another 12 smallmouth, 1 giant bluegill, and one white bass. We all pulled over a little after noon for some lunch at the Sparrow Hawk mid-day take out. All the dogs along on the trip enjoyed there freedom along the bank and around the picnic tables. Just before the lunch stop I spotted a nice banded water snake on a rock. At first I thought he was just sunning himself but as I got closer for a picture I noticed he was in no hurry to get off of the rock. Then I realized why, he had a fish in his mouth and would not have been able to hold his breath in the water and it is really hard for snakes to spit prey out once reaches mid-point in their mouths. I snapped a few pictures and was on my way. After lunch Jacob spotted a green grass snake which we picked up and marveled at how dossal he was then sent him on his way before the dogs found him.
The paddle after lunch took us by Elephant Rock which is a rock formation resembling the face of an elephant where we stopped for a short break. About a mile from the Sparrow Hawk campground there were several tight turns in the river with many logs which would certainly be more challenging in higher and faster water. We arrived back at the Sparrow Hawk campground around 3pm. Everyone rested up a bit and went to get cars back at the put in. I went into town for some ice, gas, and a pair of sunglasses which I broke just as we got back to camp. Later we all began cooking for our pot luck dinner. I made Dutch Oven chicken pot pie for the first time. It really turned out well and I will certainly make that one again, especially in colder weather. We all sat down and ate dinner around the fire and enjoyed another fine fall night. We thought for sure we were going to get rain during the night as you could see the clouds to the west and the radar was pretty lit up for all of western OK and all down I35 to the TX coast.
Sunday morning came and no rain during the night. Breakfast was once again sausage, eggs, toast, and juice. Some decided to paddle from Sparrow Hawk campground on down to HWY 51 and the rest of us packed up and drove home.
This is always a fun trip and I am planning on returning and paddling much more of this beautiful river. I would really enjoy spending 3-4 days paddling from the OK/AR border back down to the Sparrow Hawk campground, especially if there is more water. Here are a few pictures from this trip.
See you on the water,
Earl
Jacob and Beau Paddling Down the River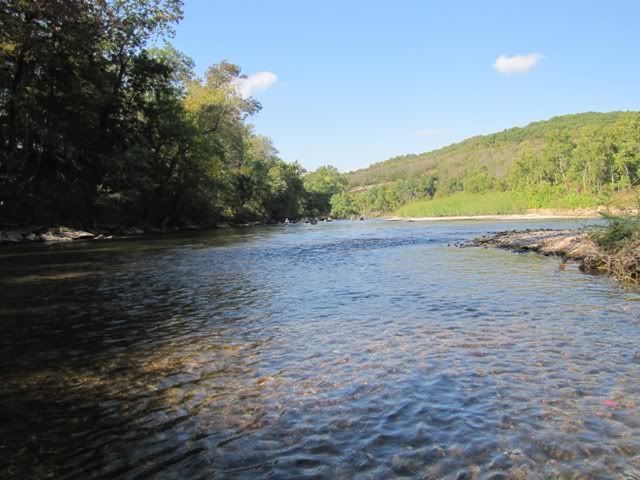 Beautiful Clear Illinois River
Banded Water Snake with His Lunch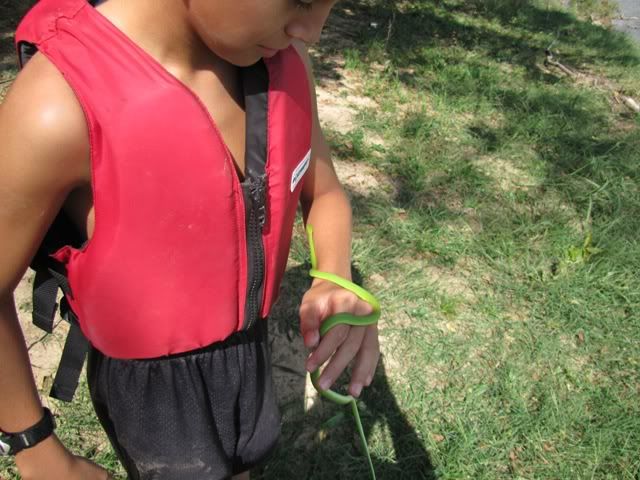 Jacob with a grass snake
Dog Tired after Dog Days on the River