- Fri Jun 03, 2011 12:15 am
#1638055
Ok, I know everyone has been waiting for this report so here goes!
This trip had been in the works since the shuttle back from our trip last September! After running it last year, we were better prepared for the conditions as well as had a better idea of the distances that needed to be covered each day.
We launched at 8:30 am on Friday morning with cool temps and beautiful weather! We made it a point to pack the boats the day before we headed out! Everybody packed extra light for this trip, the flows were lower than last time and that meant every inch of draft you could save would save ALOT of work!!
Dorado1 Trying to figure out his paddle!!!
Makenmend In his wood boat! Man that thing is tough!!
The first day is always a killer!! Its a 9 mile paddle through the shallowest part of the trip! We covered it pretty quickly which gave time for relaxing in the rapid just down from camp!!
The devils River Jaccuzzi!!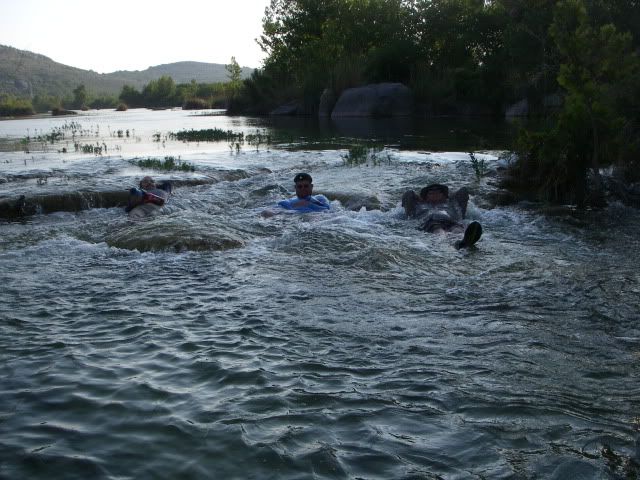 Camp for the first night!
Camp 1 is definitely hammock friendly!
The second day brought on more great weather as well as some awesome fishing! We only had 4.5 miles to cover and the water was a bit deeper which made the going a little easier! In this stretch, you encounter the first major rapid, Game Warden Rock!
After talking with the park ranger, we found out that this rapid causes more injuries than any other through this stretch of river! Its a steep drop with a large rock at the end that under high flows, you cannot see till the very last second!! last year, Weird1 had about 3' of the back of his boat out of the water while going over the rock and he was the only one who didnt turtle!!! Luckily this year, it was a more tame ride. Once you reach the bottom, there is a really nice rock ledge to pull over on and have a swim and lunch!! the perfect way to cool off!!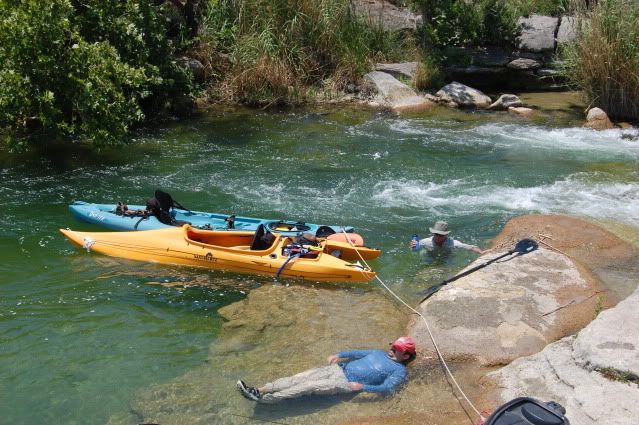 Snorkling the pools below the larger rapids can be rewarding!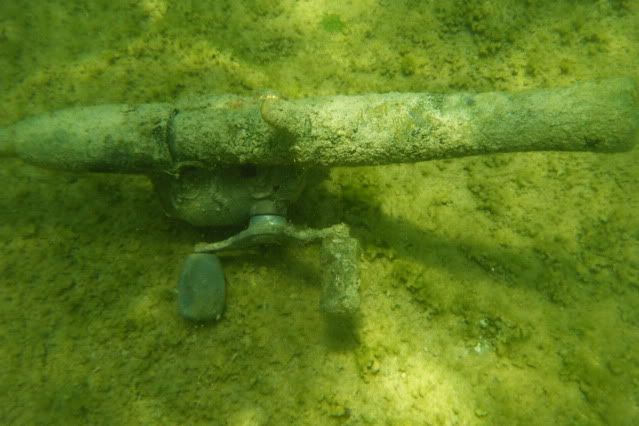 After that its pretty much a straight shot to the SNA. Some of the best fishing comes along this strip!
Dorado1 with a nice LMB!
Weird1 with a gar caught on the fly!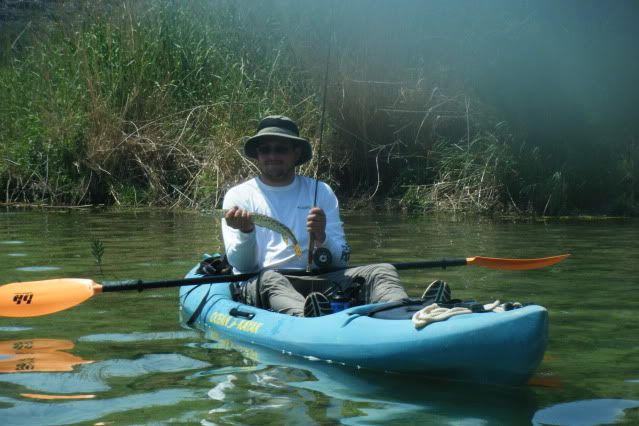 My new personal best smallmouth!
We arrived at the SNA thinking we'd be the only ones there, but about 15 mins after arriving a lady comes driving down the road with a bunch of kids (14-17 yo) in the back of a pick-up. We talk for a while and she heads down toward the spring. a few mins later, she comes back by without the kids. More on them later!
About 30 mins after we get to the SNA, up paddle 2 game wardens in wilderness systems rides! pretty neat to see the wardens in yaks! We talk a min and they head off to make camp. a little bit later, a TPWD truck comes driving down with a trailer full of yaks. there is another TPWD truck behind him and a state trooper behind them! Turns out, they were going to fry fish!
What Game Wardens paddle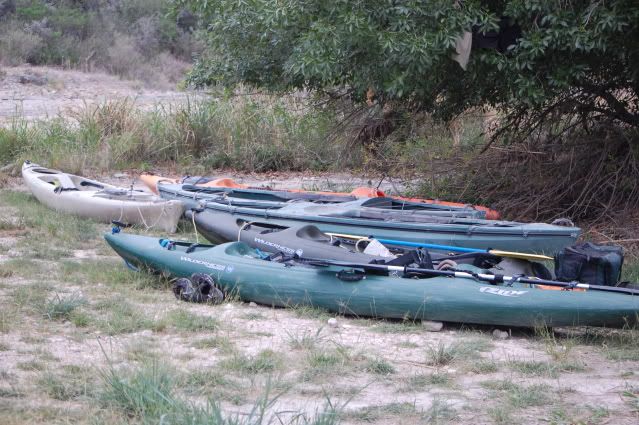 We make camp and hang out a while. Just before dark, Weird1 and I head down to the springs to stock up on clean water for the night and morning. Makenmend brought a 5 L wine bladder (out of one of the boxes of wine) that makes an awesome and portable water carrier!! On our way down, we pass the kids that were dropped off earlier. We talk a sec and they seem to be acting odd but hey they are kids. While getting water, we hear a loud scream and ALOT of profanity (seemed to be the norm with them). We're thinking one of them hooked the other not paying attention! as we get closer, we find out one of the guys slipped and broke his ankle again! He already had plated and pins in it! Game wardens came down, administered first aid, found the drugs the kids had been using (explains the odd behavior and profuse profanity), and as far as I know hauled them to jail! Never a dull moment!!
Camp #2 (Also hammock friendly!!)
Day 3 started out with the wind howling and it never let up the rest of the trip!! This made fishing the deeper pools almost impossible so the fishing really suffered! We left just after daybreak and made it to Dolan Falls first thing in the morning.
Makenmend after portaging the falls
We lined 2 of the boats down a dry chute of the falls which made the portage VERY easy (boats were still loaded!!) Weird1 lived up to his name with his own way of portaging the falls!! This is why you dont attempt to run them!
After the falls, we continued on for about another 5 miles. About 3 miles in, we came to 3 tier rapid! This is the other big rapid in this section of the devils. Last year, it was too rough to run, but this year it was perfect!
Dorado1 at 3 tier
Weird1 at 3 tier
Me at 3 tier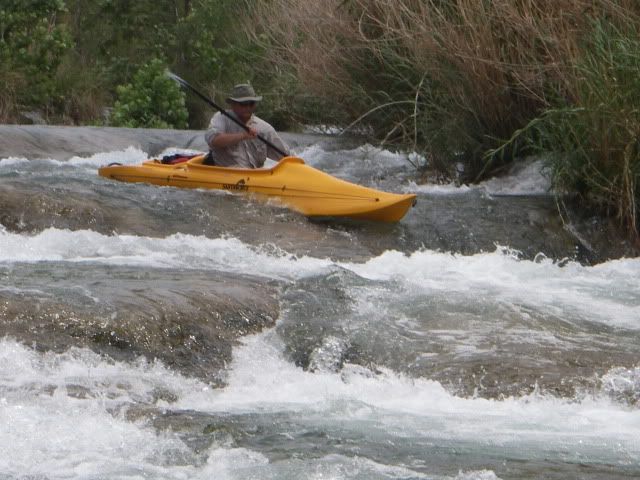 We found a nice little island camp about 2 miles above the takeout. This is where we spend night 3!! It is ideal for hammocks and was ok for tents in low water.
Weird1 cooking at camp 3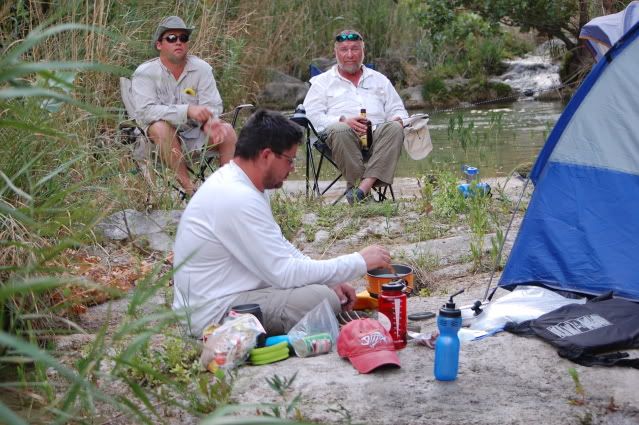 Makenmend relaxing at camp 3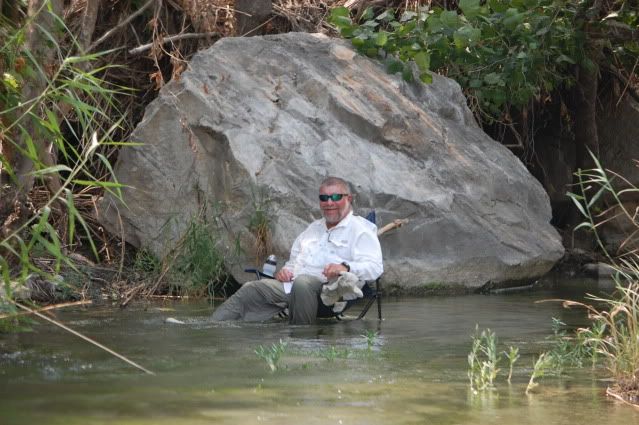 The view about 30 foot from the tents!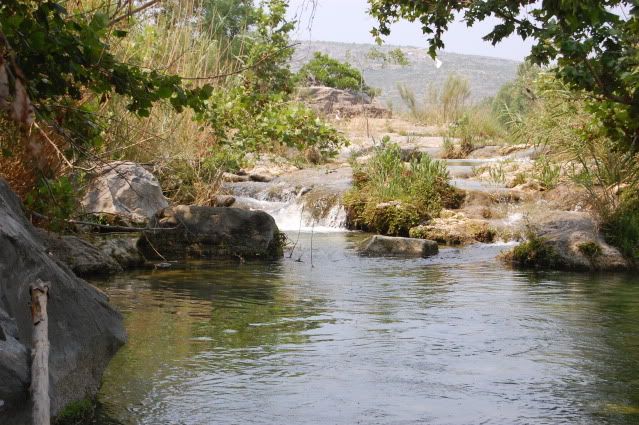 There were some land owners (or their friends) who were hanging out on the other side of the same island (50 yds away). They had paddled over from the other bank and had gotten pretty drunk by the time we got there! One of them kept staring at us and eventually proceeded to yell that we needed to get gone. we just ignored him and he gave up. we were legally camped on an island and not private property! We picked up quite a few cigarette butts, pringles cans and beer cans these Yahoos chucked in the river!!!!!!!!!!!!!!! After two trips down the devils, I'm really beginning to believe its the land owners that trash the river, not the yakers or canoists!!! They did get ticketed for not having PFD's!! I think the fact that the group of game wardens didn't even check us (we had talked to them at the SNA) made the drunks mad! About dark, they left and left us alone.
The next day, we hit the water early and paddled into a 20-30 mph headwind the rest of the way!! The last two days were brutal for paddling, but the scenery is just awesome!! We arrived at Blue sage about 9:30 am, loaded the boats and headed for home.
About half way back, the drifter weird1 was paddling slipped off the trailer and started to drag! We're still not sure how far we drug it! Lets just say the outcome wasn't pretty!
The total tally for broken gear is as follows:
Makenmend: One water bottle
Dorado1: One rod
FishingSETX: Two Rods and a water bottle
Weird1: One rod and a drifter!
The devils turned out to be a different river this trip. Lower, windier, but just as beautiful!! The fishing was much better also! All the camp sites we used are hammock friendly, so next time I will be bringing a hammock and leaving the tent at home!
I said it last year and I'll say it again, If you have never done this trip and are physically capable, this needs to be at the top of the bucket list!!