- Sun Nov 22, 2009 11:32 pm
#1382718
After our success at Bastrop 2 weeks ago, we decided to push our luck and do a 3 day trip at Dinosaur Valley in the primitive camp area. They have been booking up lately so we made the reservations right after we returned from Bastrop. To get to the primitive area you have to cross the Paluxy river on the east side of the park. We got a call on Friday morning letting us know the river was up and if we wanted to cross we would have to cross on the west side of the park and hike around the park. We decided to be adventurous and go for it.
Here is the crew at the crossing. We couldn't find anyone to take a pic for us. It seemed we had the park to ourselves.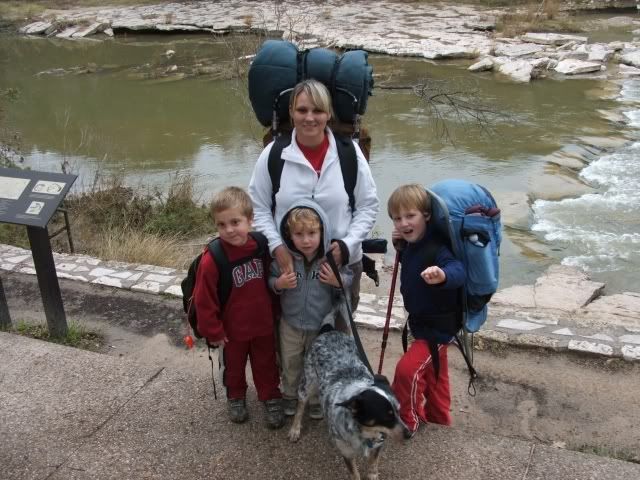 And here I am making the first crossing. I will make a total of 4 trips to ferry the kids and packs. Jack did insist on fording it on his own, which he did with minimal help from me.
The funny part is that I made all the trips across the river fine. Then after we got our shoes and packs on and started heading out, I took 2 steps, slipped, busted up my left arm real good, and busted a strap on the pack. We only had about 2 miles to go, but we were barely doing 1 mph with Eli's short 2 year old legs. Before long it was already dark on us, and we had to break out the headlamps. The going got even slower, but the kids were real troopers, and it just turned into another part of the adventure.
We made it to camp after an hour and half of hiking in the dark (we only lost the trail once). We quickly set up camp, we were all starving and looking forward to a warm hot meal after the long drizzly dark evening. I get out the stove, the pots, pans, and…wait where is the lighter that stays in the cooking kit? Hmmm, must not have been put back after Bastrop. Its ok, there is a spare in the first aid kit. Uh-oh…the backup lighter is missing too. What a horrible feeling. Again survivorman mode kicks in, and I take the batteries out of the led lantern, and try to get a spark by touching one blade of the pocketknife to one end of the battery, and stroking the other end of the battery with the other blade. We got sparks, but tiny ones, and they weren't strong enough to light the propane fuel. I tried taping two batteries together to get more voltage, but the ends of the knife blades couldn't touch both at once. AAAAARRRGGGHHHH!!!!! We ate beef jerky and cereal bars, and went to bed. And just so noone thinks any of my trips are perfect, we had an absolutely miserable night. Ill spare the details, but suffice it to say a wet sleeping bag was involved, 2 crying kids, 2 ill parents, and barely 2 hours of good sleep was had.
Day 2.
I woke up at 7am while everyone was still asleep, power hiked two miles back to the river, crossed the river, drove out of the park to a grocery store 5 minutes up hwy 67. Spent $1.29 on a 5 pack of the most incredible item of civilization, the cigarette lighter. Drove back, crossed the river, power hiked back to the campsite, and had warm oatmeal ready for everyone by 9:30. We started with fresh attitudes, and had a spectacular day, despite the constant drizzle of rain. Our camp was right beside a small seasonal creek, Denio Creek, and the rain did benefit us in easy access to great drinking water (I had brought along the katadyn filter). I took a lot of pics of this beautiful creek too. More than I have room to post anyway. Here are a few of the little area right where we camped.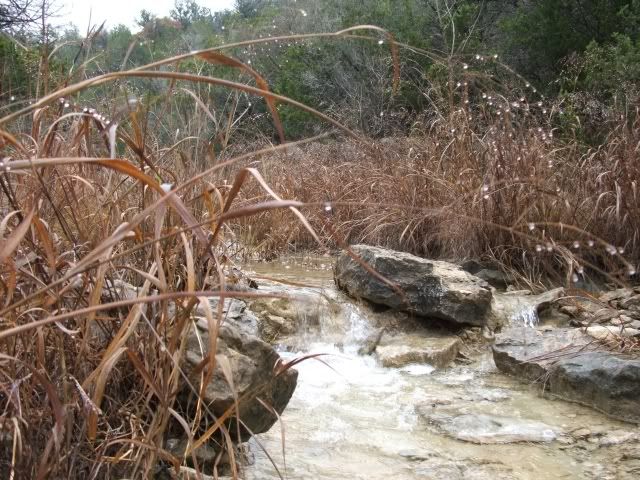 There was a little pond on the map, and I had brought my flyfishing gear, so I figured it was worth checking out. Turns out there were no signs of fish there (not even minnows in the shallows) but was fun nonetheless.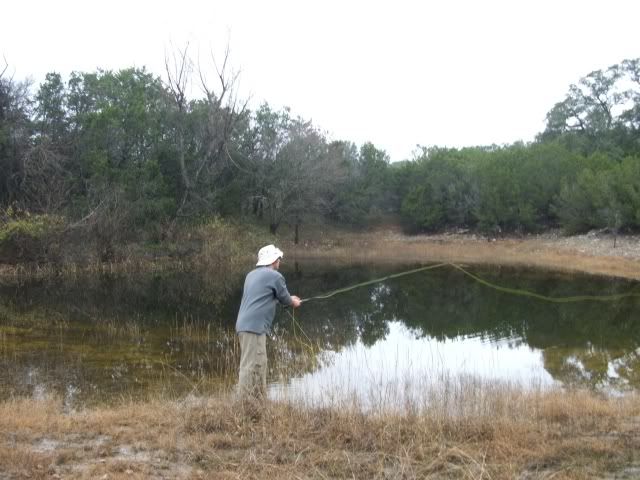 The last trip I mentioned how boys had to compulsively beat trees with sticks, here is another example of strange behavior that is apparently instinctual of all boys. Throwing rocks in the water. I have at least been able to train mine to wait till I fish for a few minutes. After I give up, then they can chunk all the rocks they want, which inevitably starts as quarter sized pebbles, then half dollars, then fist sized, and ends with the grunting "uuuuunnnnnngggg….watch…uuunnnnggg…..this…uuuunnnngg…. BWOOOSH" as he drops a rock half as big as his torso into the 3 inches of water at his feet soaking his pants. Happens the same way every time, and has for centuries, and probably will continue to for centuries.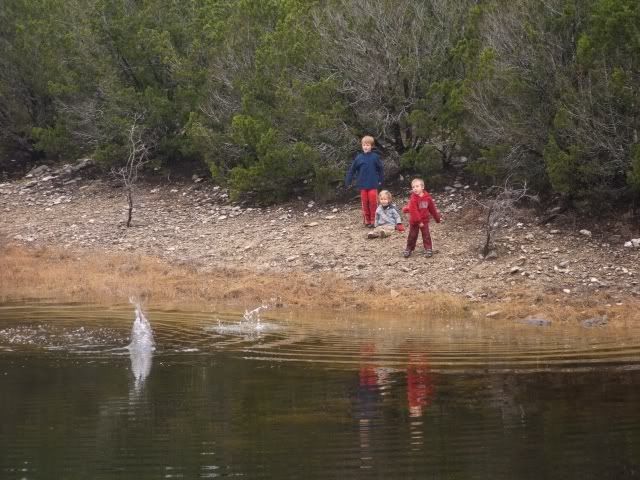 Here are some scenic views we passed on the way to the pond and back.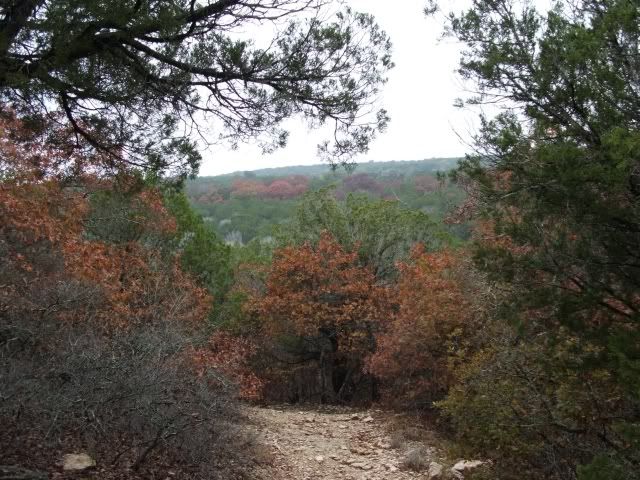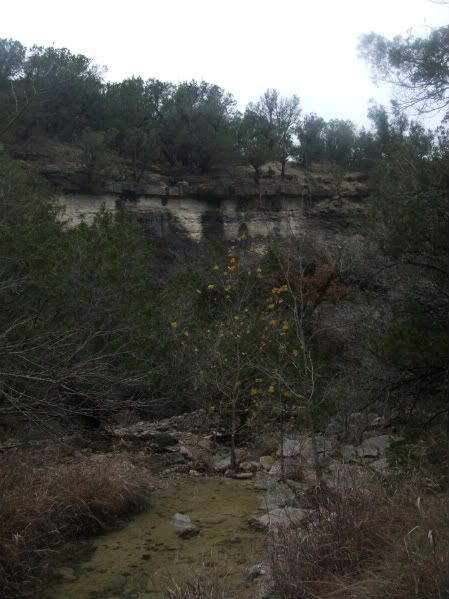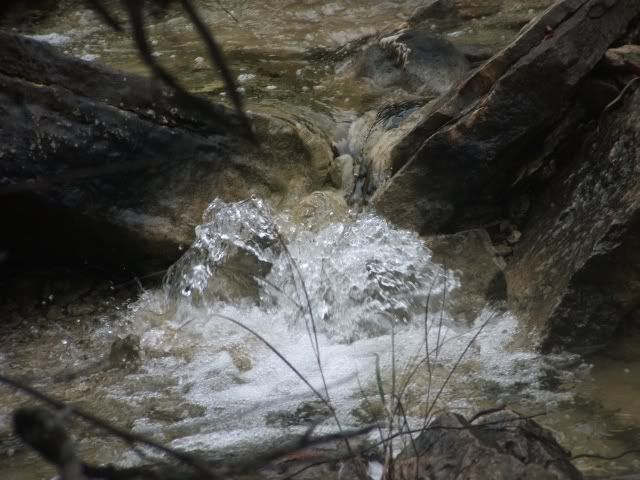 We got back and setup the hammock for the first time, and it was a huge hit. Julie wouldn't let me in it, and once she got out, Eli wouldn't let her back in it. He stayed in it for the entire afternoon.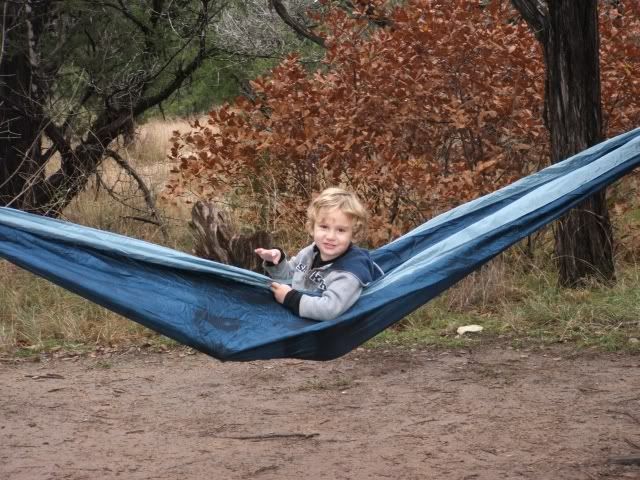 Here is a rare glimpse of a strange species….the central texas cedar monkey.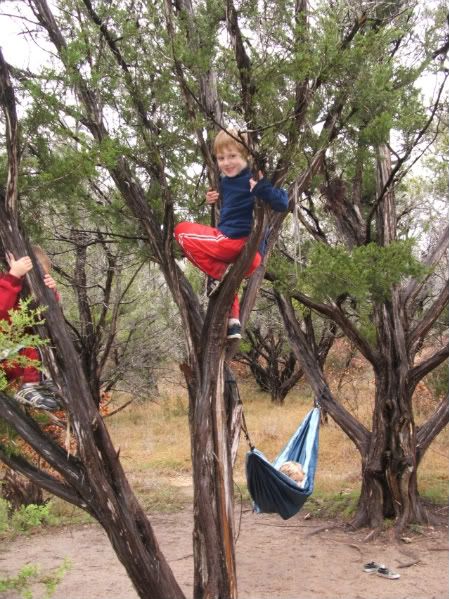 After lunch we went down to the Paluxy, and I tried fishing again, but the river was up and moving fast, so I didn't expect much (and didn't get much either) but it was just an incredible feeling standing in the rushing water, guiding the flies into each eddy and current seam, behind rocks, under ledges. Just great.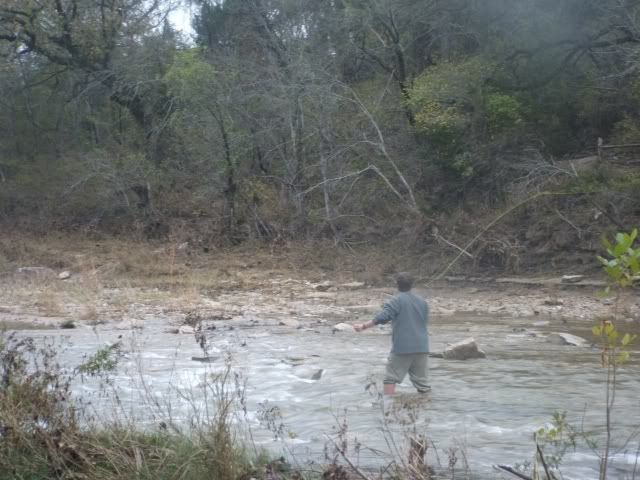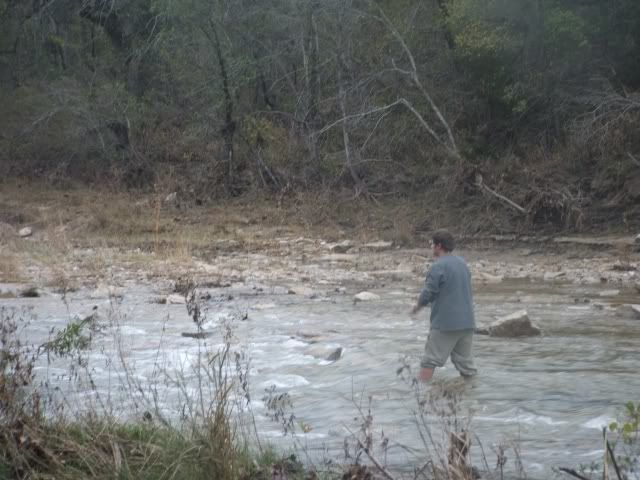 And while I was fishing the boys built a stick raft, which we sent down the rapids, though it didn't get very far.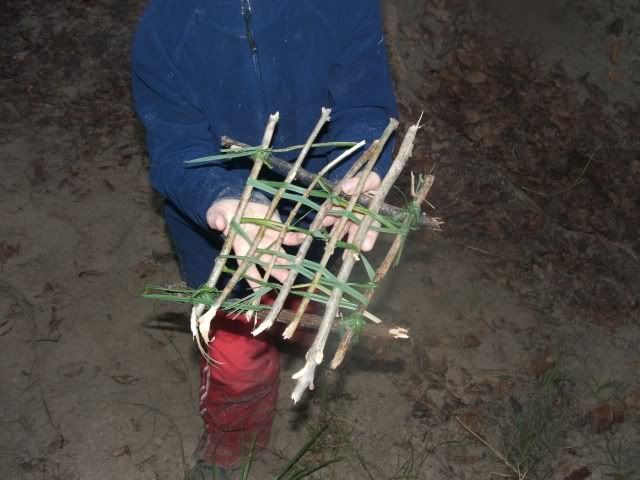 After dinner, Julie played us some tunes on the harmonica.
Nolan and I went out and slept in the hammock under the clearing sky, watching the stars, even seeing a handful of shooting stars. It was a cold night, but it felt good being bundled tight and warm, feeling the cold air on our face. Early in the morning we woke up to coyotes calling from all across the area. Eerie, and beautiful at the same time.
Day 3
The next morning the sun still didn't come out, despite the fact the weatherman said it would be a sunny day. We were tired, dirty, damp, and cold so we packed up and headed out. It was a pretty good trip, though everyone was tired. We did have to carry Eli some, and carrying a 35 lb pack on your back, and a 35 lb kid in your arms gets tiring quick. This time at the river crossing Nolan wanted to walk across too, like Jack, and since the water was a little lower, I let him.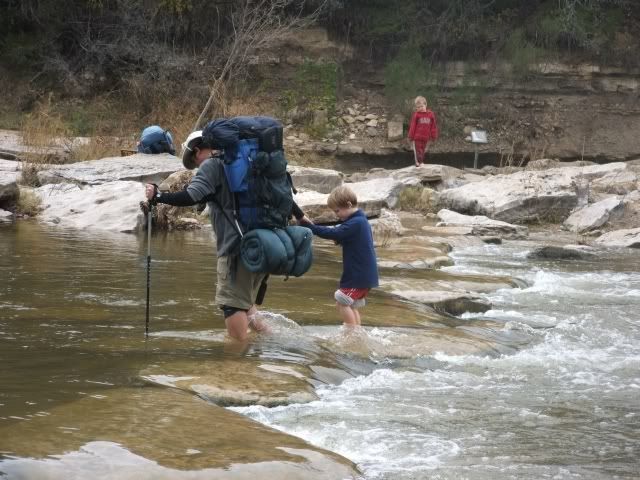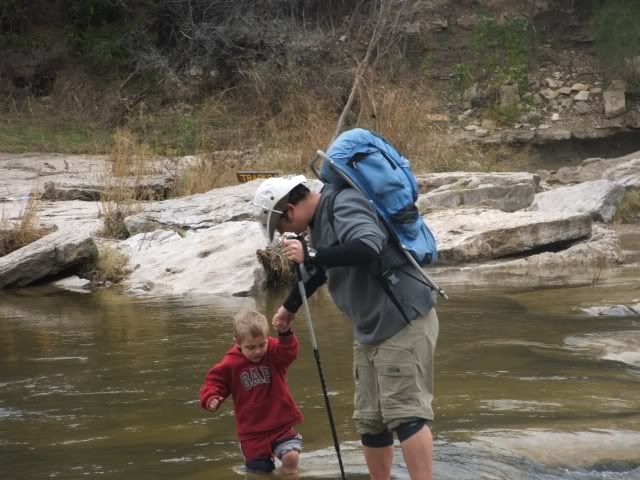 I think despite the difficulties (and grumpiness) we had at night, it was overall an incredibly fun trip, and an adventure the kids wont forgot for a while.