- Wed Nov 11, 2009 11:23 am
#1377365
Finally got a chance to get back outside with boys. Im trying to finish up my work at grad school, and its just been hectic. Julie really wanted to go out this time too, but she thought it was too cold for a canoe trip, so we decided to find somewhere to go backpacking within a reasonable distance of Waco. Dinosaur Valley was booked, but on searching I found Bastrop SP, which I had heard of but never looked into. There is a 6.5 mile horseshoe trail called Lost Pines trail, which allows for primitive camping along that trail. No set campsites, just find a spot and camp. No fires allowed though, and I can see why, the whole place is carpeted with dry pine needles. It is a really beautiful area, and the big loblolly pines really reminded me of backpacking back home in Georgia. We havent been backpacking since before we had kids (almost 7 years now), and hauling gear for 3 kids plus yourself is a lot different than going it alone. We made it work out pretty well though, and Im looking forward to doing it again soon. The worst part of the matter is that there is no decent water soures in Bastrop SP, so you must pack in all water.
Since mine and Julie's packs were heavy with gear and water (35 and 27lbs each), we decided to let Jack who is almost 7 take a pack with his sleeping bag, clothes, and a couple of water bottles for him (bag weighed total 11lbs 7 oz). Nolan is 4 took a little backpack with his clothes, water bottles, some snacks, and our cups (~5 lbs). Eli who is 2 just had to carry himself for the 3 miles in and 3 miles out.
Anyway, on with the story!
Here are Jack and Nolan at the trailhead, packs loaded, ready to go!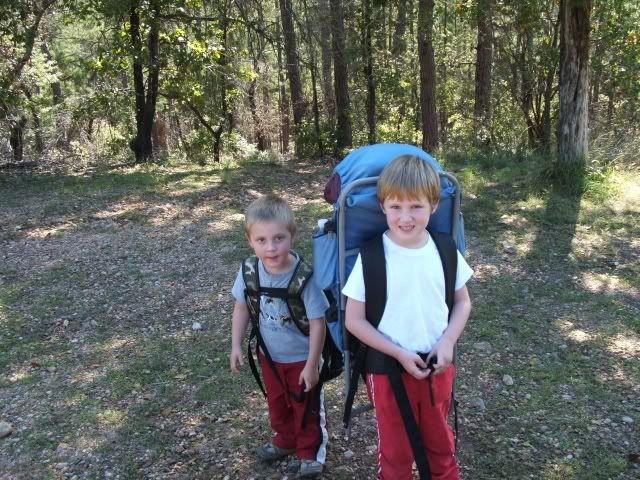 And then 30 minutes into the hike, at the old road bed. Nolan discovered he loves "beef turkey" and was chewing piece after piece the whole trip. We stopped to rest about every 30 to 45 minutes and the boys hauled their packs the whole trip without complaint.
I have to mention too, that this entire trip the boys were emulating Survivorman. Not that showoff Bear Grylls, but the real survivorman, Les Stroud. Anytime there was a small pine tree that they could reach the needles on, they would pull off a handful and stuff them in Nolans pack so that we could boil them for "pine needle tea" like survivorman does. They also picked up and ate a couple of grasshoppers each, because thats what survivorman does. And of course I couldnt be shown up by a 4 year old, so I had to crunch down on one too. Not that bad really. Wouldnt want to do it again if I didnt have to though.
We hike in ~ 3miles ( we werent sure how far at the time because we left the map in the car!). We averaged about 1 mph taking so many breaks with the kids.
Camp finally setup.
Why is it that every boy MUST beat the hell out of a tree with a stick anytime they are in the woods? I remember doing it, my brothers did it, nephews did it, Jack does it. Must be engrained in us.
And in true survivorman style, they built their own shelter with a bit of rope and tree branches.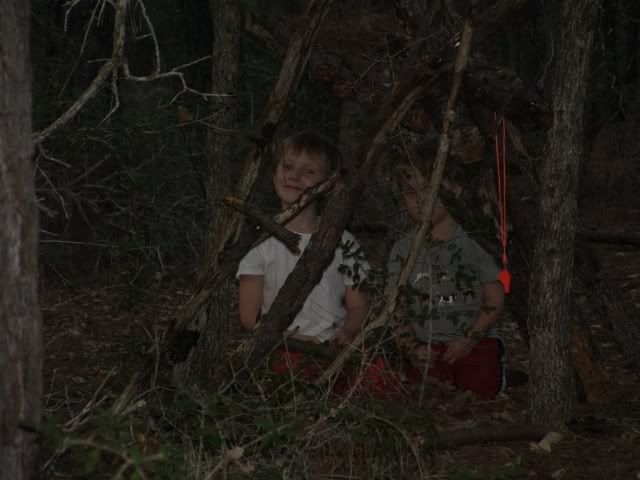 Here is the Les Stroud special, pine needle tea. Turns out it wasnt piney at all, actually kind of citrusy.
After Tuna Mac for dinner, we did a little night hiking, saw some giant wolf spiders, did a little stargazing through the treetops, and hit the sack early. Next day we packed up and started out the way we came. We were pretty sure Eli's little legs couldnt make the rest of the loop back (the horseshoe is 6.5 miles, but the loop back to the car would be 8.5, so we would have 5.5 miles to go out, and he barely made the 3 in).
On the way the boys picked up a tiny frog which turned out to be the endangered Houston Toad which a lot of the park is used to protect them.
Further along I spotted this huge ant colony complex. It was ~15 ft x 15ft square. Looked like big fire ants. As we got back on the trail we noticed a long line of leaf cutter ants (
atta texana
) along the trail carry pieces of leaf back toward the colony. I didnt realize we had these in the US. They are amazing little creatures.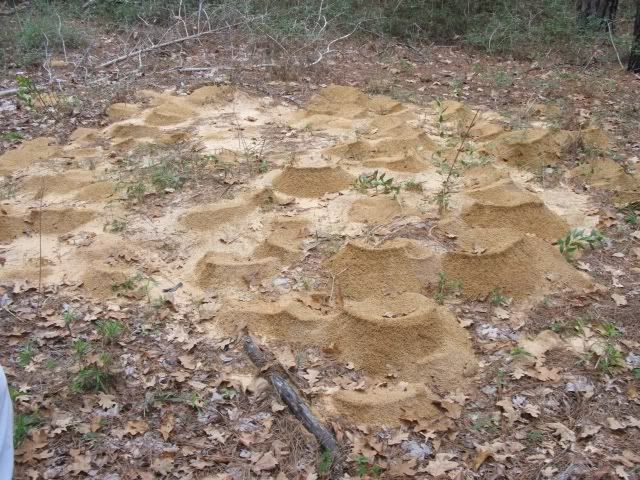 For our test trip backpacking with the kids it went spectacularly. It was a beautiful place. I was really impressed with how well the boys held up hauling their own packs. Now we just need to find some more places that are suitable to backpacking, that arent too far away (and maybe has a river or creek to do some flyfishing in!).