By
Mythman
- Mon Aug 13, 2012 8:46 pm
- Mon Aug 13, 2012 8:46 pm
#1798764
Most everyone knows that I rolled my Pro Anger in 20+ ft of water off High Island this year!
I had been having some water get in................in fact, I almost lost my yak on a rig trip to Matagorda. I had to pump water out at least 3 times to get back to the beach on that occasion. As soon as I could, I put my yak on saw horses and fill the inside of the hull with as much water, as I dared. and nary a drop on the concrete under the yak. So I figured it must be my 6" hatch in the tank well or the cover on the rudder controls in the back............so I gorilla taped them and went out and fished and very little water was in my yak. I made several trips with very little water in my yak. Then I took the fateful trip to HI and I was taking on lots of water. We had a high wind and waves lapping over the back into the tank well. A couple of times I opened my middle hatch, I thought I heard water pouring into the hull, but I thought to myself, "No Way"!
After I rolled, when I got home, I plugged the scuppers to the tank well and filled it with water............no water in the hull.............so it wasn't the 6" hatch. Next I plugged the four scuppers under the seat and filled that area with water. I thought I heard water gushing in. I opened my middle hatch and by golly there was water gushing in. So I located my leak.
This is an area on the left side of the PA seat, between two trays on the cockpit. This is what it looked like, without me sitting in it...............I am sure my big rear end made it a whole lot bigger!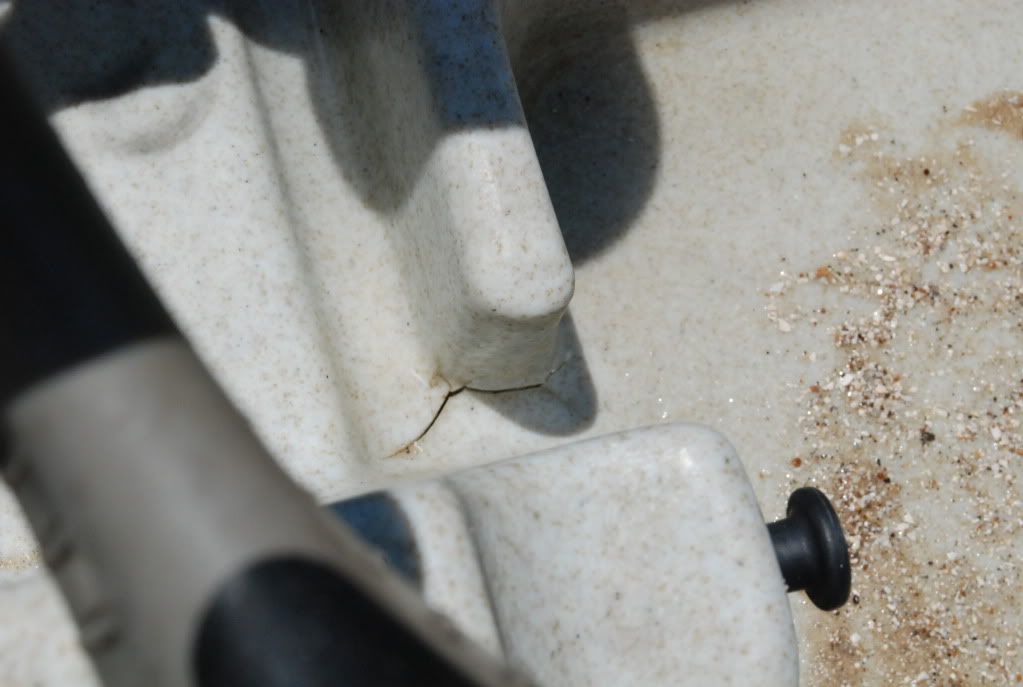 I immediately called my dealer, of choice, Austin Canoe and Kayak and took it down and was told it would be a warranty issue. The kayak with the crack was a warranty replacement and the warranty ran until Oct of this year.
I didn't post anything about this as I was just going to let Hobie, through their dealer ACK make good on it. There was some delays due to 4th of July week, when apparently there were few people in the kayak mfg'ing industry working.
Finally I was told by ACK that it would be replaced and they were sending me a new kayak. It arrived a couple of weeks ago and I have been working diligently to get it rigged. Finally got most everything done: eVolve wiring, fish finder wiring, scotty mounts(for fish finder, GPS and rods), anchor trolley, registration lettering and other items.
Here is my my new Pro Angler: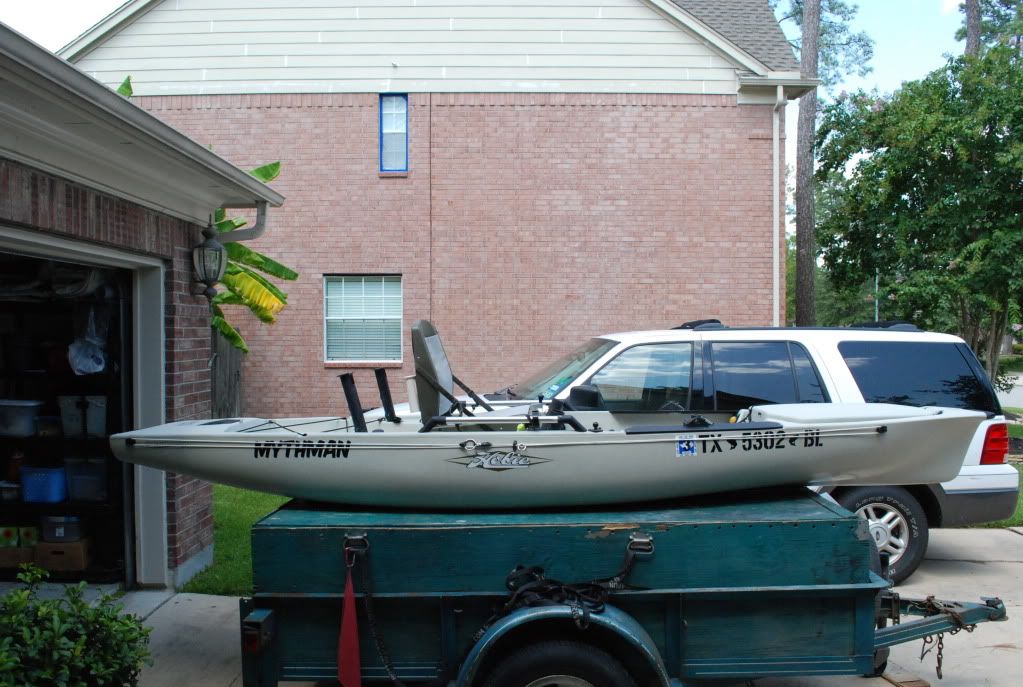 Anchor trolley: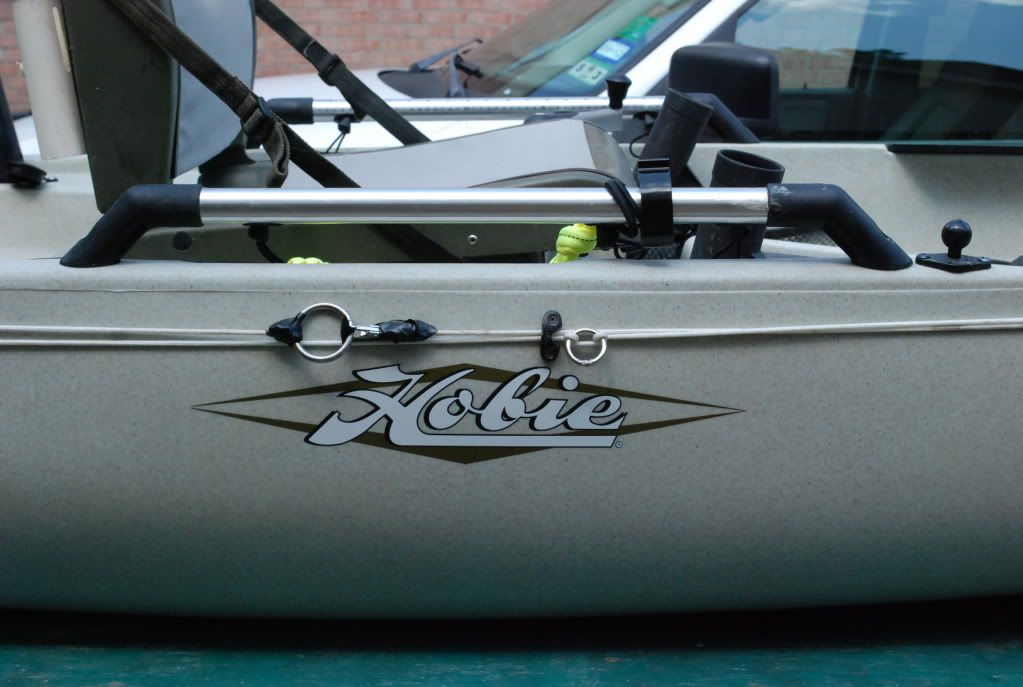 The only difference between this one and the old one is cosmetic..............a new load limit sticker: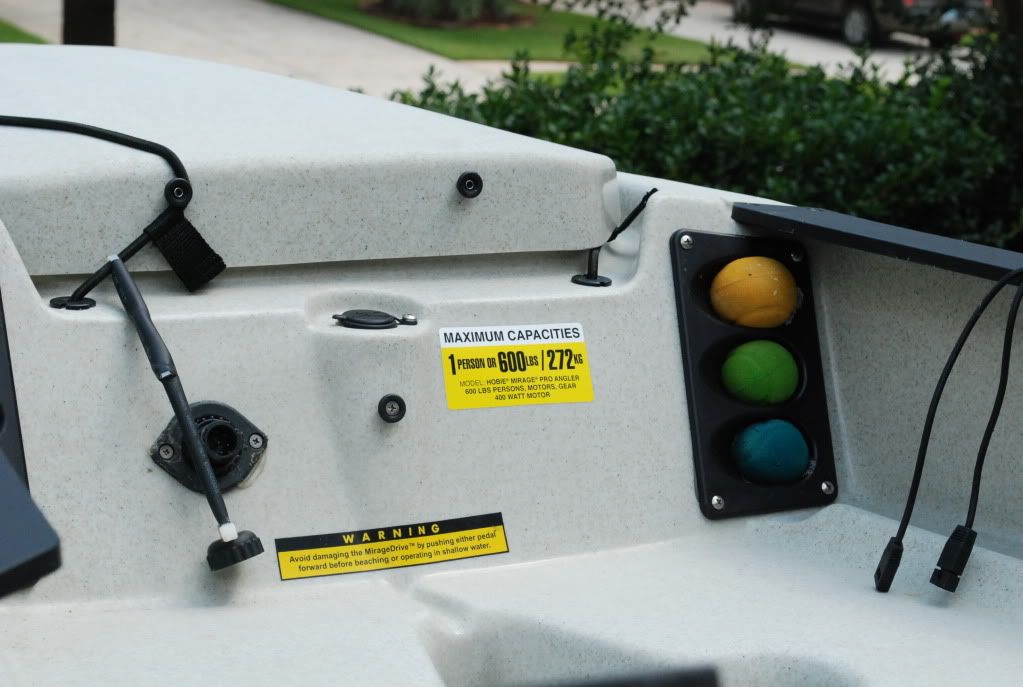 And a new design that says it is a 14' and added a penquin: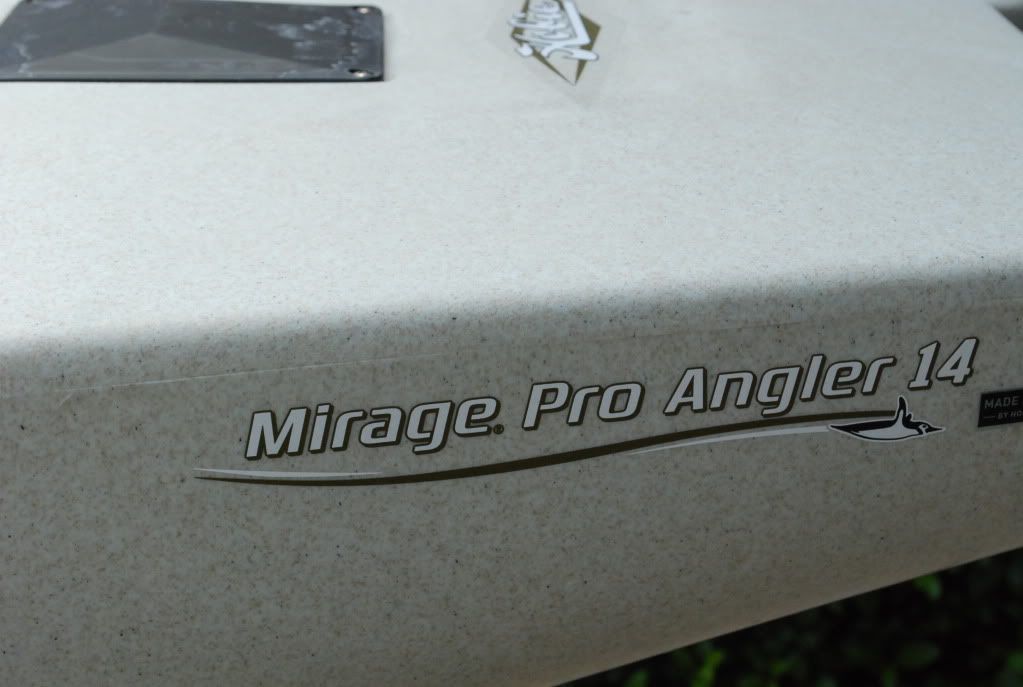 I want to thank Hobie and Austin Canoe and Kayak for making this transition as smooth as possible. No pressure or public cry of foul by me, Hobie just did the right thing.
Sure is nice dealing with competent, honest, ethical people!!!