By
Ron Mc
- Sun Mar 25, 2012 2:01 pm
- Sun Mar 25, 2012 2:01 pm
#1741012
I'll be updating this topic as I make progress.
My daughter runs into a windcock problem in winds above 15 knots.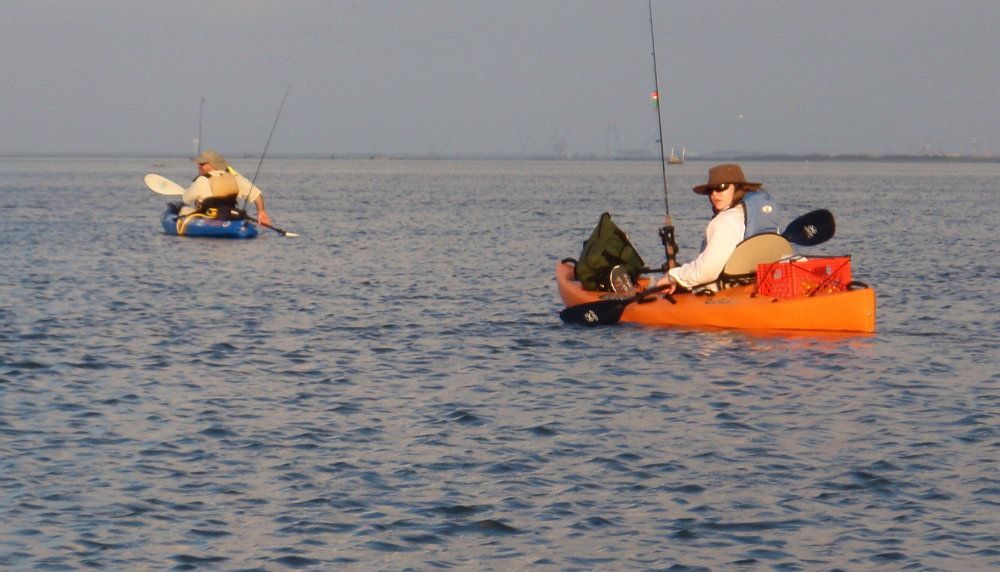 The boat has a tendency to spin especially with hard strokes, and my daughter is a high-angle charger.
It tracks beautifully upwind, but down in a big wind, it always tries to nose up, we end up lashing her to my Tarpon to go downwind, which frustrates her to no end.
Part of that is actually the sailing mechanics - the seating position is so far back in the boat that her body acts as a mainsail to luff the boat upwind. A skeg seems like a logical solution, adding drag and effectively lengthening the stern of the boat.
Been searching for skeg options for a year, was thinking about bolting on a surfboard fin, but it really needs to be retractable to let the boat turn freely on every other point of the wind.
Here's what we have for existing mounts, two bosses made to bolt-on the Native Tag-along wheel.
Well, finally found this retractable skeg, made by Advanced Elements for their Airfusion inflatable boat.
http://www.airkayaks.com/products/Advan ... E2041.html
I ordered it and am more than anxiously awaiting its arrival.
But I've already thought out my mounting scheme, sketched out a mount with every dimension except those I'll need to take from the skeg itself.
I believe I'll be able to make this from a 1" or 1-1/4" thick x 3" wide Delrin bar (12" long). I can get the bar from McMaster for $30 and shipping. I've also done the engineering. It would take a 250-lb lateral load on the top of the skeg to bend the delrin at the mounting screws. So it would take dropping the boat onto the top of the skeg to damage the mount. Delrin is a good material and unfortunately very-high-strength plastics or composites would cost $200 and up for the materials, and I don't want to use aluminum and have to powder-coat it.
I will have to put holes in the boat, but only for the pull line guides and cleat.
I can't order the correct thickness and width bar until I get the part early next week, but will keep you posted on progress...
Last edited by
Ron Mc
on Tue Apr 03, 2012 7:30 pm, edited 1 time in total.