Ok, so as I started looking into getting into the whole
kayak
fishing scene I was faced with the common problem of how best to haul my
kayak
and gear. I currently drive a Jeep Rubicon, and to make a long story short, and after looking into rack systems I decided that perhaps a trailer would be the best overall bet. So, I started looking into getting one to adapt. Then it hit me last week... I alread have an OLD trailer just rusting away in the edge of the woods at the corner of my property. In fact, I had considered ways of getting rid of it several times in the last couple of years. It's one of those cheap bolt-together kit
trailers
that I picked up at Sam's Club about 20 years ago and it has since been replaced with a larger and nicer trailer that I use for motorcycles and general hauling. The newer trailer is nice and useful, but it's also heavy and cumbersome, and the long (tall) folding ramp/gate would ideally need to be removed each time I wanted to use it for hauling Kayaks. Plus, I'd still have to modify it with a rack system for kayaks and I'd rather just leave it the way I have it set-up now instead of changing it around every time I want to use it for something different.
So, then the idea hits me... I have that old trailer... maybe I could refurbish it and modify it into a purpose built
kayak
and gear trailer that I could just leave the
Kayak
on. It's lighter and handier, and just rotting away anyway.
So, Saturday I hauled it out from under the pile of leaves and started taking a look.
Here's what I found so far: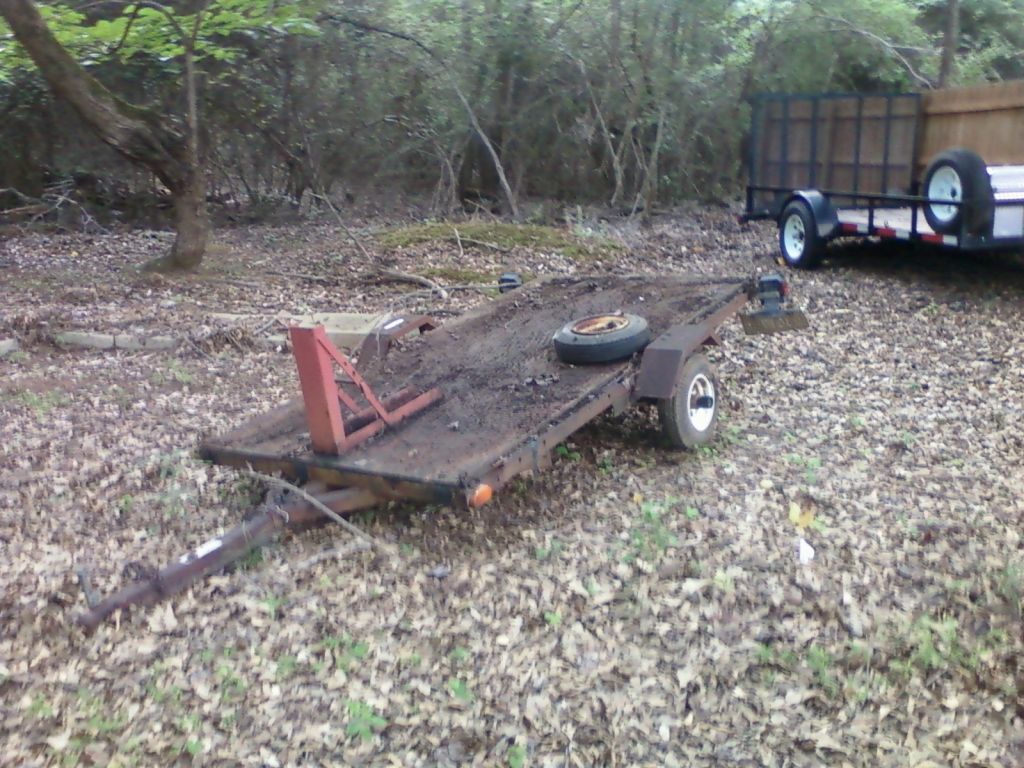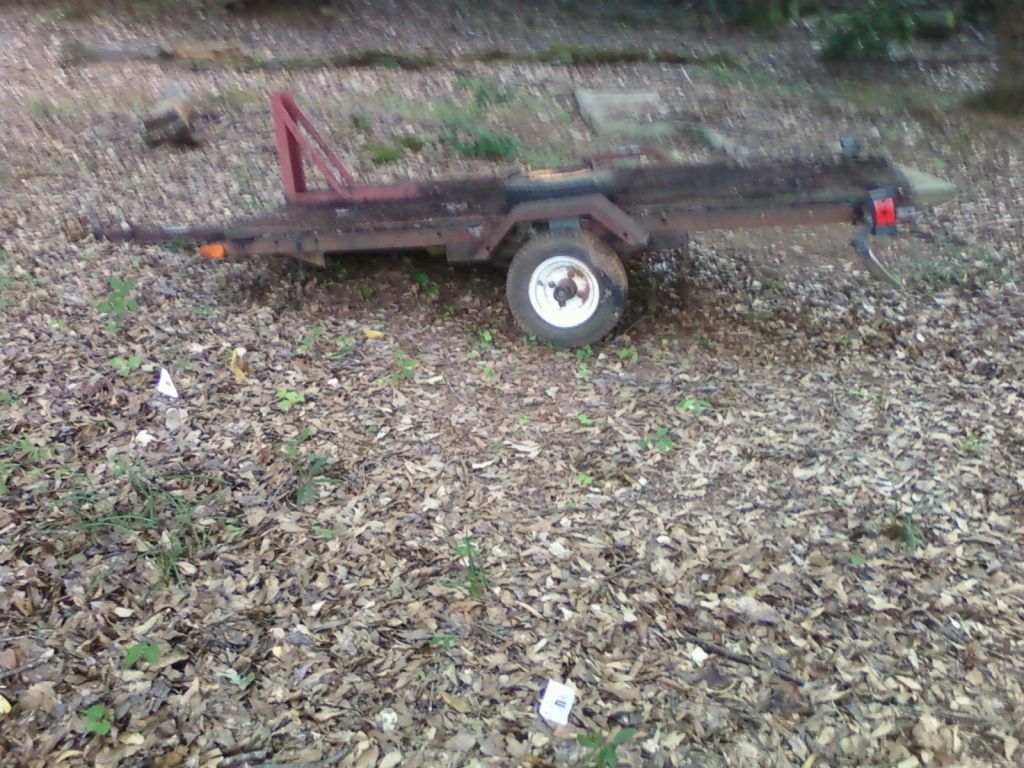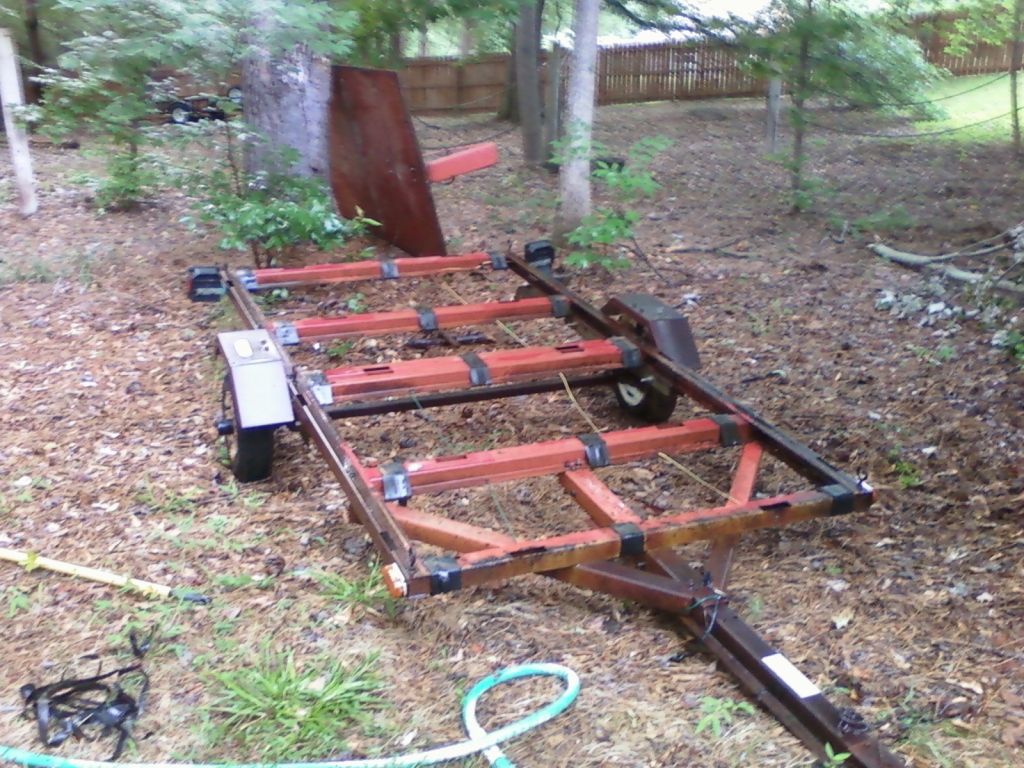 So far, all I've accomplished is to take the deck off and start looking it over, removed the fenders, cleaned them up and hit them with some Rust Converter primer and a top coat of black Rustoleum (not shown in pics). Needs new tires just because these are old and I don't trust them. Probably needs a new plywood deck and I plan to add stake panel sides all around to contain various gear. I might also add some sort of rod locker and a truck box for various things as well, and of course fab up a rack for the kayaks. Right now though I'm just trying to work out how to clean it up the best I can and repaint on the cheap as well as fix things like the wiring, tires and extending the tongue length.
Other than it being in sad shape cosmetically, I think it'll make a fine light duty trailer for a couple of kayaks and assorted fishing gear once it's cleaned up and repainted and built up a bit.
I do have a question though. Looking through this thread at all the great ideas, I see that a lot of them have the tongues extended with what appears to be a simple square tubing piece. This was my plan and it looks to be simple enough, but, measuring the coupler that is currently bolted on the trailer's tongue, it appears that it needs square tubing that measures 2.5" which isn't a standard tubing size. So what size tubing are all you guys using to extend the tongues.
This is a great thread with lots of great ideas, btw. Thanks for any advice and/or tips.