By
Ron Mc
- Wed Oct 09, 2019 12:11 pm
- Wed Oct 09, 2019 12:11 pm
#2294240
Been through them all. Bought my first wood-handle Martini-Rapala as a childhood lust buy at Gibson's.
Didn't really put it to use until later with stringers of white bass, and a lot on redfish and specs after that. I learned how to fillet on stringers of 25 white bass in the dark.
Good knife, takes an edge, they wear through and don't last a long time.
Still have a high-mileage example bought in the 90s stashed in a tackle box.
Somewhere around my 20th birthday, my dad gave me a Schrade. I would never take this knife to the salt, but it's been my white bass fillet knife for 40 years now.
I've been through folding fillet knives because of the ease to transport.
Still have the Rapala folder stashed in a fishing bag, but it's frightening.
Still have the Spyderco fillet stashed in a fishing bag, but it's the wrong shape for a fillet knife.
The best folder I ever tried was Benchmade - it worked wonderfully, but rusted with fish blood, even with total rinse between every cut, and soap when I first got it home. It died on white bass - here my buddy's using it, filleting whatever he wants off my 25-limit stringer - it died and never made it as far as the salt.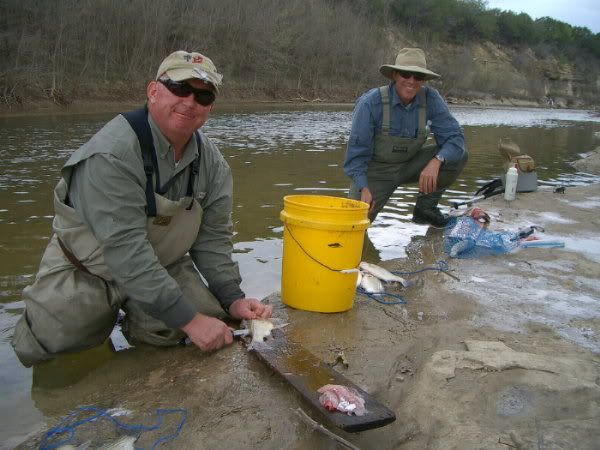 In the 90s, got tired of cussing redfish ribs on the wood-handle Rapala and discovered an electric knife just through redfish ribs was the way to go. As soon as I'm through the ribs, switch back to my good sharp fillet.
A few years ago added the Rapala Li-battery pack fillet and love the thing. It's slow and torque-y, the long blades are the perfect shape and length, and the battery lasts amazingly - charge it up at the beginning of the year, and it's still going at the end of the year. My charger died after first use, and I had to pay a bit to ship the whole thing back to Rapala for the warranty.
And here it is, my hands-down all-time best fillet knife, Knives of Alaska Coho - incredible edge, good enough resistance to salt and fish blood, Perfect shape and great flexibility - stingy fillets come from this knife.